FUV Record Store Day Picks: 2022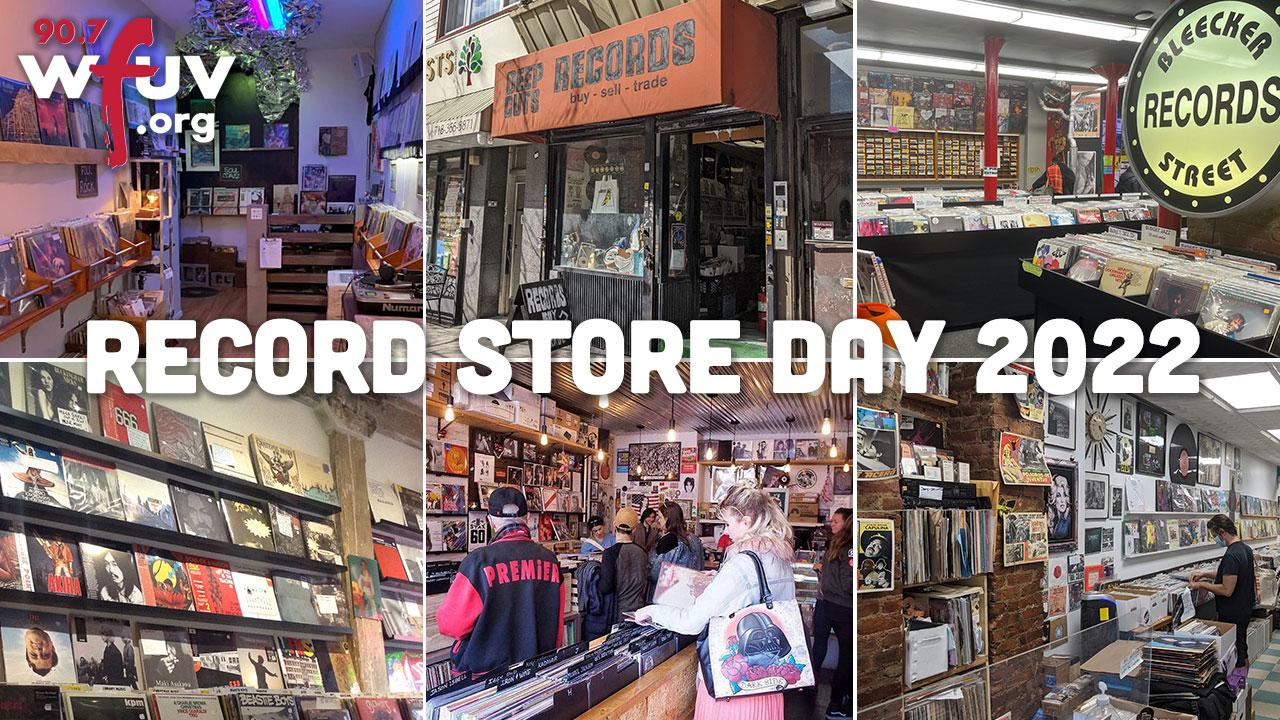 Like many events, Record Store Day was affected by the pandemic with limited offerings and lockdowns. But 2022 heralds a fresh start on Saturday, April 23. While there are some supply issues—there's an additional vinyl drop day of June 18 added to the schedule as a "street date safety net"—FUV encourages you to head to your local music haven and pick up some Record Store Day exclusives, or another album or EP that you've been hankering to add to your collection.
Listen for "Record Stories" from our DJs on Friday, April 22, and Saturday, April 23, on 90.7 FM, and streaming online, with tales of perfect purchases from fave record stores. 
Below, a list of some New York, New Jersey, and Connecticut record stores — and what their owners or managers don't want you to miss as you rifle through the stacks. We asked them two questions: (1) What 2022 Record Store Day release most intrigues you, and (2) What other album or EP do you want your customers to discover?
Cinderblock People
300 West 142nd Street, New York, NY 10030
Instagram
Pat Lombardo, co-owner with Emily Weill
Record Store Day: The Dave Brubeck Trio, Live From Vienna 1967.  We are a little shop in Harlem specializing in a handful of genres, most notably jazz. We love a live jazz album and this one captures the improvisation and dialogue between players like none other. Brubeck makes up for a missing sax player (Paul Desmond) with scorching polyrhythms and extended solos. A fantastic recording fit for a Record Store Day release. Jazz completists and those new to the form will both delight from this thrilling set! We're psyched!
In case you find yourself with a duplicate of Brubeck trio, we are providing a back-up, Mariah Carey, #1s. One of the many great reasons Record Store Day exists is to get your hands on a copy of something that originals trade for north of three figures. As of this writing, a very good copy from a Discogs seller in the U.S. is listed at $175! [This collection has] Mariah's 13 #1 singles plus the four bonus tracks that appeared on the original pressing, to cure all of your '90s FM nostalgia. Fun fact: The shop owners grew up on Long Island and went to the same high school as MC, so there's a bit of hometown pride going on here, too. Plop this onto your turntable and dance like nobody's watching!
In the store now:  Holy cow, this is why record stores exist! So we can pull gems like The Sunshine Sisters of Africa's African Dish out of a musty basement and bring it live and direct to your ears. The Nigerian record of your dreams with an endorsement from none other than Muhammad Ali gracing its cover! Is it kitsch? (Maybe!) Is it on Spotify? (Nope!) Without question, a record you will play for years to come and your friends will ask: Where did you find this?
Deep Cuts
57-03 Catalpa Avenue, Ridgewood, NY 11385
Instagram
Brandon Perry, owner
Record Store Day: I am personally most excited for Bomba Estereo's Live in Dublin album. They are a great band from Colombia. My mom was born there, and we took a trip there 10 years ago and got to see Bomba Estereo play on a rooftop in Cartagena. It was amazing. I love all their studio albums and I am excited to hear this new live record. 
In the store now: So tough to pick just one. We carry a ton of great stuff that I love, a lot that is near and dear to my heart. But if we are going to focus on something I'd like more people to "discover," I would say the version of "Career Opportunities" with the child singing from the Clash's Sandinista!. Whenever I play it in the shop, people who know the original Joe Strummer vocal version [from The Clash] always freak out and ask who is covering it, and don't realize it's still the Clash. We have a nice original copy complete with the Armageddon Times newspaper insert.
Earwax Records
167 N. 9th Street, Brooklyn, NY 11211
Instagram
Fabio Roberti, Owner

Record Store Day: Bobby Hamilton Quintet Unlimited, Dream Queen. Should be an amazing soul jazz experience. Highly anticipating this one. 
In the store now: Flower-Corsano Duo, The Halcyon LP. Intense musical excursion and a great record! Either side will do (side-long tracks).
Generation Records
210 Thompson Street, New York, NY 10012
Instagram
Mark Yoshitomi, owner

Record Store Day: Ramones, The Sire Albums (1981-1989) box set, because even mid-to-later era Ramones is better than no Ramones.
In the store now: Curtis Mayfield's Superfly soundtrack. Basically it's the greatest soundtrack album of all time, in my humble opinion.  Recommended track is "Little Child Runnin' Wild"—the first song off the album that sets it all off.
Gerosa Records
246 Federal Road, Brookfield, CT 06804
Instagram
Brian Gerosa, owner

Record Store Day: I'd say I'm most intrigued by Speed, Glue & Shinki's Eve. They are described as psychedelic rock power trio album from Japan, featuring Shinki Chen. who was considered the Japanese equivalent of Jimi Hendrix. That write-up certainly got my attention!
In the store now: The album that I'd like my customers to discover is Forever Changes by Love. I play it often in the store and the track of note for me is "Alone Again Or."
HiFi Records & Café
23-19 Steinway Street, Astoria, NY 11105
Instagram
AJ Pacheco, manager
Record Store Day: Pixies, Live at Coachella 2004. In 2004 I was devastated that my parents decided I was not quite old enough to travel with friends from Riverside to Indio to see one of my favorite bands, who I was told had broken up before I had first heard of them. There was my chance to see the Pixies (somehow back together!) along with The Flaming Lips, The Cure, Le Tigre, Kraftwerk, Broken Social Scene, Black Rebel Motorcycle Club, Antibalas, and Radiohead — so close yet so far! While I was lucky enough to catch most of those bands live at later times in my life, it wasn't until I moved to New York nine years later that the Pixies would end up reforming and touring again. It was well worth the wait to see them playing all of their hits, and I am beyond excited for a chance to hear their first legendary reunion show at Coachella, 18 years later!
In the store now: Thee Oh Sees, Singles Collection Volumes 1 & 2. The Oh Sees, fronted by John Dwyer, is one of my favorite rock bands writing music today. Their work ethic and ever-lengthening discography is frankly terrifying. From their early lo-fi folk/surf records as OCS and OhSees, into their garage rock freakouts as Thee Oh Sees, and ever forward to the cacophony of sounds making up 20-plus minute prog/psych jams under current spelling Osees, the band continues to jettison the possibilities of aural experiences into spacescapes beyond your wildest imaginations. Their singles collections are made up of many B-sides, demos, and EP released tracks that deserve just as much—if not more—attention than their LP releases. Full of nuggets that span a vast number of genres and styles, this is an album I find myself coming back to over and over again to discover something new within.
Infinity Records
510 Park Boulevard, Massapequa Park, NY 11762
Instagram
Joe Ostermeier, President and CEO
Record Store Day: The Albert Ayler box set, Revelations: The Complete ORTF 1970 Fondation Maeght Recordings. Originally issued as two LPs, this new reissue box includes three LPs of previously unreleased material. Features Steve Tintweiss on bass and Call Cobbs on piano.
In the store now: First, Wayne Shorter's Super Nova on Blue Note Records. An underrated LP from 1969. Select track: "Water Babies."  Second, a CD which we discovered by a band called Mind Open, track three, called "The Spinner." Very cool psych jazz, hard to categorize, good music. Has Billy Martin on it from Medeski, Martin & Wood. 
Iris Records
109 Brunswick Street, Jersey City, NJ 07302
Instagram
Steve Gritzan, owner

Record Store Day: It's really one of the best lists in many years. However there's nothing more timely than Joni Mitchell's Blue Highlights, which includes demos and live tracks from Mitchell's hallmark 1971 recording Blue. Plus, there's 16,000 copies available (large for RSD releases), so it's not impossible to actually score a copy at your local store. Don't dawdle though—this release will definitely sell out.
In the store now: Lots of new and interesting releases at Iris recently, but we've really enjoyed Wet Leg, a much-hyped, two-woman band from the Isle of Wight in the UK. Catchy riffs and musical memes, it's a fun and memorable pop record to distract yourself from troubled times. And with the mildly suggestive band name and song themes, it's a record of its time: a display of feminine power, wit, and artistry.
Majors Records
12 Barrett Avenue, Staten Island, NY 10302
Instagram
Steve Hubbs, manager

Record Store Day: Czarface's Czarmegeddon is my most anticipated release for that day, aside from being a huge fan and, of course, one of members being from Staten Island. They seem to always come up with something unique. In the past they have done some read-along comics but this time they are releasing a project with all-new material along with a pack of collectible cards that I truly look forward to adding to my collection of memorabilia. I know it might not be at the top of everyone's list, but I certainly look forward to that one. So much so that I will be obtaining it on all three formats. (Side note: the cassette release will be packaged in a collectible lunch box along with series two of their trading cards.) Presentation is definitely a plus for me when purchasing physical content and Czarface never seem to disappoint. Between me and you, I had a sneak peek at the RSD release and inside the gatefold they have places for all 12 collectible cards to be displayed, although I don't think I'll be attaching them to my record. There are definitely a lot of great titles; I just hope for a good turnout and that we'll be able to provide customers with all of their Record Store Day wants and needs.
In the store now: It would be hard to narrow it down to just one title. My ear is all over the place so it's tough to pick one current release so I will mention a few!  First one up is Wet Leg. They just released their anticipated album, which is self-titled. So far, my favorite track is "Angelica." Their sound is refreshing and different.
Another project I've been listening to a lot is Red Hot Chili Peppers' Unlimited Love, which is also being released on RSD on silver vinyl with a variant cover. My favorite track would probably be "Poster Child."
Lastly, released on April 22, I am really looking forward to Charley Crockett's newest project, Lil' G.L. Presents: Jukebox Charley. I know it will include his cover of Jimmy Reed's "I Feel For You" and it is amazing. Definitely looking forward to that. Honestly, I buy more then I can listen to, so I don't always get to spin records the moment they come out, but I will certainly be taking the time to hear this album.
Rough Trade New York
30 Rockefeller Plaza, New York, NY 10112
Instagram
George Flanagan, Manager
Record Store Day: I'm most intrigued by a reissue of an obscure 1971 album, The New York Sound,  by Flash & The Dynamics. I don't know much about this New York City-based band, but I've been on a boogaloo music kick lately and I've heard this album brings plenty of that along with a nice pinch of psychedelic fairy dust on top. I predict this one will be in high rotation this summer.
In the store now:  I have to give Charlie Megira's Da Abtomatic Miesterzinger Mambo Chic a shoutout for an album I'd love for more people to discover. Sadly this enigmatic Israeli singer-songwriter took his own life in 2016, but this album from 2001 has been recently reissued and it's ripe for discovery. It's been called narcoleptic surf music, which is accurate. It's a timeless and intimate batch of songs that I think are perfectly suited to late night moments of solitude. "Yesterday, Today and Tomorrow" is a favorite, but then again, the whole album is flawless.
Tunes
225 Washington Street, Hoboken NJ 07030
Instagram
Chip Heuisler, owner
Record Store Day: Jonathan Richman & The Modern Lovers, Modern Lovers 88 [35th Anniversary]. I remember buying this CD when I was in high school at 3rd Street Jazz and Rock in Philadelphia. Although this was the final studio album of Jonathan Richman & The Modern Lovers, it was my introduction to them. I heard it playing in the shop and grabbed a copy right away. I have never owned it on vinyl, so I can't wait for the RSD anniversary treatment! I don't believe it has been reissued on LP since its original release on Rounder Records.
In the store now: Superchunk's Wild Loneliness. It's a great album beginning to end. Ten songs, 39 minutes, nothing wrong with that! I'll go with the opening track, "City of the Dead."