FUV Live At CMJ 2015: Recap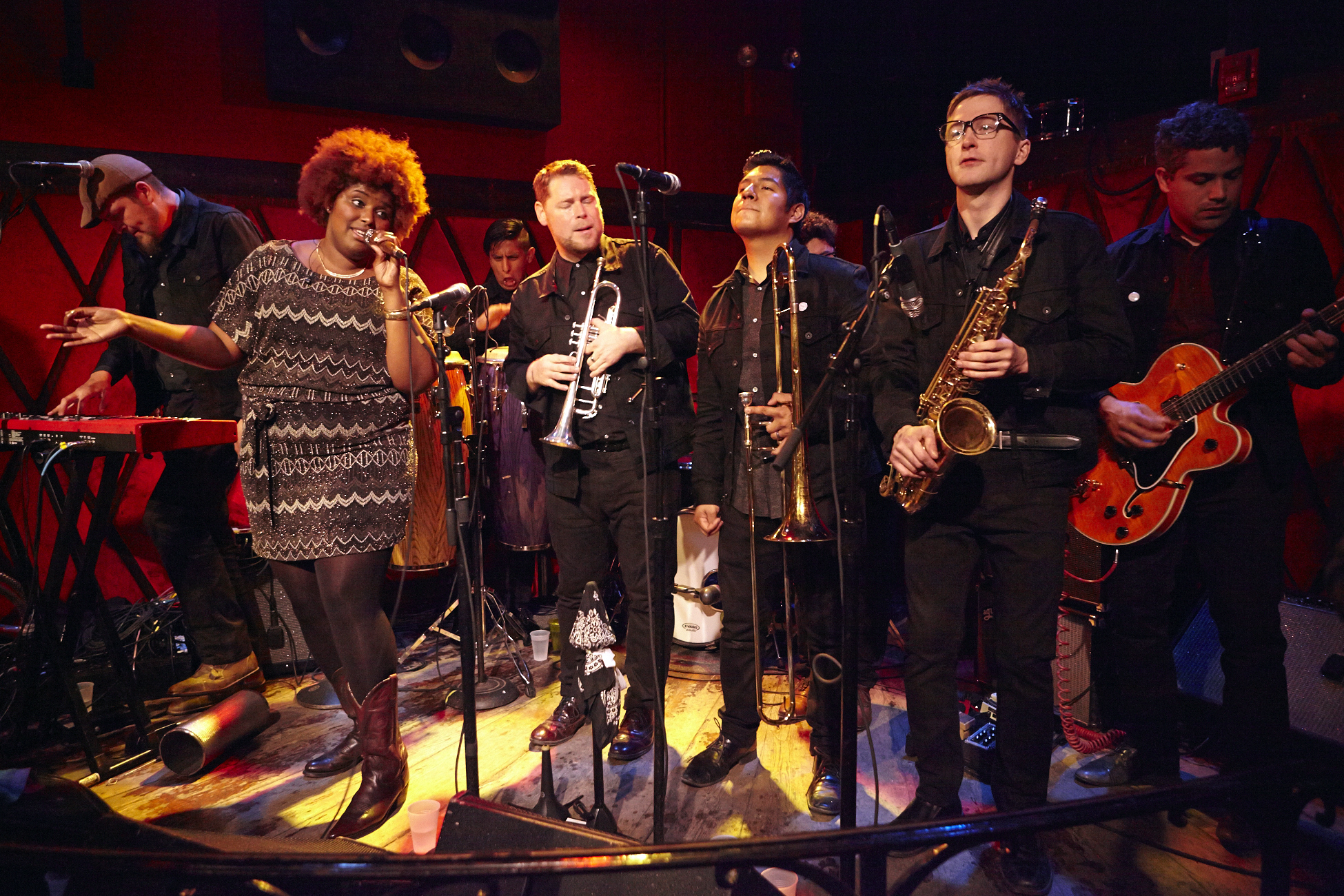 Cool new music from from Houston, Liverpool, Melbourne and New York was at the heart of our fourth annual CMJ Music Marathon showcase, FUV Live at CMJ 2015, on Tuesday night at Rockwood Music Hall, featuring newcomers The Suffers, Fraser A. Gorman, Martin Courtney, and Hooton Tennis Club. The showcase, which aired live on 90.7FM WFUV, will be archived at WFUV.org, along with videos, later this week.
The CMJ Music Marathon, which marks its 35th anniversary this year, continues through October 17 at venues across New York City.
5pm - The Suffers
This big, brassy, Gulf Coast soul band from Houston, Texas, is led by the dynamic Kam Franklin who, along with her nine bandmates, recently inspired fans to help crowdfund their debut album, due out later this year. The Suffers' bold 2015 EP, Make Some Room, earned them a spot on "The Late Show with David Letterman" in March and their eclectic sound, which reaches to rock, R&B, and reggae, made the ten-piece collective a SXSW standout this past spring.
That very diverse spirit was evident in the band's dynamic opening set in which all ten members valiantly squeezed onto a stage not much bigger than a New York City kitchen and kicked off with a bonding band huddle, raised arms and a rousing shout. That tight fit suited Franklin perfectly too; her quick no-nonsense command for the audience to put away smartphones and be fully present for the set was punctuated by the brigade of brass-wielding bandmates right by her side; she is a mighty queen of charismatic soul and you'd better pay attention.
Audience participation is key for The Suffers and for good reason; it's pretty near impossible not to bob, sway and dance along with this exhilarating Houston collective. For nearly 45 minutes, slipping from the brash entreaty of "Make Some Room" to a spirited Selena cover, "Baila Esta Cumbia," to the stirring conga swagger of "Gwan," the Suffers musically traversed the globe with freewheeling aplomb.
There is a preacher's sublime confidence in Franklin's stage presence and her grand, raspy, euphoric and tough vocals occasionally recalled another self-assured Franklin— yes, the one named Aretha. Every band member stepped forward with a big solo—percussionist José "Chappy" Luna was especially impressive—and it seemed, by set's end, that The Suffers were a little reluctant to relinquish the stage. They could have kept everyone dancing all night.
6pm - Fraser A. Gorman

Championed by fellow Australian Courtney Barnett, Melbourne's Fraser A. Gorman's 2015 debut album, Slow Gum, landed on her label, Milk!, and the two friends often appear in each other videos (see his clip for "Shiny Gun" below, featuring Barnett). Gorman leans more towards a classic Laurel Canyon or Americana sound than Barnett; rather than caustic guitar, he opts for a more loping, country flair. Equally comfortable covering Jackson C. Frank's "Blues Run The Game" with singer Leah Senior or unfurling his own mournful gems, like "Blossom & Snow," Gorman is a smart, refreshing new voice, deftly balancing the somber and the sweetly subversive.
Shuffling onto the stage with a shy but mischievous demeanor—greeting everyone with a laconic and cheeky "G'day"—Gorman gave his Slow Gum songs a rougher, more muscular workout in his live set. Accompanied by Aussie bandmates James Fleming on bass and Andy Thompson on drums, Gorman infused "Big Old World," "Broken Hands" and "Shiny Gun" with an escalating toughness that rendered him far more than a sensitive balladeer or Laurel Canyon acolyte.
Strapping on a harmonica, he dryly noted that he was frequently told he "looked like Bobby Dylan"—his unkempt crown of curls certainly helps that image—but Gorman is more akin to Alex Karpovsky's character of "Ray" in HBO's "Girls": a funny, smart, melancholy guy with an oddly observant angle on the mundanities of life. A new song called "Skyscraper Skyline Blues" is inspired by death-defying window washers, a profession which Gorman described as a "seriously gnarly job."
Gorman's impressive set was quietly powerful, revealing an astute songwriter who deftly metes out both quirky tangents and more vulnerable, wistful disclosures, bringing a wily Melbourne sensibility to classic American folk-rock.
7pm - Martin Courtney
Best known as the vocalist and guitarist for Real Estate, Martin Courtney embarks on his own solo path this autumn with a debut album, Many Moons, due out October 30 on Domino. For his first single "Vestiges," a dreamy, mellow track that shudders with a chorus of sighs and a gentle, jammed-out instrumental coda, Courtney tapped bassist Jarvis Taveniere and drummer Aaron Neveu of Woods as his backing band. The balance of Courtney's 10-track album is teased as "soft psychedelia that recalls the Kinks and Big Star," but the New Jersey musician doesn't stray far from Real Estate's lush vibe. In fact, Real Estate keyboardist Matt Kallman is also on board the album.
Atop his set, Courtney pointed out that it was only his second show as a solo performer, but he delivered the goods: his live introduction of the brand new songs from Many Moons was a triumph, despite any CMJ-stoked nerves. There was no mistaking Courtney's love of '70s-era, hazy, daydreaming folk rock here—songs like "Vestiges," "Airport Bar," "Northern Highway" and the album's title track are pristine and expansive, begging for an open road.
Courtney, playing acoustic guitar, was joined by a band that reflected his album— both Taveniere and Neveu accompanied him—as well as frequent Sharon Van Etten collaborator Doug Keith on electric guitar and Real Estate's Matt Kallman, ex of Girls, on keyboards. Even Courtney's cover of Pavement's "Major Leagues" fit perfectly—whether that was meant as an aesthetic choice matching Many Moons or a fan's nod to the Mets in the playoffs, it was inspired.
Needless to say, it was a treat to be among the first to hear so much of Courtney's new solo material in such an intimate way.
8pm - Hooton Tennis Club
The euphoric, jangling guitar rock of Liverpool's Hooton Tennis Club is both goofy and disarmingly smart, bathed in swoony summertime vibes and hummable hooks. The quartet's debut album, Highest Point in Cliff Town, dropped in late August on Heavenly Recordings on the heels of wiry singles like "Jasper" and "Kathleen Sat On the Arm of her Favourite Chair." While there's a raucous '90s squall to their sound, the four childhood friends (who hail from Chester and Ellesmere Port) found inspiration in the very contemporary, DIY way that bands like Deerhunter recorded music and built their fanbase. Signed by their record label after a mere three live gigs, Hooton Tennis Club reached out to the eclectically-minded Bill Ryder Jones, former guitarist for the Coral, to produce the dozen songs on the album, all of which reflect real experiences in their lives.
Hooton Tennis Club was not only making its New York debut at FUV Live at CMJ, but playing its very first set and radio broadcast in the United States too. And despite some jet-lag (they'd just landed from the UK earlier that day), the quartet slammed out a short, raucous and jubilant set, abundant with songs that they've pointed have have very long titles with girls' names, like "Kathleen Sat on the Arm of Her Favourite Chair," "And Then Camilla Drew Fourteen Dots on Her Knee," and "Something Much Quicker Than Anyone but Jennifer Could Ever Imagine."
Despite those verbose and sprawling titles, the band's set was taut, confident and focused, especially when blasting through their single "P.O.W.E.R.F.U.L. P.I.E.R.R.E."—a swaggering blast of Blur-ish bravado—and their closer, the shimmering pop beauty of "Jasper," a song written for singer Ryan Murphy's grandfather.
Hooton Tennis Club have a long roster of gigs ahead and the band's brash and brilliant Stateside debut at FUV Live at CMJ was a harbinger of many good shows to come.
Past FUV Live at CMJ artists include James Bay, Lucius, Elle King, Horse Thief, Son Little, Happyness, Savoir Adore, Indians (now Søren Juul), Claire, Saint Rich, Little Green Cars and Wax Poetic.