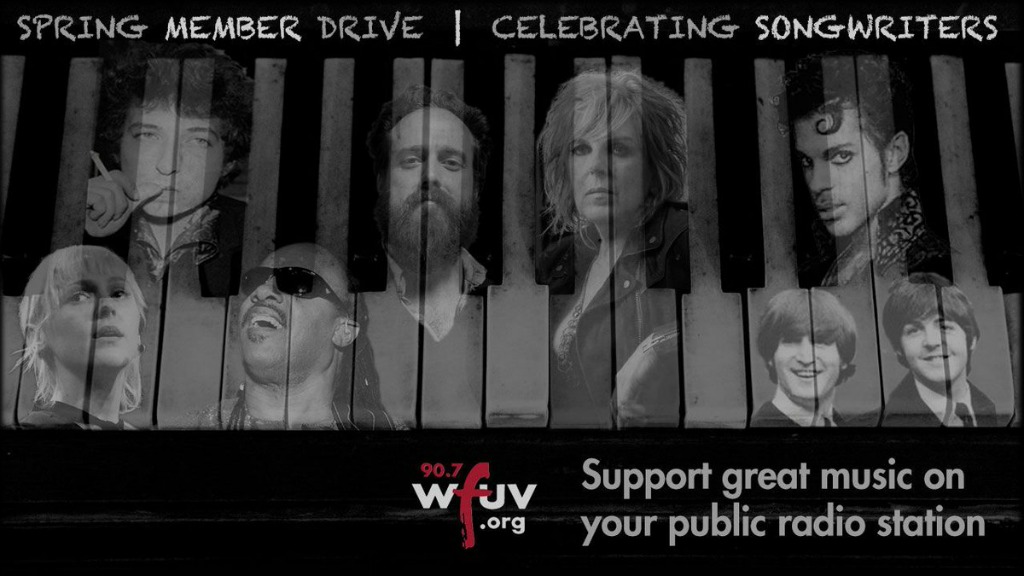 What motivates or makes a great songwriter? What is the process of transforming a feeling, a phrase, or a melody into a fully-formed song?
"Songwriting is a very mysterious process," Tracy Chapman once said. "It feels like creating something from nothing. It's something I don't feel like I really control."
A certain alchemy also inexplicably draws a listener to a song. Determining the music that soundtracks our lives is a deeply personal choice, one that begins when we're children and defines who we are as teenagers and young adults. Whether you've found solace in Paul Westerberg, PJ Harvey, or Public Enemy — or all three — there's a reason why the intersection of lyric, hook, melody, and message elicits a heartfelt response. We look to songwriters to make sense of our state of mind, reeling from joy to despair and back again. One of the great treats of our FUV Live sessions is getting the chance to understand that intimate bridge between inspiration and song.
Every songwriter is essential to someone — here, the FUV on-air staff has chosen some of the songwriters whom we personally treasure and revere. Yes, we had to leave a lot of folks off our lists!
Skip down to: Rita Houston | Corny O'Connell | Carmel Holt | Dennis Elsas | Alisa Ali | Darren DeVivo | Russ Borris | Sarah Wardrop | Eric Holland | Paul Cavalconte | Kara Manning | John Platt | Bob Sherman | Essential Songwriters playlist
 
Rita Houston
FUV Program Director, Host of The Whole Wide World
Stevie Wonder
His songs are a huge part of the fabric of my life. I feel like we've grown up together and shared joys and troubles together.
Listen: "Knocks Me Off My Feet"
Iron & Wine
Sam Beam writes songs with such range, from stark acoustic to fully fleshed out epics, but they all have heart and poetry at the center.
Listen: "Baby Center Stage"
Citizen Cope
I think Clarence Greenwood is a deep genius and his fans know it. His songs live in the big moments of our lives. A hundred years from now, people will still be listening to his music.
Listen: "One Lovely Day"
David Bowie
Each album is whole new chapter with Bowie. As a songwriter he never stayed in one place, right up until his last album.
Listen: "Five Years"
k.d. lang
Her masterful songwriting often gets overlooked in the grandness of her vocals, but her songwriting is personal, diverse, lyrically rich, and endlessly interesting.
Listen: "Outside Myself"
---
Corny O'Connell
FUV Morning Host
Nick Lowe
I first became aware of Nick Lowe as the guy who wrote Elvis Costello's hit "(What's So Funny 'Bout) Peace, Love and Understanding," then much later I was smitten by the songs on the 1994 release, The Impossible Bird.
Listen: "The Beast in Me"
Joe Jackson
It's either the romantic cynic in me, or the cynical romantic, that Joe Jackson's songwriting speaks to.
Listen: "Fools in Love"
Lucinda Williams
I found the songs on Lucinda Williams' Sweet Old World to be like chicken soup for the soul.
Listen: "Sweet Old World"
Mick Jagger and Keith Richards
There's a lot to like about the Rolling Stones and, in particular for me, the songwriting of Jagger and Richards has stood the test of time.
Listen: "Wild Horses"
Richard Shindell
There is none better than Richard Shindell at using a few well-chosen lyrics to get an emotional reaction out of me.
Listen: "You Stay Here"
---
Carmel Holt
Assistant Music Director, FUV Midday Host
Neil Young
He has always been my gold-standard when it comes to songwriting, because he always writes the raw and tender truth, whether it be about the environment, love, social and political issues, or his own life. He is both uncompromising and poetic.
Listen: "Cortez the Killer"
Joni Mitchell
She's impossible to sum up in a sentence; I would have different things to say about each musical phase Joni has had. But if I had to sum up why she is important to me, it would be this: she was the first artist I discovered as a teenager who made me want to write songs, long before I discovered that she had inspired countless others to do the same.
Listen: "Ladies of the Canyon"
Laura Marling
Though she is only in her twenties, Laura possesses the strength and wisdom of a woman who has lived lifetimes. When I listen to her songs, I find that I hang on every word.
Listen: "Master Hunter"
Wilco's Jeff Tweedy
Like Neil and Joni, Jeff's writing is, stylistically, hugely varied — from twang to rock and from loud and noisy artrock to folksy campfire fare. But across the board, his introspective lyrics pierce through, and always hit me square in the heart and, at times, the gut.
Listen: "Impossible Germany"
Neko Case
I need a T-shirt that says, "Neko Case is my spirit animal." Her lyrics are as unique and powerful as her voice; they're rich in imagery of nature. Her songs are gothic and haunting, sometimes biting, sometimes sweet, full of stories and characters that feel both fabled and true.
Listen: "The Pharaohs"
---
Dennis Elsas
FUV Afternoon Host
Bruce Springsteen
I feel like we've been traveling together for a long time.
Listen: "Thunder Road"
Neil Young
Along with his former bandmates Crosby, Stills and Nash, Young has have written and recorded some of my favorite music.
Listen: "After The Gold Rush"
Carole King
I loved all the great '60s records that she and her husband Gerry Goffin wrote, even though I didn't know their names at the time. When she emerged as a solo artist my admiration became even greater.
Listen: "One Fine Day"
Joni Mitchell
Her early impact and lasting legacy are the essence of the singer-songwriter genre.
Listen: "Both Sides Now"
John Lennon and Paul McCartney
As the Beatles or solo artists, they are an integral part of my musical DNA.
Listen: "In My Life"
---
Alisa Ali
FUV Evening Host
Bob Dylan
His songs are full of insight, wisdom, and poetic observations that are unparalleled. Perhaps the greatest songwriter who has ever lived.
Listen: "It Takes A Lot To Laugh, It Takes A Train to Cry"
Nada Surf's Matthew Caws
As the frontman of Nada Surf, he's written so many songs that I find myself constantly coming back to and finding comfort in.
Listen: "Always Love"
Sufjan Stevens
This contemplatively quirky artist brings me joy and solace.
Listen: "To Be Alone with You"
James Mercer
I think about specific lines from Mercer's work with the Shins and Broken Bells all the time. They're good reminders of how I want to live.
Listen: "The High Road"
Ryan Adams 
He feels like a kindred spirit to me. He is filled with tenderness and absurdity: a strange but compelling combo.
Listen: "My Winding Wheel"
---
Darren DeVivo
FUV Late Night Host
Walter Becker and Donald Fagen
Incorporating complex song structures rooted heavily in jazz, blues and rock, Steely Dan's Walter Becker and Donald Fagen wrote about those who lived in the mansions and on the margins: rich and infamous, seedy lowlifes, drug dealers, skeevy relatives, and lonely lovers — with a sly smile and a tongue firmly planted in cheek.
Listen: "Deacon Blues"
Elton John and Bernie Taupin
Taupin writes the words and John sets them to music — the result is one of popular music's richest and most commercially successful catalogs.
Listen: "Ticking"
Al Stewart
He possesses the inimitable ability to take an upbeat folk rock melody and turn it into a history lesson, a doctoral thesis, and a hit.
Listen: "A Man For All Seasons"
Tom Waits
Born in alleyways, junkyards, factories, thrift shops, saloons and lonely bedrooms, Waits' whiskey-aged songs come from the heart…and the liver.
Listen: "I Hope That I Don't Fall In Love With You"
Roger Waters
The former Pink Floyd member gone solo tackles subjects like madness, loss, absence, isolation, war, and politics. Few songwriters express these ideas, opinions and passions as fervently.
Listen: "Pigs (Three Different Ones)"
---
Russ Borris
FUV Music Director, Host of The Alternate Side and FUV Saturday Midday
Brian Fallon
The working man's songwriter who always makes you feel like you're not alone in this world.
Listen: "Steve McQueen" 
Greg Graffin of Bad Religion
The professor of punk rock, there has never been a more intelligent or literate songwriter in the genre.
Listen: "Struck a Nerve"
John Darnielle of the Mountain Goats
I'm not sure there is a more intelligent songwriter out there, and he writes from the most inventive, creative, and relatable of places.
Listen: "This Year"
Nick Cave
The genius of goth, mixing the perfect cocktail of darkness, light, love, life, and death.
Listen: "Into My Arms"
Stephin Merritt of The Magnetic Fields
He sees the beauty in pain and blends it with humor like no one else.
Listen: "I Wish I Had an Evil Twin"
---
Sarah Wardrop
Assistant Program Director, FUV Music Host
Allen Toussaint
I love it when liner notes reveal behind-the-scenes masters. Whether he was on lead or not, Toussaint's songs and musical gifts wove the thread of tradition with present day purpose and pure, cool groove.
Listen: "Yes We Can Can"
Tom Petty
It didn't fully hit me until seeing Petty and The Heartbreakers at Forest Hills Stadium last summer just how much his songs soundtracked my life, and how much poetry can be contained alongside a seemingly simple hook and a riff.
Listen: "Learning To Fly"
Indigo Girls' Amy Ray and Emily Saliers
Aside from their voices and folk-rock sound, this duo's songs also merge two very different writing styles. Whether they're three-chord rockers or finger-picked essays, somehow the meaning always rises and reaches out (and did to a wave of other essential songwriters that followed).
Listen: "Reunion"
Courtney Barnett
Lyrical twists and smirking turns are only part of this wordsmith's work, and it's been refreshing to see her hold to her distinct image-filled style while continuing to evolve as a writer, a guitarist, and a collaborator.
Listen: "Depreston"
Lin-Manuel Miranda
I'm an appreciator of musical theatre and hip hop but not well-versed in either, and I usually lean toward "less is more" songwriting. However, Miranda's work and all its intricacies is a mix of art, storytelling, puzzle, and passion that blows my mind, whether it's freestyle or on Broadway.
Listen: "Yorktown (The World Turned Upside Down)"
---
Eric Holland
FUV Music Host
Lou Reed
Clearly a pillar in rock's foundation, his songs spawned bands. His devastatingly direct lyrics were built on a foundation of New York experience, attitude, and cool while his music merely created punk.
Listen: "Coney Island Baby"
Joni Mitchell
Through introspective folk to compositions rooted in jazz, the subject matter in Mitchell's astonishing body of work veered from songs about love, loneliness, and infatuation to ones holding a mirror to characters and society — as much as herself.
Listen: "Rainy Night House"
Nick Cave
Ultimately a songwriter's primary responsibility is to input life and export art. Few have achieved that manufacturing process as sublimely as Cave.
Listen: "Dig Lazarus Dig"
Craig Finn of The Hold Steady
He creates resonant characters inhabiting authentic scenarios and like Bob Dylan, Bruce Springsteen and Pete Townshend, Finn has something to say about getting older.
Listen: "Sequestered in Memphis"
Britt Daniel of Spoon
Knowing like Leonard Cohen; he's modern, concise, unsentimental, clever, and enigmatic.
Listen: "The Way We Get By"
---
Paul Cavalconte
Host of Cavalcade and FUV Music Host
Sting 
Gordon Sumner does not get his due as a great song scribe. Rich images are strung along supple melodies (and of course basslines). Sting's best songs find him wounded but never defeated.
Listen: "Message In A Bottle"
Paul Simon
The Queens poet who gives new meaning to "think global, act local."
Listen: "Old Friends/Bookends"
Lucinda Williams
Earthy and visceral, Lucinda paints feelings vividly and with a unique voice that you can also sing along with.
Listen: "Car Wheels On A Gravel Road"  
Chuck Berry
Hail Hail! Rock and Roll and the first poet of teen ambition. Chuck's songs turn the key to an adult world with mischievous glee.
Listen: "School Days"
Ray Davies
The most underrated rock era songwriter, with a magical ability to conjure antiquity and modernity.
Listen: "Days"
---
Kara Manning
Host of UKNY

Prince
A genius who conjured funked-up midnight confessions and cool, guitar-spanked grooves that were erotic, spiritual, empathetic, insightful, and deliciously free. His far-too-early departure, like David Bowie's, still hurts.
Listen: "Money Don't Matter 2 Night"

Laura Marling
For the past decade, Marling's preternatural gift, translating into song her vivid passage from shy teenager to assured young woman, has led to six astonishing albums. Fearless, tender, sensual, and steely, she's a masterful artist who has already influenced her generation of songwriters.
Listen: "Salinas"
Underworld's Karl Hyde and Rick Smith
The duo's stirring confluence of electronica, dance, rock, visual art, cinematic narrative, and visceral lyricism redefined a genre, reinvented the band, and continues to expand and exhilarate. Along with Harold Pinter and Caryl Churchill, Hyde's rhythmic, free-flowing observations taught me a lot about playwriting too.
Listen: "Jumbo"

The Divine Comedy's Neil Hannon
Back in the '90s, Hannon's clever, quirky, and erudite songs won him some early mainstream attention. He's sustained his wondrous (but woefully underrated) career with gorgeous songs that soar with tenderness, wit, and a keen understanding of love's travails.
Listen: "To The Rescue"

Kirsty MacColl
She was hilariously acerbic when she wanted to be, but MacColl also wrote heart-wrenching songs of inordinate beauty and perception. Her tragic death in 2000 came just months after the release of her Cuban-splashed fifth album, Tropical Brainstorm. It's so brutally unjust; Kirsty's wise, warm, and witty voice is terribly missed.
Listen: "Soho Square"
---
John Platt
Host of Sunday Supper
John Prine
The Ernest Hemingway of singer-songwriters, whose craft is deceptively simple, yet profound and hugely influential.
Listen: "Angel from Montgomery" 
Joni Mitchell
When I ask young songwriters for their inspirations, other than Dylan, the names that most often come up are John Prine and Joni Mitchell. Even Jimmy Webb, a master himself, credits her very personal style with changing his approach.
Listen: "Cactus Tree"
Stevie Wonder
His range and depth are astonishing. What year was it when Paul McCartney won a Grammy and thanked Stevie for not releasing an album that year, so someone else could win?
Listen: "Summer Soft"
Dave Carter
The songwriter's songwriter of contemporary folk, who was both a mathematician and a mystic. When I asked Joan Baez in 2001 who was writing songs that measured up to Dylan's, she mentioned his name.
Listen: "Gentle Arms of Eden"
Josh Ritter
Joan Baez has also given her seal of approval to the most literate songwriter of his generation, recording a number of his songs.
Listen: "Change of Time"
---
Bob Sherman
Host of Woody's Children
Pete Seeger
His life and work epitomize the highest ideals of contemporary folk music, and he influenced virtually every other major artist working today.
Listen: "Oh, Had I A Golden Thread"
Tom Paxton
Tom proved that news of the day could be swirled into anthems both funny and furious, while also leaving room for exquisite romances.
Listen: "How Beautiful Upon the Mountain"
Malvina Reynolds
She was an early champion of the earth, social justice and common sense, whose iconic pieces remain timely all these forty years after she left us.
Listen: "Little Boxes"
Tom Chapin
His wonderful "grown-up" songs are matched by a rich harvest of music for younger folks that teach and entertain with equal charm.
Listen: "This Pretty Planet"
John McCutcheon
An artist who gives events of widespread social and political fallout searing personal impact by weaving them into (often true) stories of ordinary people.
Listen: "Streets of Sarajevo"
 
---
Listen