Dusty Springfield: Dusty in Memphis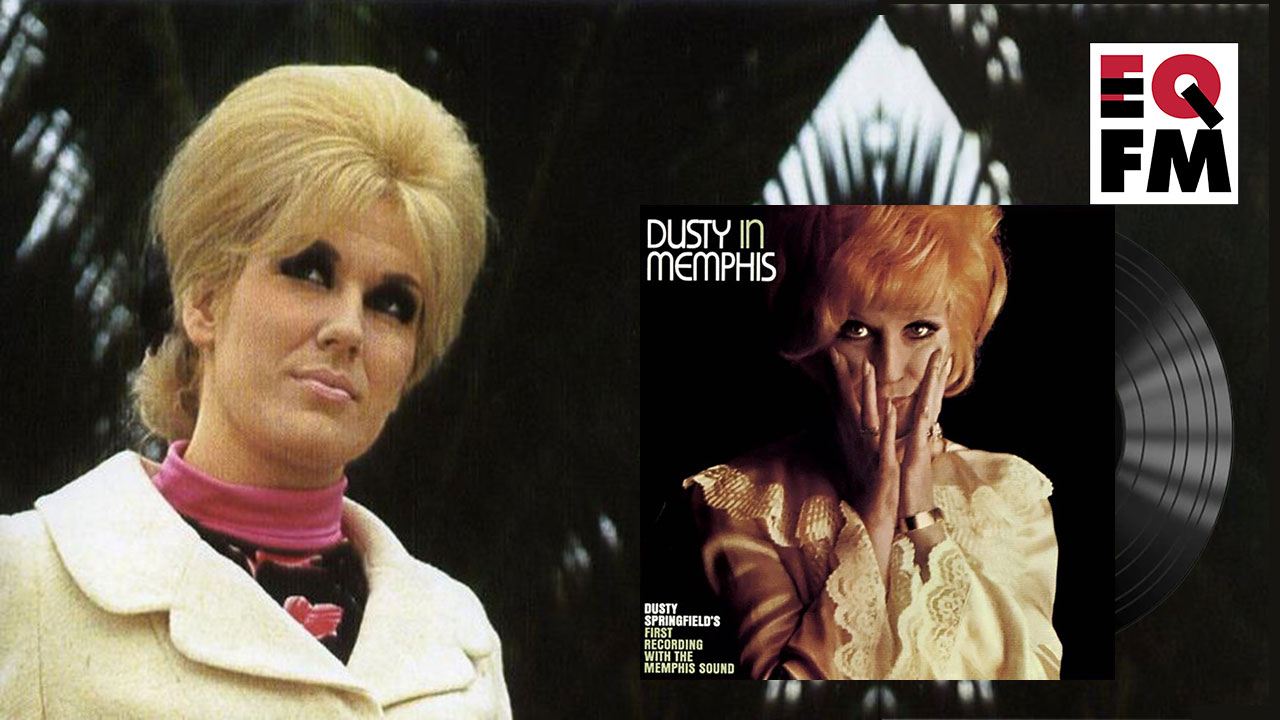 Album ReCue, a part of FUV's EQFM initiative, takes an on-air and online look back at influential releases by women that altered our perspective not only of the artist, but her invaluable impact on music history. Above, listen to a conversation with Alisa Ali and Delphine Blue about Dusty Springfield's 1969 release, Dusty in Memphis, and below, Laura Fedele's overview.
Dusty in Memphis was not a hit. Sales-wise, it barely cracked the Billboard 100. So how did it end up regarded as one of the most important records of the '60s? It's a dramatic story.
Mary Isobel Catherine Bernadette O'Brien was a London tomboy from an emotionally stormy home who earned her nickname playing football with boys in the street. With the help of her brother, she reinvented herself as a teen into a beehived, dark-eyed icon of the "Swinging Sixties." Her clear voice, tinged with wistful heartbreak, hit British radio in '63 and '64 with pop hits like "I Only Want to Be with You" and "Wishin' and Hopin'," heard alongside the smooth croon of Tom Jones and the Merseybeat pop of The Searchers.
It was a transitional time in music and culture, and while Springfield was a genuine star, her young blue-eyed soul leaned old-fashioned during the rise of Van Morrison and Steve Winwood. The late '60s weren't so kind to "girl singers" — so in a bold example of her musical instincts, she flew to New York and signed with Atlantic Records, to team up with Jerry Wexler, Tom Dowd, and Arif Mardin. They were the ones who broke her soul music idol, Aretha Franklin. Off they went to Memphis.
Atlantic's house band of studio musicians, led by guitarist Reggie Young and bassist Tommy Cogbill (Elvis Presley, Wilson Pickett), made for an intimidating setting. It brought out the perfectionist in Springfield. She drove Wexler mad doing Dusty in Memphis, recording songs one line or phrase at a time to get them just right. It's hard to imagine this, though, listening to the silky delivery of "Just a Little Lovin'" or "Breakfast in Bed."
"I think that she was very, very judgmental of herself, and not necessarily right in doing that," says Burt Bacharach, one of the A-list songwriters who contributed to the album, in the documentary Just Dusty. In fact, she was never satisfied with her vocals on the album's lead hit, "Son of a Preacher Man" (originally written for Aretha), and ended up rerecording them back in New York.
The meticulous work Springfield put into Dusty in Memphis included carefully selecting every song, from an all-star list of American songwriters. Besides Bacharach and Hal David, the credits include Gerry Goffin and Carole King, Randy Newman, and Alan and Marilyn Bergman. And she was already accustomed to having complete control over her recording sessions from her first four albums, not that her production prowess was officially recognized.
She explains in Just Dusty: "I never got my name on the label as a producer because — this is rather typical of what one can be conditioned into thinking as a woman — I thought that I shouldn't take the credit, that it would take away from my credibility as an innocent little singer."
The hard work paid off in the form of an album the Guardian called "a carefully chosen and beautifully performed collection." They called Springfield "the only white woman singer worthy of being mentioned in the same breath as the great divas of 1960s soul music: Aretha Franklin, Gladys Knight, Dionne Warwick, and Mary Wells."
A study in contrasts, Springfield was naturally full of humor, a practical joker and vivacious fighter, prone to food-throwing tantrums she'd later laugh about. She was also shy and serious, a staunch Catholic, and scared to death to get onstage; it was only her poor vision, which left her unable to see the audience, that saved her.
The fact that Memphis didn't sell well was a huge disappointment, and it haunted her. Springfield had put her all into it, overcoming her shyness and insecurities to meet the challenge of stepping out from the old big-band arrangements and giving intimate, stripped-down performances in the studio. The big-haired, elegant stage persona that had protected her was falling away; it left her depressed and lost.
After Memphis, the US music industry didn't know what to do with Springfield. She didn't fit a genre, and ended up playing dinner clubs. She felt adrift in Los Angeles, a fish out of water; she spent money on all the wrong things and ended up broke, sleeping on couches. She was bisexual and paranoid about being discovered, but gossip about her relationships with women began to spread in the '70s; she ran into trouble with drinking and drugs due to the growing pressure.
It took a long time to bounce back. With the support of friends she cleaned up and stayed that way, but still wasn't sure where she fit in the world. Then, nearly 20 years after her last hit, in 1987, the Pet Shop Boys brought her back to England to sing with them on "What Have I Done to Deserve This?" (on Actually) and they produced half of her 1990 comeback album, Reputation.
The project brought her to the attention of female artists of the 2000s, and Springfield's sophisticated singing style had heavy influence on Adele, Amy Winehouse, Duffy, Joss Stone; in the U.S. you can hear echoes of Dusty in Shelby Lynne, Joan Osborne and others.
Since its release, Dusty in Memphis has been reissued three times, and its place in music history is firm. She was inducted into the Rock and Roll Hall of Fame in the States and the UK Music Hall of Fame (posthumously), largely on its merits. Before breast cancer took her at age 59, Springfield had seen her project's reputation only grow; it is widely regarded as being ahead of its time.
As Elvis Costello wrote in the liner notes for the 2002 reissue of Dusty in Memphis: "Dusty Springfield's singing on this album is among the very best ever put on record by anyone. It is overwhelmingly sensual and self-possessed but it is never self-regarding. The delivery might be confidential, intimate or vulnerable in the opening lines of a song only to explode in the chorus with unknowable emotion. Every crescendo is well judged; the performances are never showy or bombastic. The most striking impression throughout is one of honesty."
 
Listen
WFUV's EQFM Album ReCue: Dusty Springfield's Dusty in Memphis