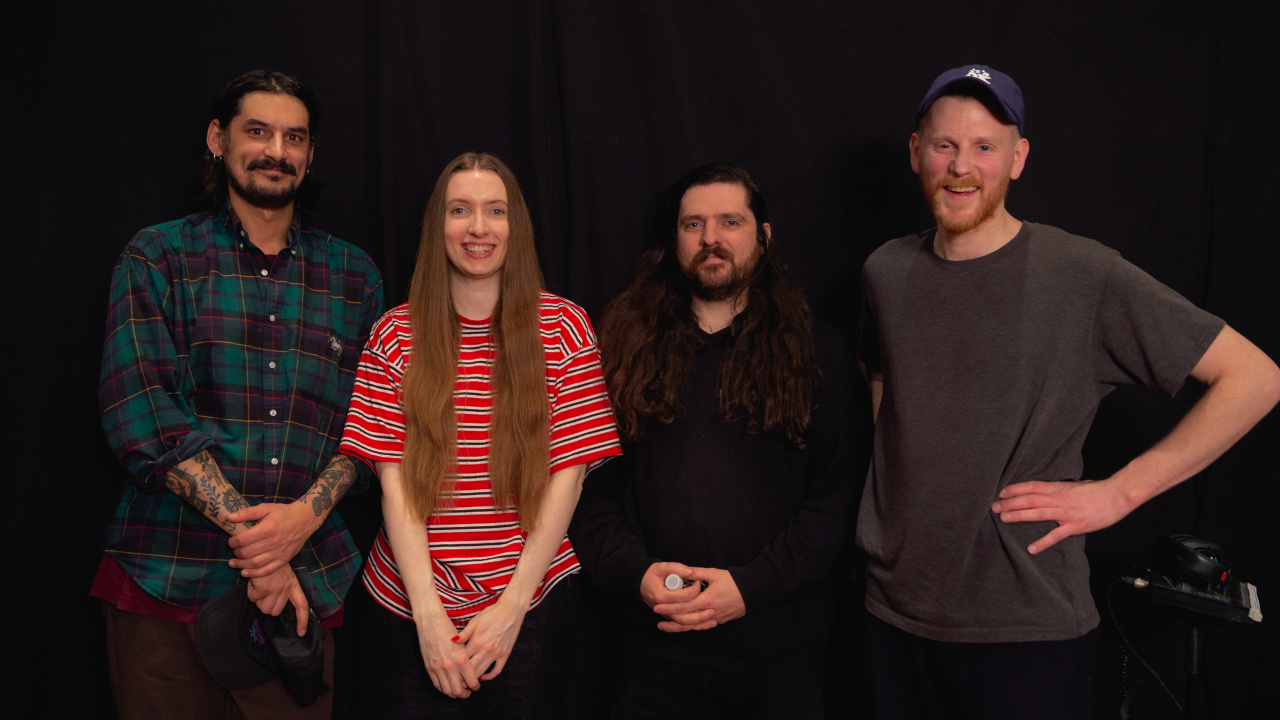 [Ed. Note: Until April 2022, Dry Cleaning had the strange honor of being the last live band to play FUV's Studio A on March 6, 2020 before the pandemic shut down Fordham's campus and our studios to usual operations. Like most bands, the quartet's tour was truncated, but they used 2020 well, recording and then releasing their absolute blast of a debut album, 2021's New Long Leg. Last year, Dry Cleaning brought their sly, surreal, new songs like "Strong Feelings" and "Scratchcard Lanyard"  — so smoothly narrated by effortlessly cool frontwoman and lyricist Florence Shaw — to venues and festivals in the UK, Europe, and North America, making their U.S. television debut on "The Tonight Show Starring Jimmy Fallon." Dry Cleaning embark on a UK and European tour this spring before returning to the States — they'll play New York's Webster Hall on May 18.]
The London quartet Dry Cleaning first turned ears when they released their 2019 debut EP, Sweet Princess, with its delightful lead single, "Magic of Meghan." Dry Cleaning vocalist Florence Shaw wrote the lyrics to the song, an acerbic but quite affectionate ode to lapsed royal Meghan Markle, when Shaw was confronting her own romantic breakup.
The sweet princess of the EP's title actually refers to a 17-year-old cat, not Meghan, but everything about Dry Cleaning is unexpected — from Shaw's observant word collages to the taut, ferocious exchanges of guitarist Tom Dowse, bassist Lewis Maynard and drummer Nick Buxton. Dry Cleaning's even stronger second EP, Boundary Road Snacks and Drinks, was released later in 2019 and now the band, freshly signed to 4AD, their professed dream label, is focused on writing and recording their debut album.
Dry Cleaning brought along their terrific sense of humor when they visited Studio A for their very first American radio interview.
[Recorded: 3/6/20; Engineer: Jim O'Hara; Producer: Sarah Wardrop]
Flickr Gallery