Dolly Parton: Coat of Many Colors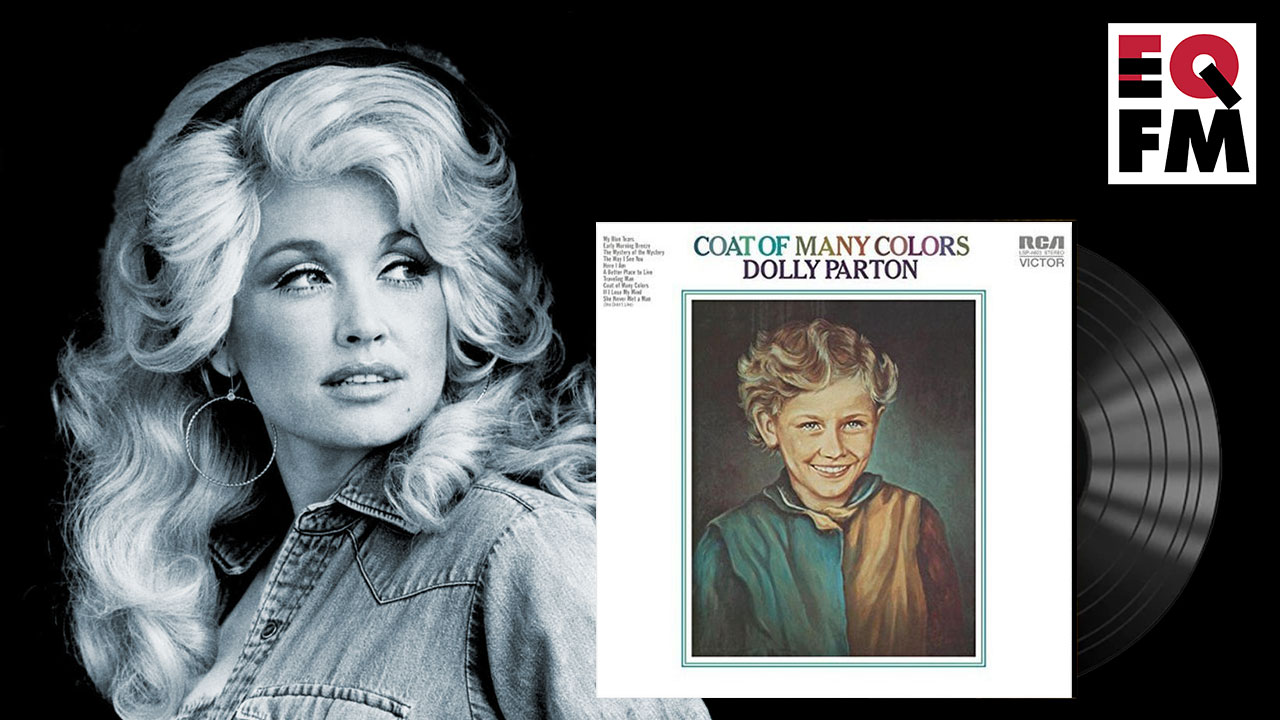 Album ReCue, a part of FUV's new EQFM initiative, takes an on-air and online look back at influential releases by women that altered our perspective not only of the artist, but her invaluable impact on music history. Above, listen to a conversation with Alisa Ali and Laura Fedele about the record, and below, Laura's overview.
Dolly Parton stands alone. Only she could manage to completely skirt politics in our divided culture and remain beloved by fans of every possible belief, from church ladies to drag queens. A sharp-witted, smooth-talking charmer, Tennessee's "Southern Jesus" deflects any attempts to pin her politics down with a boob joke and a wave of beatific love. (The excellent Dolly Parton's America podcast digs into many facets of her persona and symbolism.) But her place at the top of music and movie fame was hard won.
In 1971, it was do-or-die time for Dolly Rebecca Parton. She'd made her name on "The Porter Wagoner Show," and was just beginning to break away from the series and the man who had both launched and then limited her career.
With Coat of Many Colors, a collection of bold and emotionally rich songs (written by her, except three by Wagoner), Parton stepped into the light on her own terms. What she had to say, in mostly ballad form, described the inner lives of women — their memories, fears, and complex relationships. She crafted an intimate world of female voices, of mothers and daughters, wives and lovers.
The title track, often cited as Parton's favorite of her own tunes, is based on a childhood memory of her mother's care and love, and carries a strong message: Wealth is not dependent on money, it is a matter of the heart. (It even launched an NBC movie of the same name, with Ricky Schroder, no less.) It's the kind of sentiment that Parton has genuinely beamed out from her country mountain smile for her entire 60-year career, of being true to yourself and embracing of others. She cites her mother as the source of that wisdom, as saying "We are not poor, just because we don't have money. We're rich in attitude, we're rich in spirit, we're rich in love."
Also on Coat of Many Colors, "Traveling Man" turns her protective Mama into the surprising boyfriend-stealer you didn't see coming, with touches of her trademark bawdy humor, turning the unseen man into a cad and a joke; "My Blue Tears," the first single, casts its unseen man as an anonymous heartbreaker, focusing on the woman left behind; "Here I Am," which got a Sia reboot in 2018 thanks to Parton's Netflix production deal, describes the pain and sadness in women's lives but ends with notes of hope.
Of course these messages wouldn't have gotten far without the musical chops to back them up: Parton not only has an angelic, powerful voice, she is an accomplished multi-instrumentalist who performs to wide-ranging, dazzled crowds on guitar, banjo, autoharp, dulcimer, drums, fiddle, harmonica, piano, flute, and penny whistle.
Coat of Many Colors brought the stories of heretofore unseen women to the fore: The poor, the Southern, the ones bold enough to strike out on their own and make good by doing good, just like she did.
Listen
WFUV's EQFM Album ReCue: Dolly Parton's's Coat of Many Colors