Courtney Barnett: Sometimes I Sit and Think, and Sometimes I Just Sit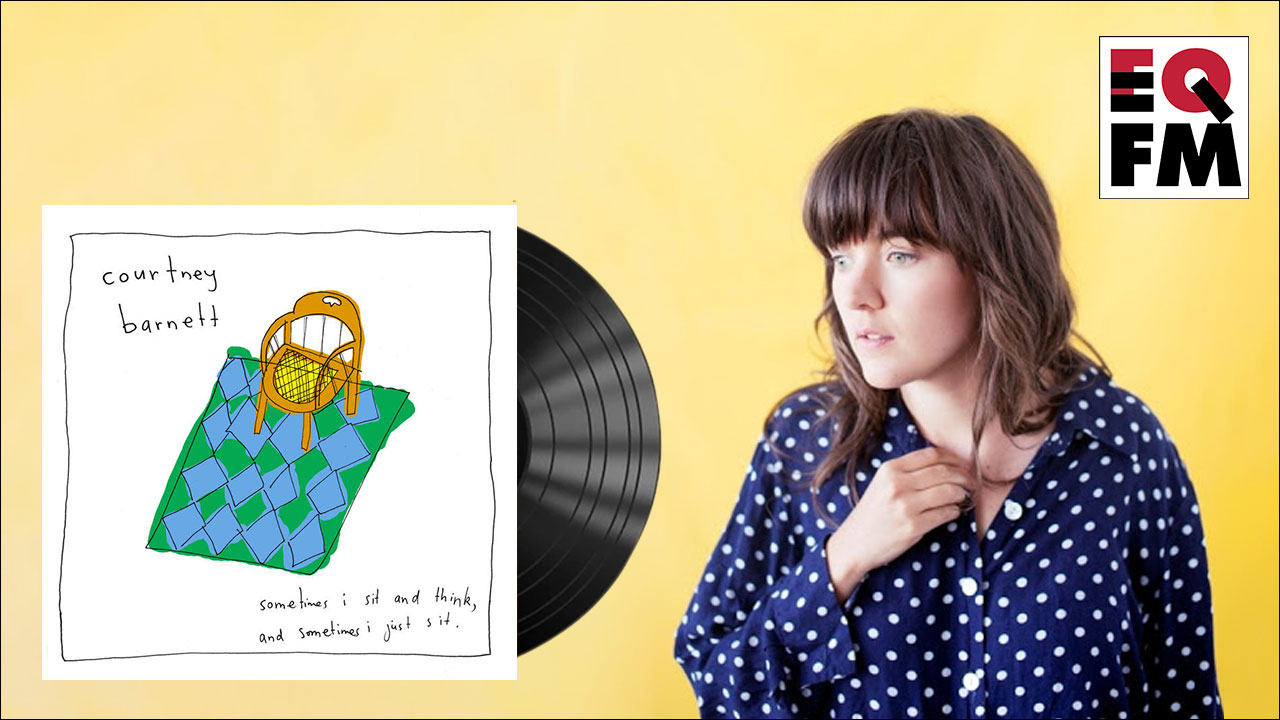 Album ReCue, a part of FUV's EQFM initiative, takes an on-air and online look back at influential releases by women that altered our perspective not only of the artist, but her invaluable impact on music history. Above, listen to a conversation with Alisa Ali and Kara Manning about Courtney Barnett's 2015 debut album, Sometimes I Sit and Think, and Sometimes I Just Sit and below, Kara's overview. WFUV gratefully acknowledges the support of EQFM by The Public Theater.
By the time she made her first trip to New York in October 2013 for the CMJ Music Festival, Courtney Barnett was already a working musician in her native Australia. Her two EPs on her own Milk! Records label, I've Got a Friend Called Emily Ferris and How to Carve a Carrot into a Rose, had been released Stateside in September of that year as The Double EP: A Sea of Split Peas.
Barnett's multiple CMJ sets, alternating showcases with her band and solo, accompanied by her electric guitar and amplifiers, were riveting. Her lyrics were as minutely detailed as pointillism, landing precisely on mundane observations that, when stitched together, shaped the arc of a universal truth. Her droll asides and wayward vocal phrasing (Barnett half sings and half speaks most songs) were juxtaposed by her ferocious guitar chops and, conversely, an introvert's unease with all that damn attention. As one of many smitten with those refreshing Barnett gigs seven years ago, it was a big bundle of joy to watch her. By the time CMJ wrapped, as crowds packed any venue that Barnett graced, she was the queen of the Lower East Side.
Consumed by jet lag during that Manhattan stay and missing her then-girlfriend and Milk! Records co-founder Jen Cloher, Barnett wrote the plaintively sing-song "An Illustration of Loneliness (Sleepless in NY)" about that exhausting experience. That song landed on her outstanding debut album, Sometimes I Sit and Think, and Sometimes I Just Sit. But her first album didn't even come out until 2015, a full three years after her first EP. Weary from touring, a self-described perfectionist, susceptible to anxiety, and "thrown by the weird attention" that she was getting, Barnett slowed things down for her own peace of mind.
That patience paid off with Sometimes I Sit and Think, and Sometimes I Just Sit, as Barnett worked out songs with bandmates Bones, Dave Mudie, and Dan Luscombe while on the road and in the studio. The band even previewed tracks like the wistful "Depreston," a sensitive intersection between gentrification and loss, during an FUV Live session way back in February 2014.
Barnett's stressed-out internal negotiations with fame gnaw at her lyrics, even the funny ones, as on the bluesy lament "Small Poppies" ("I make mistakes until I get it right") and the incendiary tempest of "Pedestrian at Best" ("Put me on a pedestal and I'll only disappoint you"). The acoustic murmur of "Boxing Day Blues," forlorn and suspended in incertitude, belies the music press spin on the witty "slacker" songwriter.  (She later revisited that track, plugged-in, via a Third Man Records release). Barnett is not a slacker, but she is an astute witness to the prosaic rhythms of an ordinary life.
"That time you dropped your watch down a drain on Main Street," Barnett explained to the New York Times, "could be a turning point for the rest of your life."
While the collision between fame, relationships, and inner discourse is hammered home throughout Sometimes I Sit and Think, and Sometimes I Just Sit, there are other tangents too. Environmental threats and the climate emergency skitter through the exhilarating, slow-building distorted jam of "Kim's Caravan" and the weirdly prescient "Dead Fox" ("Sometimes I think a single sneeze could be the end of us").
As her second album, 2018's Tell Me How You Really Feel, and her side project with her pal Kurt Vile, 2017's Lotta Sea Lice, further demonstrated — no one sounds quite like Barnett. While she's influenced by the storytelling of Bob Dylan and the autobiographical disquiet of Kurt Cobain, she writes very differently, articulating the ruminations that provoke but also comfort an unsettled mind. It's not random stream-of-consciousness, but as precisely articulated as the A.A. Milne quote Barnett discovered on a poster in her grandmother's house, which gave Sometimes I Sit and Think, and Sometimes I Just Sit its title.
"Some of them are pop songs and some of them are ballads and some of them are f**king heavy," she told the NME upon the record's release. "It's weird to figure out. The album is a general overview of essentially a year of emotions – 12 months of f**king every day, up, down, up, down. I dunno what a normal person has but every day I had a mid-life crisis. I think in that sense it's representative of that time. I don't know if people will get that but to me it makes sense. To have a whole album of rock'n'roll songs… It's cool but… it feels like, are you ever sad? Are you ever sincere?"
Listen
WFUV's EQFM Album ReCue: Courtney Barnett's Sometimes I Sit and Think, and Sometimes I Just Sit