Coldplay: Throwback Thursday 2000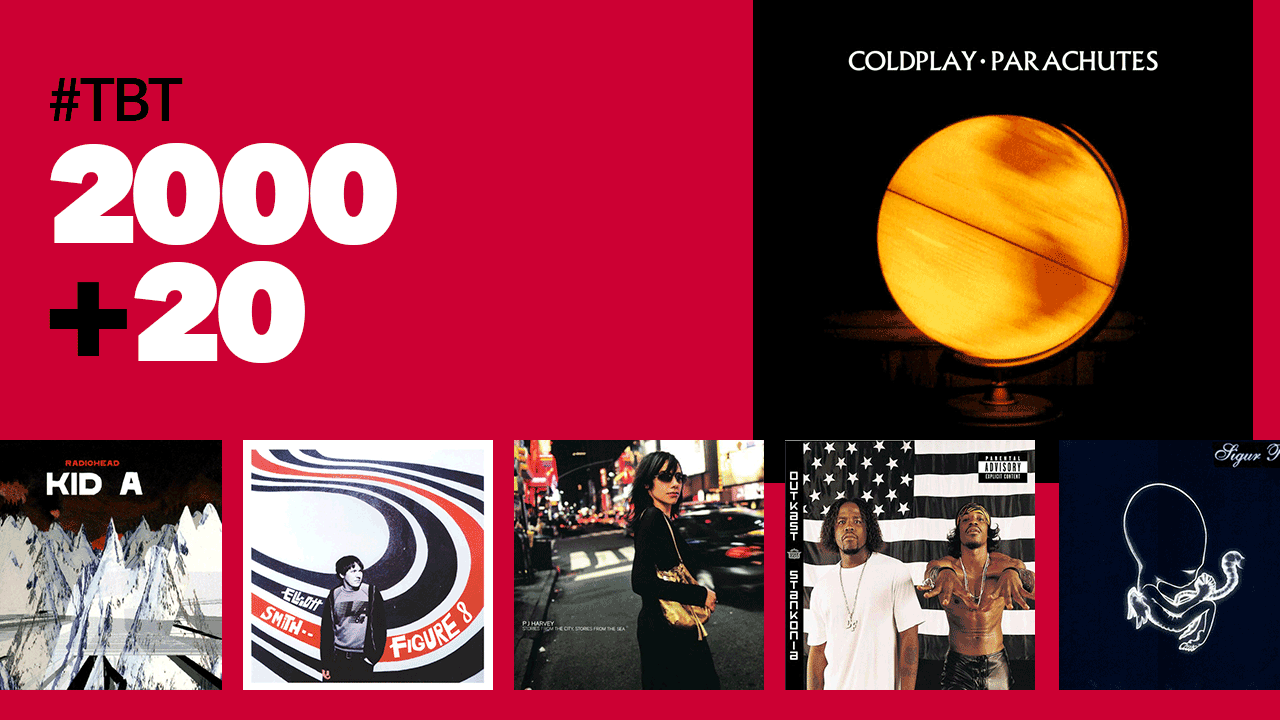 The music that served as 2000's soundtrack — especially those singles and albums that landed on mainstream Top 40, urban, and alt-rock stations — zigzagged in multiple directions, from the defiant pop of Pink to the brute navel-gazing of Eminem. Some albums were oddly prescient of the turmoil ahead in 2001, like Radiohead's transformative Kid A and PJ Harvey's inspired ode to New York, Stories from the City, Stories From the Sea. OutKast's Stankonia was a glorious mash-up of funk, hip hop and rock, while Elliot Smith's Figure 8 was a haunted confession of despair.
Notably, 2000 was an impressive year for indie rockers, like Godspeed You! Black Emperor, Yo La Tengo, Sleater-Kinney, Grandaddy, The New Pornographers, and especially Sigur Rós, whose Ágætis Byrjun was a ghostly masterpiece of soundscapes and the boundless Icelandic music scene.
One of the most resonant debut albums of that year came via Coldplay, a London quartet of four college friends who began playing together in 1996: singer and guitarist/pianist Chris Martin, guitarist Jonny Buckland, bassist Guy Berryman, and drummer Will Champion. They'd signed with a major label, Parlophone, before the release of their 1999 EP, The Blue Room, which — via tracks like an early version of "Don't Panic" — offered a window into what would become their first album, Parachutes.
In 1999, the Scottish band Travis had released The Man Who, a breakout album for them that shared a similar template to Coldplay's Parachutes — quiet, earnest songs of self-reflection that leaned heavily on slow-building, anthem-ready choruses. Like Travis's "Driftwood" or "Why Does It Always Rain on Me?" Coldplay's "Yellow," the first official single from Parachutes, had a wistful, urgent majesty (not to mention that video of rain-soaked Martin strolling along a beach in the stormy grey of sunrise). There was a sweet cast to Martin's romantic plea, against the raucous crash of guitar, that sounded different on the radio; it was accessible, but coolly cryptic too — why was it all "yellow" after all?
The album's opener, a revised "Don't Panic," was uneasy about the future. The lyrical seesaw between "all of us are done for" and "we live in a beautiful world" makes this simple song oddly prophetic in that year before things really went pear-shaped. One of Coldplay's great lovelorn songs, "Shiver," sounds even better on Parachutes two decades down the line: a jolting juxtposition between Buckland, Martin and Berryman's driving acoustic and electric guitars, Champion's aggressive, jittery drumming, and Martin's soaring vocals, eerily reminiscent here of the late Jeff Buckley.
The piano ballad "Trouble" and "Sparks," which prettily bobs on a sea of acoustic guitar, find their engines via Martin's cracked whisper of fealty and apology. In fact, it's the startling intimacy of Martin's gentle vocals, and the boyish innocence of his sometimes too-sincere lyrics, that weirdly works so well on Parachutes. It's like learning what your introverted, slightly awkward, sweet kid brother really thinks: his mind a mix of vulnerability, dashed hopes, and emerging bravado.
"Everything's Not Lost," which enters with the faintly resigned air of a Randy Newman ballad for its first 53 seconds (minus Newman's acerbic turn), releases with a rush into the arpeggiated cascade of guitars, uplifting chorus, and Martin's towering falsetto that have become so classically Coldplay. The ethereal "High Speed" wouldn't sound out of place on a Radiohead album, either.
Drifting back to Parachutes after 20 years, armed with the knowledge of Coldplay's enormous success and the more modest trajectory of Travis, raises a question: What is that elusive alchemy that elevates one band and makes the road rockier for others? Travis's The Man Who opened the door for Coldplay's Parachutes. In turn, both bands made it easier for peers like Elbow, Snow Patrol, Keane or Death Cab for Cutie to flourish. Not that the members of Coldplay haven't faced their own issues, but the band is one of the few remaining supergroups that can still sell out a stadium. Their 2019 double album Everyday Life, the band's eighth, returns them to Parachutes' doorstep too, with starker, overcast songs that hark back to their earlier years — although they're refraining from a world tour until they can find an environmentally sustainable way to do so.
Hindsight is bittersweet too. That summer of 2000, when Parachutes was released, was a time of relative normalcy before life crashed into everlasting wartime the following year. Sure, there was some Y2K panic on New Year's Eve (Will all computers crash? Nope!), but aside from the usual challenges of human existence, like a contested Presidential election (hanging chads!), 2000 just didn't prepare us for the devastation we'd face in 2001.
So 20 years on in 2020, a year already ravaged by polarizing elections, Covid-19, Brexit, the climate catastrophe, and general chaos, it's kind of consoling to dip back into Parachutes. While Martin is no soothsayer, the sentiments of "Don't Panic," "Trouble," "Everything's Not Lost," and especially the final hidden track, "Life is for Living," have never seemed more apt. However, I still have no idea what Martin means by "it was all yellow." Unrequited love? Sunrise? Van Gogh's Sunflowers? My guess is as good as yours.
Listen
#FUVTBT: 2000 (Spotify playlist compiled by FUV's DJs)