CMJ Showcase Interviews: Indians, Little Green Cars, Savoir Adore And Wax Poetic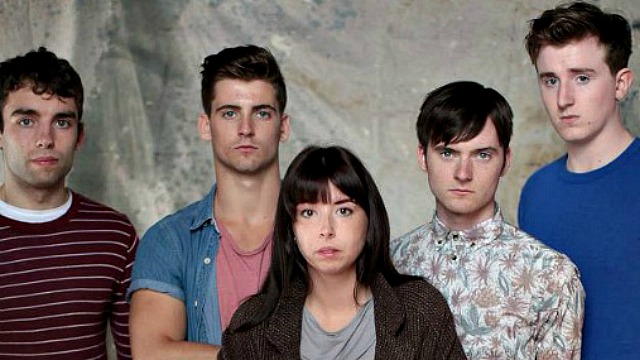 WFUV and The Alternate Side's very first CMJ Music Marathon showcase takes place tomorrow, October 16, at the Living Room. We had a few questions to ask our four international bands — Copenhagen's Indians, Dublin's Little Green Cars and New York bands Savoir Adore and Wax Poetic — and they kindly offered up their views on everything from Brooklyn "myths" to not-to-be-missed CMJ acts.
The WFUV/TAS CMJ showcase, which airs live on 90.7 WFUV on Tuesday night beginning at 7 p.m. EDT, is supported by TuneIn. Listen to the world.
Highlights from the show will be broadcast again on TAS on 91.5 WNYE on Thursday, October 18 from 9-11 a.m. EDT (also streaming) and on TAS on FUV from 10 p.m. - midnight on Friday, October 19.
TAS: Aside from playing your CMJ gigs, what else do you hope to do in NYC while you're here?
Søren Løkke Juul: It's difficult to chose the perfect spot in NYC; you have so many great places, especially if you like to go out to have a gastronomic experiences. But this time, I think, I'll bring some friends to the Ace Hotel restaurant [The Breslin Bar and Dining Room] and order the whole pig they have on the menu.
TAS: Your debut album comes out early next year. Can you tell us a little about what to expect?
Søren: The album is stories told from the cold north. It's a present. Dreamy, honest, intense. The expression [of]  "Take a walk with me, into the unknown dreamland.
TAS:  If you could pick out any musician/band to cover an Indians track ... what song, what band and why?
Søren: i would really like to here the Antlers do a version of my song "NEW." I've been listening to the Antlers for a long time and i am addicted. Just love the songs and the sound. It makes me happy
TAS: This is your first time at CMJ — aside from doing your own gigs, what are you most looking forward to doing (or seeing) in NYC?
Little Green Cars: We're looking forward having a walk around Greenwich Village, Central Park and we really want to make it to the Metropolitan Museum of Art and MoMA too!
TAS: You worked with producer Markus Dravs for your debut album this summer. What did you take away from the experience as a band — and which tracks are you especially excited for people to finally hear?
Little Green Cars: It was great working with him, he's made some of our favorite albums, and it really felt like we all wanted to make the same record from day one. Some of the acoustic songs that we had never played live really came together in the studio.
"The Kitchen Floor" in particular; we're excited for people to hear that.
TAS: Your first Stateside single is "The John Wayne" which you first released last year in Ireland. Are you buffs of old Westerns or is there another story lurking behind the lyrics?
Little Green Cars: It's a reference to "The Quiet Man." When we worked on the song initially, we had to be really quiet with the drums, so we christened the kit "the John Wayne." But we love movies too; Westerns are great!
Savoir Adore's Paul Hammer and Deidre Muro:
TAS: When you look objectively at your new album, Our Nature, what particular tracks are you most proud of as a duo and why?
Deidre: When people ask us what our favorite tracks our, we usually answer "At The Same Time" (for Deidre) and "Sea of Gold" (for Paul). For "At The Same Time", I really think we stepped out of our boxes even further than we normally do, as there is no other track on the album that sounds like it, but it is very much a product of our influences. It also uses one of my favorite techniques for the whole song — when Paul and I sing in unison and attempt to make one unique hybrid voice.
Paul:  For "Sea of Gold," there was a reserved intensity that quickly became apparent as we were writing the song. We tried to maintain and build on that dynamic through the arrangement and performances. This was also a bit of an adventure vocally for us and it was really exciting to see it all come together and become our conclusion for the record. In the end, I feel it really captured the sense of solitude and self-reflection that takes place after something falls apart. It's always exciting when you can achieve that union of sound, idea and purpose.  
TAS: Three myths would you like to dispel about Brooklyn bands?
Paul and Deidre: One thing we usually get asked about is what it's like to be in the "Brooklyn scene." We think it's a myth that there is just one "Brooklyn scene" in which everyone knows each other and plays together all the time.
Brooklyn is a huge place that happens to currently be one of the most affordable neighborhoods of New York City, so there are tons of musicians and bands doing wildly different things there. There are also questions we get asked about the "Brooklyn sound" - and that just doesn't exist. There are so many genres and styles of music going on in Brooklyn - imported by everyone that moves there - that you can't really pin down a sound and label it with a geographical location.
The truth is that being a band in Brooklyn can really make you part of a cooperative and supportive environment; it's saturated with lots of artists trying to do (sometimes similar) things, and rather than competitive or overwhelming, we've found it to be nurturing for us.
TAS: As CMJ veterans, what's your advice to bands doing the festival for the first time? Who are you most excited to see?
Paul and Deidre: Don't stress yourself out by taking every show you're offered — try to balance the quantity and quality of your shows. Don't try to make too many plans to see shows; you will always end up doing something else in the moment. Try to stay healthy. Also, give yourself extra time for parking. As far as bands we're excited to see, we'd love to see Body Language again during the week. Their new songs are incredible, and Tim McCoy, our drummer, is playing with them during CMJ.
Wax Poetic's Gabriel Gordon and Sissy Clemens:
TAS: Wax Poetic has been around for a while under the leadership of Ilhan Ersahin. Can you tell us a bit about the lineup for the new album, On A Ride, and how that's affected the sound of the collective?
Gabriel and Sissy: On the album it's Jesse Murphy (original bassist from Wax Poetic and also founding member of Brazilian Girls) on bass, drummer extraordinaire Jojo Meyer, Klas Wikberg producing and Gabriel, Zeke Zima as well as Doug Weiselman on guitars. [We], Sissy and Gabriel, both sing several songs on the album [and there are] cameo appearances by Jovanotti, Norah Jones and Natalie Walker. The live band now consists of Ilhan on keys, Tina Kristina on bass, Kenny Wollesen and/or Shawn Pelton on drums, Zeke Zima on guitar, Gabriel Gordon on guitars and vocals and Sissy Clemens singing. It's a fresh sound that is indicative of American music styles. The sound is in the same mode as previous Wax Poetic incarnations, but more rooted in non folky, Americana.
TAS: A lot of bands are coming to CMJ — and New York — for the first time. What would you suggest they try to see — or experience — in the city?
Gabriel and Sissy: Go to Nublu on Avenue C and 4th street. Great live bands and DJs there every night until 4 a.m. Go to Cafe Mogador on St. Marks between 1st and A. The brunch is amazing. Also Rai Rai Ken on 10th between 1st and 2nd Avenue. Angel's Share is an incredibly cool Japanese bar on 9th street and 3rd avenue. The cocktails are exquisite. Don't miss it. Also, go to the Central Park Zoo to see the red pandas. A must.
TAS: What are some of the other bands or artists you're hoping to catch at CMJ?
Gabriel and Sissy: Heather Christian at Rockwood Music Hall at 2:30pm on Friday, [October 19]. We'll be there. Friend Roulette, Julia Haltigan, Cody Chestnutt, Robert Glasper and Space Hog. So much to see!