case/lang/veirs: BRIC Celebrate Brooklyn! Festival 2016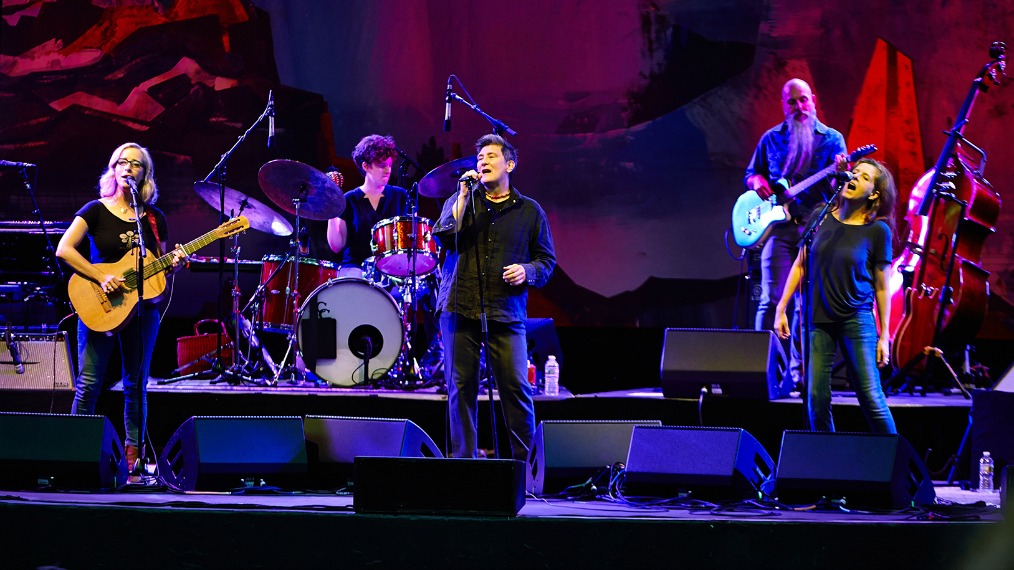 Making FUV's live broadcasts from the BRIC Celebrate Brooklyn! Festival happen is a group effort, so it was fitting that our final show of this summer featured a band that's pure collaboration and mutual admiration: case/lang/veirs.
Spurred by an email from k.d. lang a couple of years ago, Neko Case and Laura Veirs jumped at the chance to make an album as a trio. The resulting songs bring together their unique voices as well as their talents as writers, and the stage and setlist at Prospect Park Bandshell was equally shared.
New songs mixed with reworked favorites from their three catalogs, choice covers (including Neil Young's "Helpless" and Patti Smith's "People Have The Power") and some funny, fatigue-influenced banter after the band's early wake-up for a Good Morning America appearance. Holding it all together was an incredible band: Steve Moore on keys, Lex Price on bass, Barbara Gruska on drums and Johnny Sangster on guitar.
Thanks to the BRIC crew for hosting us, and to case/lang/veirs for the music and all the kinds words about FUV. Scroll below the setlist to listen and sing along.
Setlist
Atomic Number
Honey and Smoke
Song for Judee
Delirium
Blue Fires
Greens of June
Down I-5
1,000 Miles Away
I Can See Your Tracks
Margaret v. Pauline
Helpless
Supermoon
July Flame
Sorrow Nevermore
Man
Georgia Stars
(Encore 1)
Best Kept Secret
Hold On, Hold On
Constant Craving
(Encore 2)
People Have The Power
I Want To Be Here
[recorded: 7/26/16]