Ben Jaffe of Preservation Hall Jazz Band on Ani DiFranco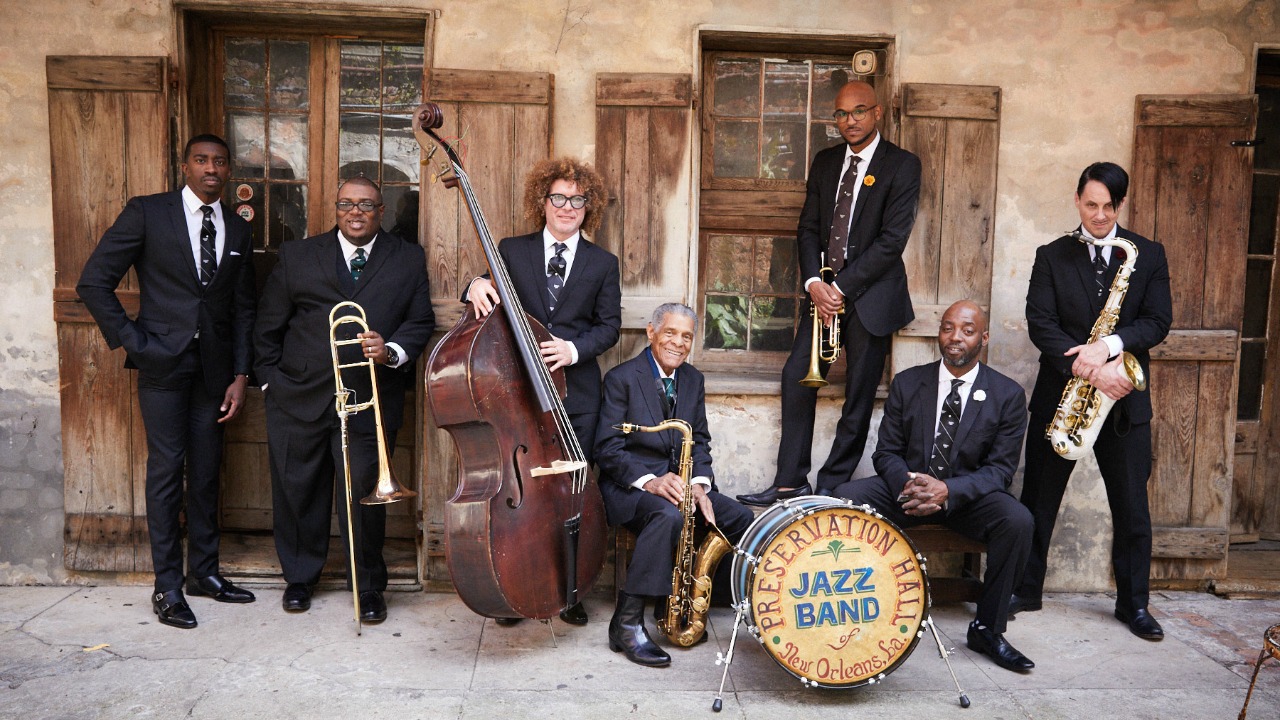 Preservation Hall Jazz Band, the iconic New Orleans group led by bassist, tuba player, and creative director Ben Jaffe (his father, Allan Jaffe, founded the band in 1961) has celebrated life through music for over five decades. Triumph over adversity has always been been a part of the band's roving spirit — the group's album So It Is, released in the spring of 2017, robustly explores the Afro-Cuban link to New Orleans jazz and funk.
Back in 2010, the group notably released a remarkable benefit album called Preservation: An Album to Benefit Preservation Hall & the Preservation Hall Music Outreach Program. Its very title embraced the record's mission: to protect the legendary New Orleans venue, Preservation Hall, and the music that kept the city able, in the words of Jaffe, "to rejoice, heal, and overcome adversity," especially in the aftermath of Hurricane Katrina in 2005.
FUV Essentials artist Ani DiFranco was a part of that remarkable benefit album, along with luminaries like Tom Waits, Pete Seeger, Terence Blanchard and many others. But Jaffe was hardly a newcomer to DiFranco's songs; he's long been a fan of the Buffalo-born songwriter, since the release of her earliest albums.
FUV reached out to Jaffe for his take on DiFranco and he kindly took a break from jury duty down in New Orleans (really!) to muse about what Ani and her music means to him.
Ben Jaffe of the Preservation Hall Jazz Band on Ani DiFranco:
One of my first serious girlfriends introduced me to Ani DiFranco's music. I'd grown up with acoustic music, the blues, folk, gospel and jazz. I immediately heard all of that in her playing, her writing, her lyrics. She introduced me to a whole new world, a new community, and a new way of thinking. Put yourself in that moment: the early Nineties. It was a moment of great change and evolution, and Ani was leading the charge.
Ani attacks the guitar like a drum; that's how we play in New Orleans, everything's a drum. She plays and writes with urgency. The way she constructed songs and lyrics felt like Bob Dylan, Cat Stevens, Tom Waits, Lightning Hopkins, Elvis Costello, Pete Seeger, Billy Bragg, Bruce Springsteen, and Odetta. She was telling us stories — her stories — with honesty, brutal honesty, and painful honesty.
She challenged me to reflect on my own life, the people around me, and my experiences. Nothing was too big or too small to take on. I'm attracted to honesty and truth. They can be painful, sad, joyful and triumphant. I'm attracted to people who run head first into the deep dark truth. And that's important to know. It's not always easy to tell the truth and to make the truth sound good, that's a real gift!
I was inspired by her fierce independence and fearless strength. Yes, Ani, you are strong, beautiful and powerful. She was the first artist my age I knew to embody independence, her own studio and her own label. It was empowering. And she was from Buffalo! That resonated with me.
Ani is prolific, it's impossible to choose my favorites, so I decided to select four songs from her early career — "Good, Bad, Ugly" (1992's Imperfectly), "Back Around" (1993's Puddle Dive), "She Says" (1991's Not So Soft) — and "Freight Train" (2010's Preservation: An Album To Benefit Preservation Hall & The Preservation Hall Music Outreach Program). We did "Freight Train" together as a benefit for Hurricane Katrina.
The three albums I spent the most time with are: Imperfectly, Puddle Dive, and Not So Soft.
I have the deepest emotional connection to each of these.
- Ben Jaffe
September 2017
Read all of FUV's Five Essential Albums and Songs.
Preservation Hall Jazz Band plays the Newport Folk Festival on July 29, 2018 and Central Park Summerstage on August 8, 2018.