Amelia Meath on Cyndi Lauper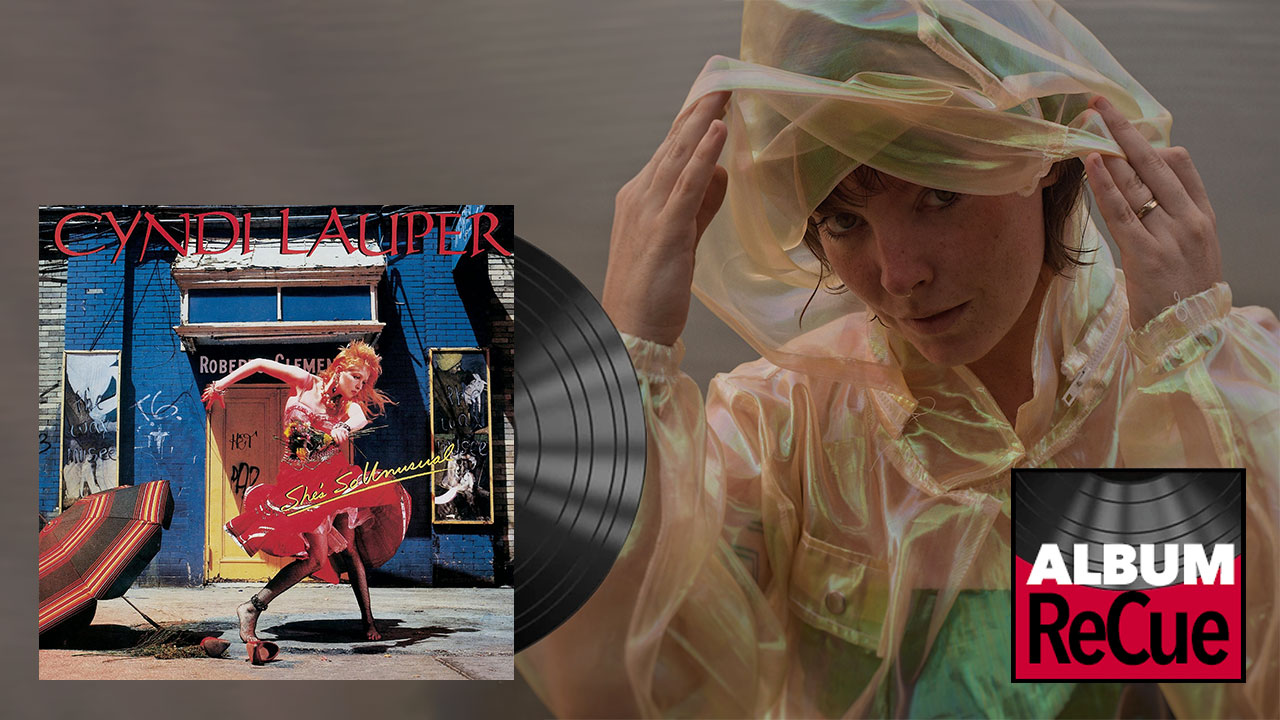 June is Pride month and for Album ReCue, WFUV has asked LGBTQ+ musicians to tell us about their most loved albums — those releases that inspired, soothed, empowered or galvanized them as artists. Amelia Meath of Sylvan Esso finds neon-bright inner joy via Cyndi Lauper's 1983 solo debut, She's So Unusual. Listen to Alisa Ali's conversation with Meath in the player above.
Sylvan Esso's Amelia Meath says that she became attached to Cyndi Lauper's She's So Unusual before she'd even heard it. It was the photo of a carefree Lauper cavorting on the album's cover that drew her in. Meath, who was still quite young at the time, thought Lauper looked like "a stone-cold-hot-queer freak," and she just "really really liked this person."
It wasn't until Meath reached college though that she fell in love with Lauper's music on She's So Unusual. That phenomenal first record, released in 1983, was like nothing else before or after it.
The megahit "Girls Just Wanna Have Fun," written by Robert Hazard, is almost synonymous with the Eighties, but the entire album is a timeless classic. It's full of pop gems and sweet, soulful ballads such as "Time After Time," which Meath says she often associates with the 1997 film "Romy and Michele's High School Reunion," but acknowledges it is "a truly beautiful song and it does do the slow dance, epic 'Stairway to Heaven' vibe that we all strive for as musicians to be able to create."
However, "All Through the Night," written by Jules Shear, is Meath's favorite ballad on the record. "That one makes me cry every time I hear it because of the stray cat part," she says, citing the lyric:
All through the night
Stray cat is crying so stray cat sings back
All through the night
They have forgotten, what bindin' they lack
Meath, who thinks the whole album is a winning experience, is especially fond of Lauper's cover of the Brains' "Money Changes Everything," the Prince-penned "When You Were Mine," and "She Bop," which Lauper co-wrote.
Be like Amelia: Kick off your shoes, like Cyndi does on the cover, and treat yourself to another spin of She So Unusual. And revisit Sylvan Esso's FUV Live session from 2020 too, supporting their album, Free Love. The duo's latest single, released in the spring of 2021, is called "Numb."
Listen
WFUV's Album ReCue: Cyndi Lauper's She's So Unusual