The Essential Music of 1998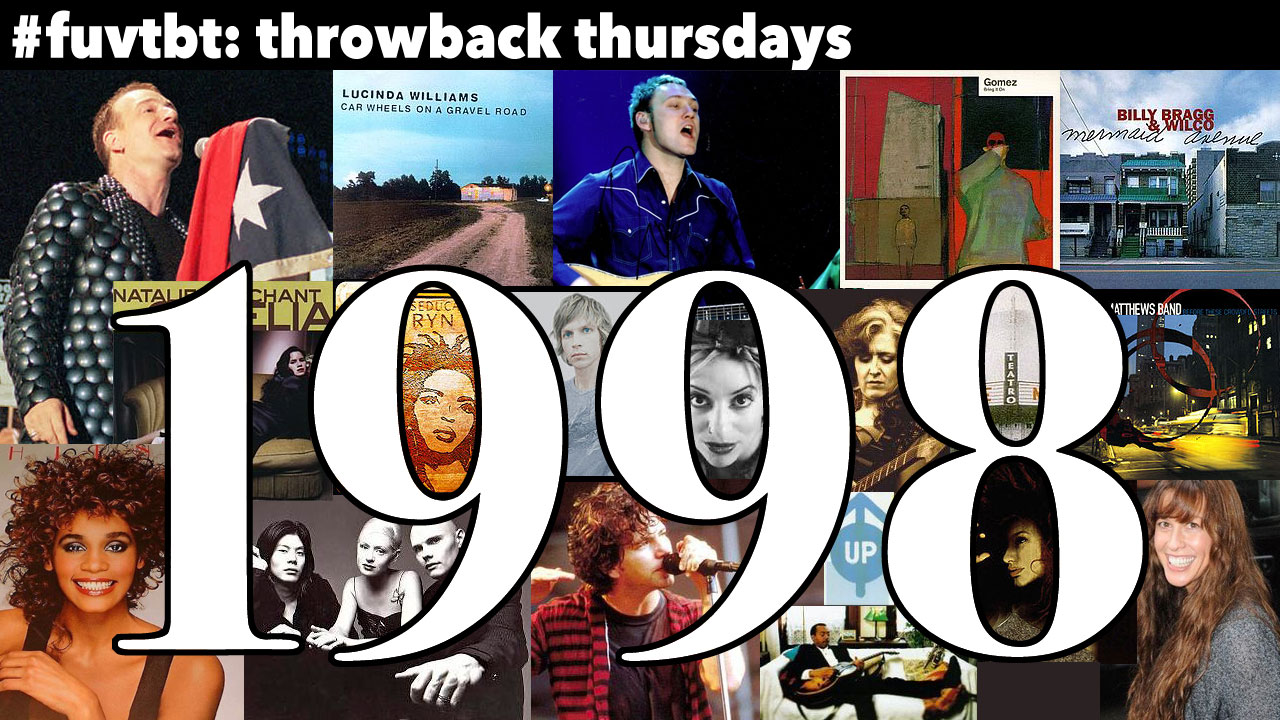 For the last four Thursdays of the summer of 2018, it's #FUVTBT Throwback Thursdays. WFUV is rewinding decades, back to 1998, 1988, 1978, and 1968 — dipping back for day-long flashbacks with songs of that particular year and personal perspectives from FUV's DJs. For 1998, Rita Houston remembers her early years at WFUV.
In 1998 I was living my dream as midday host at WFUV. I was doing the 10 a.m. to 2 p.m. shift, following Darren DeVivo's morning show, and preceding Meg Griffin in the afternoons and Corny O'Connell in the evenings. It was a great time at FUV — the "City Folk" years. I'd been here for only four years, having freed myself from a not-so-fun radio gig in the early '90s. Before FUV,  I was at the old X107 in Westchester, working under the name "Harley Foxx." It was essentially radio prison for me — not being myself on the air, and playing music that I just didn't care about.
But now, I was at FUV and finally playing the music I loved, like Lucinda Williams, Elliott Smith, Gomez, and Morcheeba. While Cher's "Believe" and Britney Spears dominated the pop charts, a very different story was evolving at the radio station. The music was all about songwriters, like Patty Griffin, Dar Williams, Ani DiFranco, Dan Bern, and Rufus Wainwright. In the heart of the Bronx,  FUV was a best-kept secret of sorts, but also a home for authentic music.
We were starting to find an audience that loved it too.
The tiny, orange formica-covered studio we called "Combo" was where we all did our shows live. The old Studio A was next door — also very small  — but it got the job done, capturing live sessions with Joan Baez, Greg Brown, Martin Sexton and more. That little studio also led us to the first of our live CDs — and now, in 2018, we are about to release FUV Live 21 this fall! Before social media, these were the days when listeners called the studio on the telephone — a landline too — or sent a fax to make a request or say hello.
And 1998 brought the first FUV Marquee show, with the folk supergroup Cry Cry Cry, the trio of Richard Shindell, Lucy Kaplansky and Dar Williams. We've since done hundreds of Marquee shows for FUV members.
This was a pre-Napster, pre-iPod, pre-text era. Only 20 years ago, but such a different time. I was living in the East Village, in the same building as Don Imus and Bebel Gilberto, and was spending most of my nights out hearing live music.
The Bottom Line, the Greenwich Village club that was once the New York gateway for so many musicians, was thriving, and I was there a lot! I hosted a monthly music discovery series there called "Required Listening" which introduced the Kennedys, the Nields, Martha Wainwright, and many others (my 1998 guests included David Poe, Clem Snide, and Mare Winningham).  I also starting hosting "In Their Own Words," a songwriter series that still remains a point of real professional pride (and one of my favorite work experiences).
Growing up in New York, Meg Griffin was my radio hero. She was always so natural on the air, so knowledgeable about music, and she sounded like your friend. It was such a privilege and a treat to actually become her friend and work alongside her. We had a lot of fun going out to shows together too. Fez was happening then, and Joe's Pub had just opened. Siné and Arlene's Grocery were where we'd seen Jeff Buckley, David Gray, and so many others early on. Of course, Central Park Summerstage, BRIC Celebrate Brooklyn! Festival, and the Newport Folk Festival filled the summer with live music and road trips.
I recall the year starting with Bob Dylan's run at Madison Square Garden in January. He had released Time Out of Mind in the fall of 1997 and was back in top form. It was also a year when I saw the Beastie Boys at Irving Plaza and Elvis Costello and Burt Bacharach, who had teamed up on the album Painted from Memory, at Radio City Music Hall. I loved that album and the show was magic.
Lucinda Williams' Car Wheels on a Gravel Road, which was the No. 1 album in WFUV's annual listener poll that year, brought Williams and one her best live band lineups ever to Tramps. I'll always remember that show. And Billy Bragg and Wilco teamed up for Mermaid Avenue — so that was the first time I met Norah Guthrie, Woody Guthrie's daughter, and got to interview Bragg and Jeff Tweedy!
Ani DiFranco was a rock star in 1998 with her eighth album, Little Plastic Castle, and big, loud, live shows. I remember introducing one at Hammerstein Ballroom, and when I stepped onstage to bring Ani out, it was the loudest crowd response I've ever heard (except maybe for Dolly Parton at Irving Plaza in 2002).
Patty Griffin also released her breakthrough album, Flaming Red, and everyone at the station loved that album. Patty did a session at FUV and I asked her which VHS tapes the band might be watching on the tour bus! It's funny how times change.
It always great to look back and honor the time that has passed. It's been a great ride, I've gotta say!
Rita Houston will be stepping back into 1998 on the radio on Thursday, August 30, from 1-2 p.m. EDT for a special hour of her favorite songs of that year on 90.7FM and streaming online at WFUV.org. On FUV Live at 8 p.m., listen to excerpts from Patty Griffin's 1998 Studio A session, supporting her second album, Flaming Red. And if you voted twenty years ago in FUV's Best of 1998 Listener Poll, you made some great selections!
Listen
#FUVEssentials: 1998 (Spotify playlist compiled by FUV's Rita Houston)