The Essential Music of 1988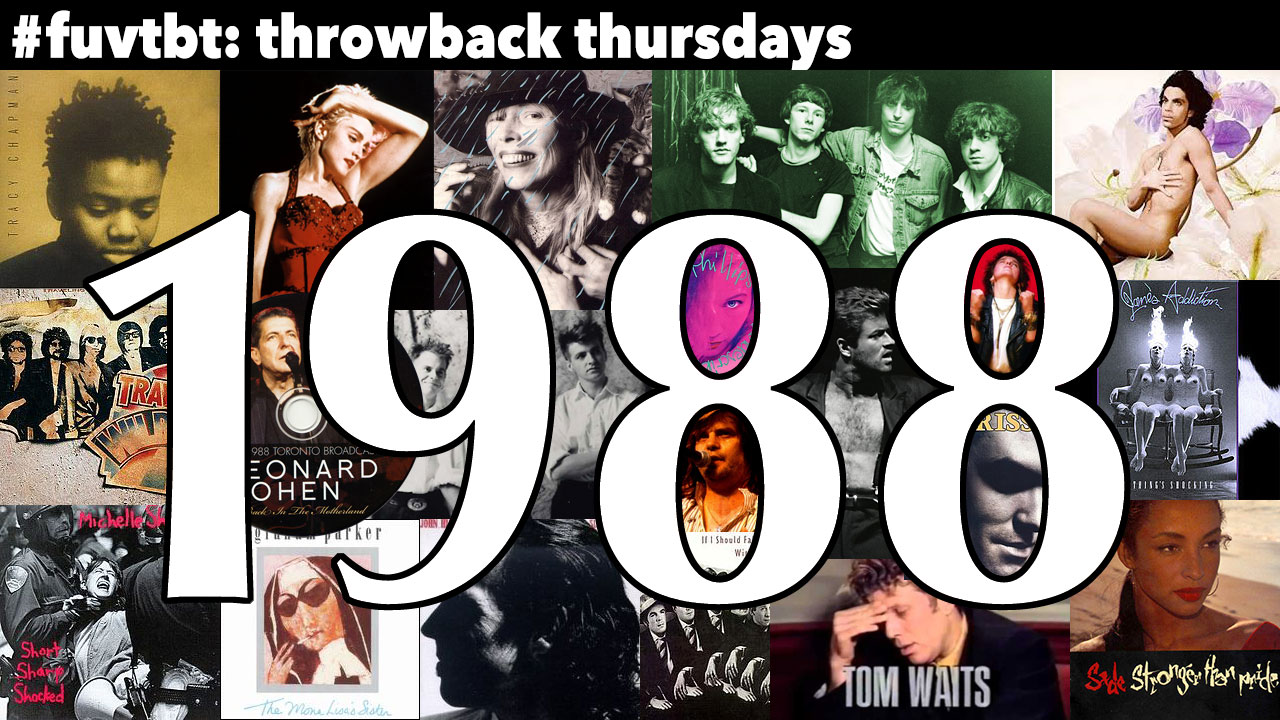 For the last four Thursdays of the summer of 2018, it's #FUVTBT Throwback Thursdays. WFUV is rewinding decades, back to 1998, 1988, 1978, and 1968 — dipping back for day-long flashbacks with songs of that particular year and personal perspectives from FUV's DJs. For 1988, Russ Borris, FUV's music director and host of "The Alternate Side," goes back thirty years to an era of questionable fashion but wildly eclectic music.
Nostalgia is a funny thing. Often, one looks back on an earlier time for reflection and to remember things about a particular period that hold meaning or significance. Or perhaps it's a learning tool, on how to move forward with knowledge and understanding in order to not repeat past mistakes. There's also simply the desire to relive fond memories of the past, ones that may have shaped who we are in the present.
For me, the decade of the Eighties is my most connected time period.
When it comes to the music of the 1980s, I think there are a few prominent components. First, it's the synths. There's no discussion to be had about the music of the '80s that doesn't include extensive conversation centered around the prominent usage of synthesizers.
This can certainly be paired with another focal point, production. Let's face it, for the most part, there's a sound to songs and albums from the '80s. However, this isn't always a good thing. You'd have an easier time determining which albums have aged well, as opposed to those that have not.
Finally, you've got cheesiness. C'mon, you can't deny that there's some perverse joy to be had in celebrating just how lame and goofy music could be at times during that ten-year span. To say nothing of the fashion, of course.
Musically speaking, I was largely a pop-radio kid through the '80s. While CDs were just starting to be introduced, I kept things old school, which at the time was really just "school," I suppose. I set up my boombox with a blank cassette (with the record button in "pause" mode, of course), ready to tape my favorite songs off of the radio as soon as I heard the DJ set them up. My musical horizons were fairly limited to the radio and MTV for awhile, but as the decade grew longer, I would slowly become more adventurous.
While there's something appealing, in a disposable way, about '80s pop music and the numerous one-hit wonders of the time, as I began to listen to more and different things, I started to find more substance. For every Taco, Dexy's Midnight Runners, and a-ha, there was Depeche Mode, the Cure, and New Order.
By the time 1988 came along, MTV exposed me to bands like Living Colour and Public Enemy. I was beginning to make connections in ways I hadn't yet. It didn't happen all at once. It's amazing that Morrissey released Viva Hate that year and I didn't even know who he was at the time. There were so many bands that had significant albums that year that I pretty much missed: Sonic Youth (Daydream Nation), Social Distortion, (Prison Bound), Soundgarden (Ultramega OK), Jane's Addiction (Nothing's Shocking), Bad Religion (Suffer), Megadeth (So Far, So Good ... So What!) and Motörhead (Nö Sleep At All). That's the beauty of music — it's never too late to discover something new.
Some of those acts that rose to prominence still resonate in 2018. Look at the business Depeche Mode does, with a year-long world tour centered around every new album. Then there's the Cure's recent 40th anniversary show at London's Hyde Park in July. That's just a couple of the bigger names. It goes back to the influence of that sound and the synths. It's carried over for a generation-plus into so much of the indie music being made today from Future Islands, Chromeo, Haim, Bon Iver, Grimes, M83 and others. That sound is joyously ubiquitous.
At the time I had no idea of the profound effect that the music of that era would have on me going forward. As a look back in dad mode, I want those memories of the time to carry on to my children. Not to duplicate them, but to give them a sense that their father was always a music geek, just a younger one. And perhaps, with their presence still being felt in the music of today, they'll look back on some of that music and make a connection too.
Listen
#FUVEssentials: 1988 (Spotify playlist compiled by FUV's Russ Borris)
Image Gallery