TAS in Session: The Walkmen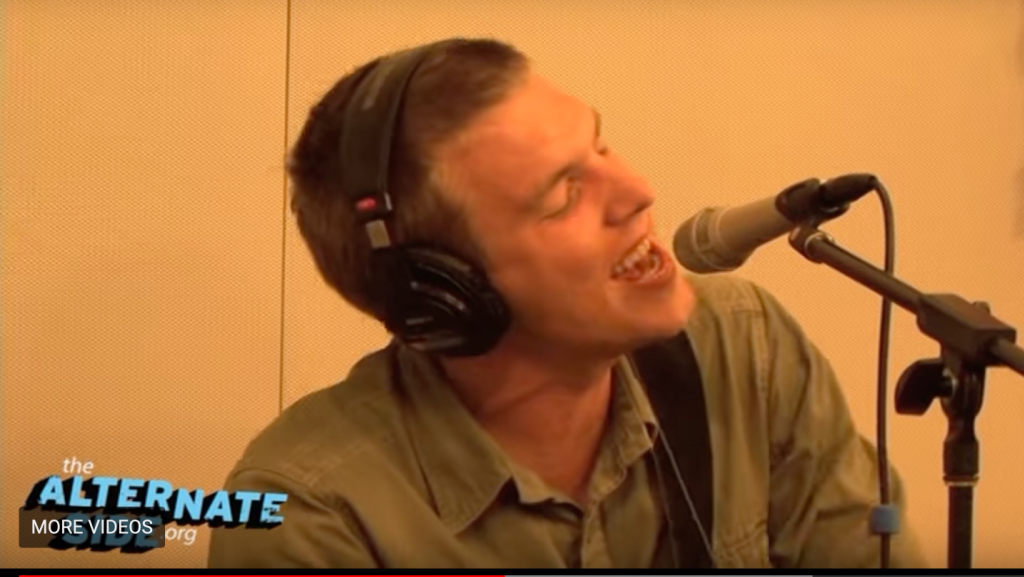 The Walkmen, who rose from the detritus of the defunct Jonathan Fire*Eater and The Recoys back in 2000, released their sixth album Lisbon earlier this month on  Fat Possum. 
The Philadelphia-and-New-York-based band, who've embarked on recent tours with Grizzly Bear and The National, just wrapped one leg of their U.S. tour over the weekend and will kick off a fresh slate of North American shows this October with AA Bondy or Japandroids on varying dates. After an array of UK and European dates with The Black Keys, they'll make a return to New York on December 2 with School of Seven Bells at Terminal 5.
The quintet -  lead singer and guitarist Hamilton Leithauser, guitarist Paul Maroon, organist/bassist Walter Martin, bassist/organist Peter Bauer and drummer Matt Barrick -  dropped by The Alternate Side over the summer to play a mini-concert of four tracks from Lisbon: "Angela Surf City," "Juveniles," "Woe Is Me" and "Torch Song."
Alisa Ali: I've been knowing you guys for a while. I know you want to talk about the new album, but humor me while we go down memory lane. My first exposure to you guys was from a car commercial back in 2002. It was a pretty cool car commercial too and I'm not usually one for car commercials, but one of your songs was used and it was this rickety ice cream truck melody going on. I think there was maybe clip of one line and it was "I was a modern guy." Can you sing that one line?
Below, Alisa Ali's interview with Hamilton Leithauser and videos from the session:
Alisa: You've been together for ten years. Never any thoughts of breaking up?
Hamilton: Everyone keeps asking me that question, actually.
Alisa: I think when a band reaches the ten year mark, you begin doing a little retrospective.
Hamilton: It's a little dark.
Alisa: It's not dark! It's just celebrating your accomplishments. You could look at it that way. You guys have known each other forever too. Isn't someone related?
Hamilton: Walt [Martin] is my cousin.
Alisa: Oh, that's beautiful. Keep it in the family. So your latest record is called Lisbon and I understand that it's a little bit of a thank you to the city.
Hamilton: Yes, we named it after the city because of how much we liked it when we went there. None of us [had been to Portugal] until about a year and a half ago. We weren't picking between cities; it was the only city name as an option. I don't know why we ended up with it but we all liked it.
Alisa: What did you do while you were there?
Hamilton: We walked around, saw the castle, just explored the city. Went to a bar for a really long time with Pete [Maroon] and Walt, met a lot of kids there and had a good time.
Alisa: Did you write the majority of the songs for this album in Lisbon?
Hamilton: No. We went there twice while we were writing the record. Walt and I live in Brooklyn and [the rest of the guys] live in Philadelphia.
Alisa: So you came back here and wrote the songs and reflected on your experiences. Can you tell me a little about the song "Juveniles?"
Hamilton: This one is is one of the earlier songs that we wrote but we did it time and time again. We weren't really satisfied with it and I think in the end it was one of the last recordings that we did and it ended up being the first song on the record.
Alisa: You mentioned that was a song you worked on for a while. I read earlier on before the record came out, that you started out with this idea of it being an Elvis [Presley] and Sun Records inspired record. Then, I also heard that there was a lot of New Orleans-style horn playing going on but then it turned into something kind of different.
Hamilton: We started with the horns. That's probably where we left off from our last record. We had a bunch of songs that were horn-based, but only one of them ended up making it on the record. We had bunch of more stripped-down sounding stuff and a lot of that ended up [making it on the record] so that's what we ended up with.
Alisa: Was there one particular song on this record that changed drastically from the first take?
Hamilton: ["Angela Surf City" and "Juveniles"] actually were very different in the beginning. Last fall they were totally different songs. They sounded pretty bad. Well, "Juveniles" was kind of a country-sounding song for a while and it really wasn't getting off the ground. And the "Angela" song was a lot slower and bigger sounding and wasn't going anywhere. They still exist somewhere, at Tribeca Studios. All five versions.
Alisa: You probably have a gigantic catalogue of a lot of takes. Didn't you record at Gigantic Studios? How long did you spend in the studio?
Hamilton: We do it in spurts. We don't have our own studio anymore, so you pay for the days. You want to get in there when you've got something that's worth doing. We started last August and we didn't finish until June. So it did take a long time.
Alisa: It's a bummer you don't have your studio anymore. It used to be in Harlem - did anyone live in Harlem?
Hamilton: Yes, we all did at one point. The studio was at 132nd and Broadway. And these guys used to live at 138th and Broadway.
Alisa: What was it like recording in that area?
Hamilton: I never lived right up there. There was only one Chinese restaurant that delivered and there was a Kentucky Fried Chicken across the street. And then they opened the Dinosaur Bar-B-Que right before we left, so it was kind of a blessing for the last three months, but then we had to leave.
Alisa: So now that you have to pay for space, where do you go?
Hamilton: We have rehearsal spaces in Philadelphia and Brooklyn, which we share with another band, The Loom.
Alisa: I heard that you had recorded a ton of songs for this record, about 30 of them. There's 11 of them on the record. So what was that paring down process like? Is it something you agonize over?
Hamilton: It wasn't really that hard, actually. A lot of them weren't worth ever releasing. There's a few that got lost along the way that certain people probably would have liked to have seen go farther, but there wasn't much of a fight. In the past it's been more of a struggle.
Alisa: What was one of the songs from the record that you unanimously agreed were going on the record? Hamilton: Well, we had so many, that there really wasn't that much of a fight. We agreed on all of them on there. It took a little discussing, but we all agreed.
Alisa: You worked with Chris Zane on this record who has worked with Passion Pit, Les Savy Fav, Tokyo Police Club and John Congleton who has worked with Modest Mouse, Mountain Goats, even The Roots. Did you seek them out?
Hamilton: Chris we've known for a while because we did You & Me, our last record, with him. So we started work on this album with him. We did the first half with him. And John we just met this spring and I'm not sure how we got in touch with him. I think our manager set it up. But none of us really knew him and we went in to test it out to see how it would go because we had a day off in Dallas.
Alisa: What did they bring to the table? How do we hear their touches on this record?
Hamilton: John can be heard most on the three songs we did today and the song "Victory." He did a great job with the mix on that one. Chris is more in the songs "Stranded" and "Blue As Your Blood." He recorded and mixed those.
Alisa: Going forward, what are your plans? Are you thinking of the next record?
Hamilton: We already have a song recorded for our next record that we recorded ourselves in Philadelphia. And we have a big tour to do.
Alisa: Do you enjoy touring?
Hamilton: No. It's nice to play the new songs out for the first couple of times. It's hard work, but it's not so bad. We haven't done it in over a year, so we're ready to go. We're playing some European cities that I don't think we've ever been to before, so I think that should be fun.