TAS in Session: Shearwater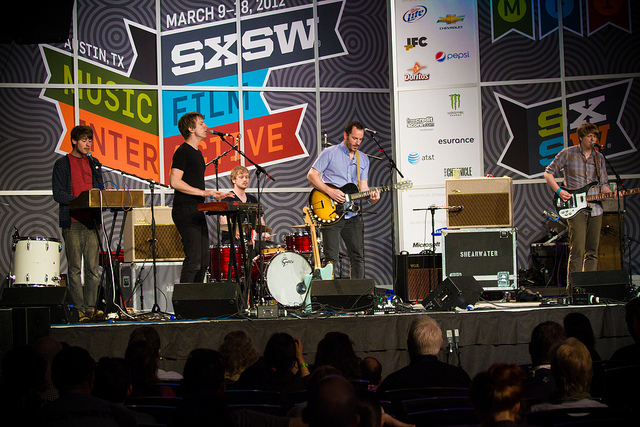 Shearwater began as a side project of Okkervil River members Will Sheff and Jonathan Meiburg. Over time the two decided to part ways, Will remaining with Okkervil River and Jonathan focusing on Shearwater.
While Okkervil River may be the more recognizable name, Shearwater, which also includes Kimberly Burke and Thor Harris and touring members Jordan Geiger and Kevin Schneider, has been quietly collecting fans and critical acclaim along the way. Pitchfork, Spin and Blender are just a few of the publications which have lauded the band's albums, like 2006's Palo Santo. Their latest album, The Golden Archipelago is their sixth album, their third for Matador Records, and it's sort of a memoir to the natural world. Meiburg's impressive academic background in advanced avian studies - he spent a year in Tierra del Fuego and the Falkland Islands studying a bird called the striated caracara -- shines through on the songs in a very palatable way.
Meiburg and crew have been able to blend science and art together to form a sound that they describe as "Mystical Texas Nature Rock." True, the label doesn't exactly roll off the tongue but its actually pretty accurate. What would you expect from a band named after a long-lived seabird?
Watch videos below and read Alisa Ali's chat with Jonathan Melberg:
Alisa Ali: Now the studio version of "Meridian" opens with a little bit of a sample, tell me about that.
Jonathan Meiburg: it's a recording of people from Bikini Atoll [in the Marshall Islands] who were removed from their islands in 1946 so the US could do atomic testing there. They're singing their national anthem on the island of Kili, to which they've been exiled in 1998. It's a song of exile and despair, but it's delivered with this joy and energy that I thought was really interesting. I wanted the album to live in that place. Not only in the story of the people of that place, because they appear in different places through the record, but also that emotional state. Joy and sorrow.
I got in touch with a liaison for the people of Bikini Atoll and talked with him for a while and got permission to use it. It was really exciting.
Alisa: The songs are about the natural world on this album, but I'm always apprehensive to say what I think the songs are like because maybe the band disagrees?
Jonathan: The idea that this album is described as low key seems really strange to me; there's a lot of crazy, wild noise on this record and some loud numbers and some incredibly loud drums. Anyone expecting some quiet murmuring of guitar for the length of the album would be disappointed.
Alisa: But there is reflection on the natural world?
Jonathan: Yeah, I've been to a lot of islands in the course of research or traveling. I wanted to explore my own experiences in these places, but also the fact that people tend to think of islands as places where they can project their fantasies of what they want the world to be like. That's sort of a theme throughout all of literature and history. So I wanted to think about the way that we're remaking the world according to our imaginations.
Alisa: After college you went on a traveling fellowship. That must have informed your music going forward?
Jonathan: The idea of that was that I was going to make a document or study of community life at the ends of the earth, but I was 21 years old and had no idea what I was doing. I just got on a plane and went to Tierra del Fuego and tried to figure it out from there. Ended up in the Falklands where I worked on a bird survey for several weeks, in the outmost islands of the Falklands, and that really changed the way I thought about the world and what it can be like. That started me on a journey where I ended up studying science and ending up as a musician.
Alisa: How do science and music merge?
Jonathan: Science and art are two different ways of approaching the mysteries of the world and the ways in which we understand them. With one of them you try to use your absolutely conscious, logical mind and the other, you use your unconscious illogical mind. But the enthusiasm that drives them is very similar.
Jordan Geiger: People are always asking us how to describe Shearwater's music and the term that I came up with is "Mystical Texas Nature Rock." So Thor would be the "mysticism," Kevin would be the "Texas," Jonathon's the "nature," I would maybe be the "rock" and Kim, who's not here, would be the glue that holds the whole thing together.