Woody's Children 45th Anniversary Concert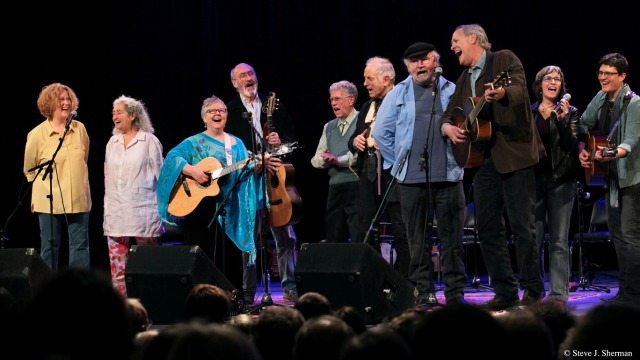 Every five years, we try to do something special on Woody's Children, and for our 45th birthday, we really hit the jackpot. The late, dearly loved Pete Seeger had planned to be there, and of course was deeply missed, but with us were such music masters as David Amram, Tom Chapin and The Chapin Sisters (Abigail & Lily Chapin), Emma's Revolution (a.k.a. Pat Humphries and Sandi O), Christine Lavin, Holly Near, Tom Paxton and Noel Paul Stookey. Special guests Nora Guthrie and Doug Mishkin added other highlights, as did our wonderful "house band" of Jon Cobert and Michael Mark.
It leaves me very nervous about how we can possibly top those incredible two hours when it comes time for our 50th birthday; meanwhile, I'm proud and pleased to have the show alive and well and living here in the WFUV Archives.
[Recorded at Symphony Space: 01/17/14]
Pictured (L to R): Holly Near, Nora Guthrie, Christine Lavin, Noel Paul Stookey, host Bob Sherman, David Amram, Tom Paxton, Tom Chapin, Sandy O and Pat Humphries of emma's revolution.
Funding for WFUV's ongoing coverage of live concerts and festivals comes from The Agnes Varis Trust, supporting affordable access to the arts, education and healthcare.