WFUV at SXSW: Rita Houston Recap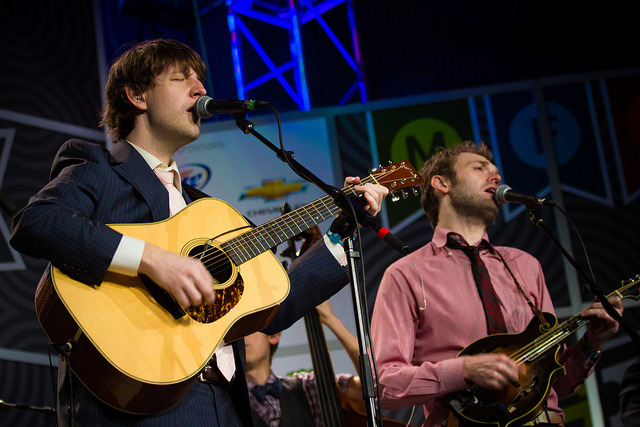 It was a year of celebrity at SXSW: Bruce Springsteen, 50 Cent, Eminem, Johnny Depp, Anthony Bourdain, Matthew McConaughey, Rachael Ray, Norah Jones, Timbaland, Jay-Z, Arcade Fire, and Jack White. 
SXSW has certainly grown into a more mainstream awareness. This year was more well attended then ever, and seemed to break the bank with corporate sponsors. There was even a giant, 3-story-high Doritos vending machine. Huh?
Canadian songwriter Bahamas looked around the room mid-set and said, "I'd like to thank, uh… all the logos." Whether all that is good or bad, I won't judge, but it sure indicates a sea change for the festival.
Bruce kicked it all off with his inspiring, rousing, f-bomb-dropping keynote address which NPR, WFUV, WXPN and many other public radio stations carried live. It was, um, "interesting" co-hosting the broadcast and vamping for 24 minutes while we awaited his arrival, as cues came from our producers: "Bruce is in the building… Bruce is on the elevator…"
When he took the stage, Springsteen delivered a personal history of his discovery of music from Hank and Woody to James Brown and The Beatles. He was funny, charming, witty, and inspiring.  He punctuated his speech with his guitar, breaking down The Animals song "Don't Let Me Be Misunderstood" and explaining how he reworked it for "Badlands." He offered it all up as a learning experience for the artists in the room. It was an unforgettable speech.
Still, the core of SX remains an international talent show and networking festival, with most of the action centered on emerging artists.
Team FUV set up our remote location at the groovy Hotel San Jose up on South Congress. It turned out to be a great spot. Each year they host South by San Jose, three solid days of free music outdoors. It's one of the best of the 'unofficial' SX activities. It was here I got to see one of my new faves -- Kids These Days, a Chicago high school age band that's great for teens (and grownups who don't mind a little pop music).  Austin-based singer-songwriter Amy Cook appeared there with the all-star band that backs her on her forthcoming album -- David Garza, Jonathan Wilson and Meshell Ndegeocello. 
Jonathan Wilson did his own set there, which was like time travel; he delivers that retro '70s sound perfectly… while wearing bellbottoms and moccasins. I also loved seeing Barbara Lynn, the legendary Texas guitarist who did a great version of her big hit, "You'll Lose A Good Thing." And we all loved seeing SX breakout band Alabama Shakes tear it up. Expect to hear more from Brittany Howard and her super-hot band.
Alejandro Escovedo is an Austin local hero, and there's nothing quite like seeing him in his hometown. He closed his set with a great version of "Rock the Casbah," which he later told me was inspired by the Rachid Taha version (not The Clash's).
It took some groveling, but I managed to get myself into the Springsteen taping of Austin City Limits.  After dozens of Bruce shows on the East Coast, it was completely different to see him in Texas where the fans were, let's say, less responsive. They didn't react to the classics like they do in Jersey.
The WFUV Day Stage showcase was a great time for us, held at the Convention Center and broadcast live on FUV. We brought the blues, the Moog and the roots, just like we love to mix it up on the radio. The first performer, Gary Clark Jr., took the stage solo with his trademark ease and slid into "Bright Lights, Big City." Amazing. Shearwater and Punch Brothers followed, performing to big crowds and standing ovations.
There was a lot of excitement surrounding the premiere of the train tour documentary, The Big Easy Express. I was there last year on the three-band tour train, and couldn't wait to see it on film. I got to speak with the (nervous) director, Emmett Malloy, and then Mumford & Sons and Edward Sharpe & the Magnetic Zeros performed a public show outdoors to about 8,000 fans. Mumford debuted a few new songs and then brought out the Austin High School marching band, just as they did on the tour and in the movie.
It was perfect that my SXSW ended sitting around a dinner table with David Garza, Amy Cook, Charlie Mars and Cindy Wasserman, singing Edie Brickell songs. Bruce was right: "There is no right way, no pure way of doing it. There is just doing it."
Image Gallery