Vin Scelsa, Fare Thee Well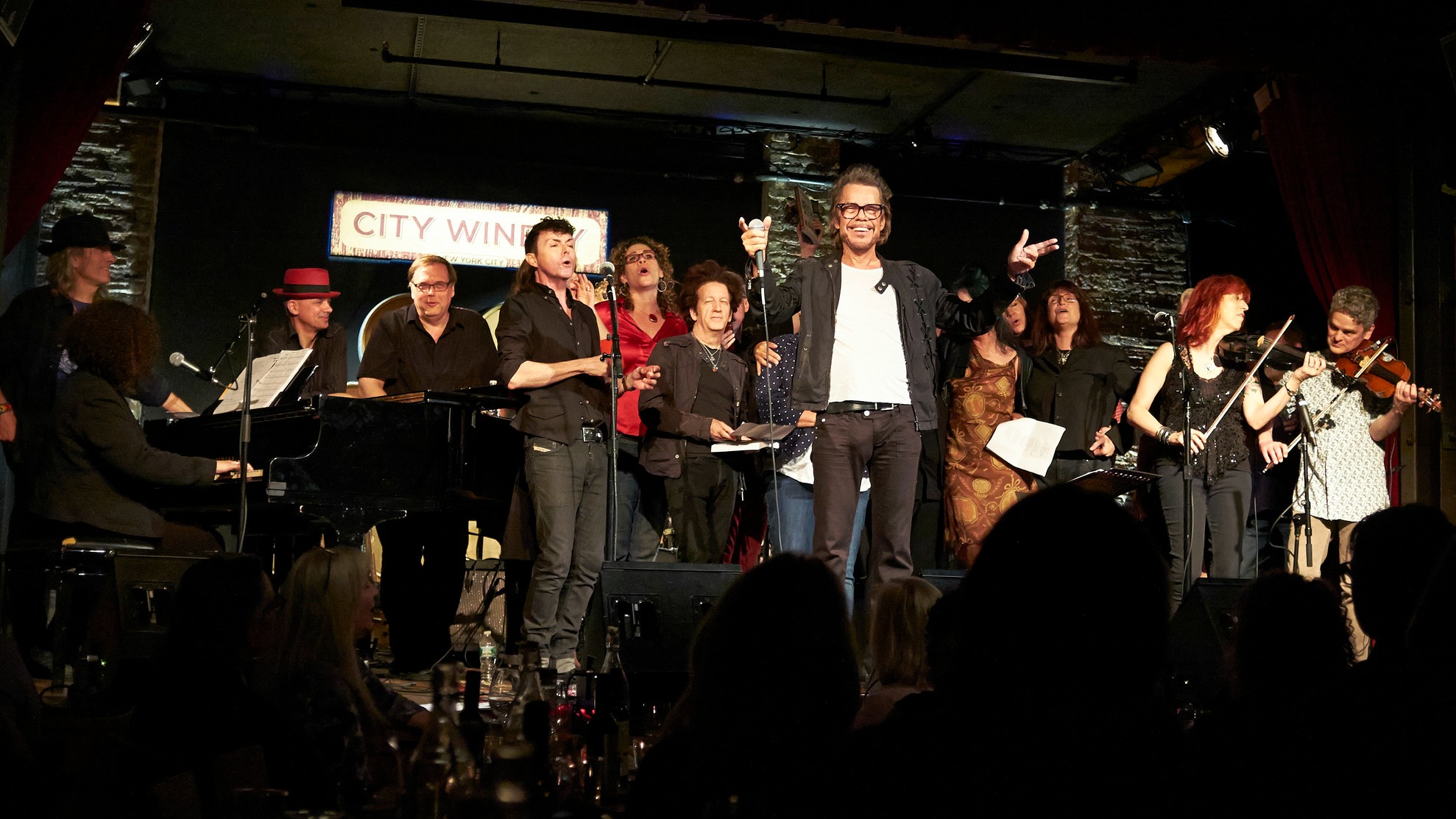 When Vin Scelsa said he planned to retire on May 2, we knew we couldn't let him just drift away without a proper sendoff. So we rounded up some of his favorite musicians, writers, and friends to say Fare Thee Well, Vin Scelsa on Monday, June 8, in front of a packed house of WFUV members, guests and friends at City Winery.

Fittingly, to the opening strains of John Coltrane's "A Love Supreme" (played by saxophonist Peter Hess), Rolling Stone Senior Writer David Fricke kicked things off with a benediction and explained how he initially came up with the "Three Essential Commandments" ("Respect the elders; embrace the new; encourage the impractical and improbable, without bias"), a phrase which would eventually become the opening credo for every "Idiot's Delight" from the early '90s onward.

Some of the musical highlights included Albany's own Blotto performing their immortal surf rocker "I Wanna Be a Lifeguard." The evening's house band was The Bongos (led by the show's indefatigable musical director, Richard Barone, and including the Smithereens' Dennis Diken on drums), reunited for this special occasion, and they followed Blotto with a jaunty version of "Barbarella" (playing "The Bulrushes" later in the evening).
Lucy Wainwright Roche and Martha Plimpton duetted on a cover of Bruce Springsteen's "Hungry Heart" and later in the night, Lucy and her mom Suzzy Roche chose a road-tripping classic, Simon and Garfunkel's "America." Both Lucy and Suzzy backed Dar Williams on a perfect choice, her new song, "FM Radio."

Yo La Tengo recruited David Bromberg for a tender cover of Bob Dylan's "Wallflower" and also tore into a searing version of their own "Tom Courtenay." Southside Johnny tapped Bromberg for B.B. King's "Beautician Blues" and embarked on an especially soulful version of "Spanish Harlem," joined by The Bongos, string players Deni Bonet and David Mansfield, and Tracy Stark on piano. In the last hour of the show, Bromberg, on his own, played a compelling "Statesboro Blues/Church Bell Blues."
Marshall Crenshaw amusingly recounted an anecdote about his album #447 and Vin's response to it, and played two songs from that 1999 album. Mary Lee Kortes chose her own "Will Anybody Know That I Was Here" while Laura Cantrell and Dayna Kurtz opted for Johnny Cash's "A Little At A Time." Larry Kirwan spoke eloquently about Vin before rousing the room with Black 47's "James Connelly."
Stephen Trask, composer and lyricist of Hedwig and the Angry Inch, stepped up as a strong vocalist himself with a stunning version of the musical's "Midnight Radio," backed by The Bongos and Dar Williams. Garland Jeffreys, Willie Nile, and James Maddock teamed up with rowdy gusto on John Lennon's "Gimme Some Truth."
There were also salutes from writers Paul Auster and Rick Moody, radio compañeros Kara Manning and Marty Martinez, concert promoter John Scher, and the evening's MCs — Dennis Elsas, Meg Griffin, and Rita Houston. Recorded well-wishes from Sheryl Crow, Tim Robbins, Jim Jarmusch, John Cameron Mitchell, Dean Wareham, Mike Doughty and Steven Van Zandt were scattered throughout the evening.

One special moment came when Vin's daughter Kate Scelsa, an accomplished actor and writer, gave a personal and witty toast to her dad. Vin himself took the stage near the end, to a standing ovation, to offer thanks in his inimitable fashion. Then The Bongos and David Johansen brought it home with "Funky But Chic" and the standard, "I'll Be Seeing You." It was a rocking, heartfelt evening all around.

You'll be able to hear the whole shebang on the 4th of July. In the meantime, enjoy these photos taken by Gus Phillipas and Laura Fedele, found at our full Flickr photostream, with a few selections below too.