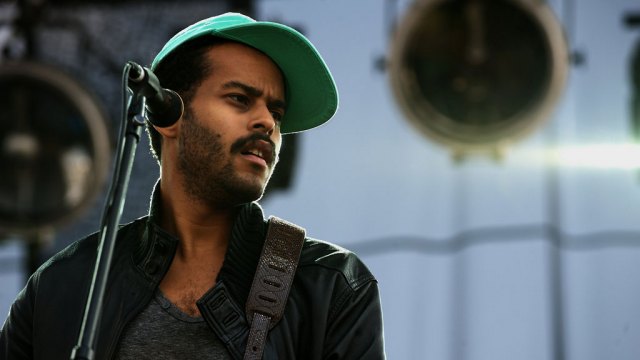 Twin Shadow's George Lewis Jr. has never hidden his producer's crush on New Wave and the textures of '80s synth-pop, but on his third album, Eclipse, he also expands his emotional palette dramatically as a lyricist and vocalist. The catalyst for Eclipse was a hard one for the now Los Angeles-based Lewis—his father's struggles with mental illness and the deaths of several friends cast a pallor on the past year—but despite that hardship, Lewis forged a closer bond with his mother and found an inner balance.
Examinations of love and loyalty abound on Eclipse, and when Twin Shadow kicked off Public Radio Rocks on the Day Stage of the Austin Convention Center on March 20, bold tracks like the slow-burning "Turn Me Up" resonated for both audience and artist, especially with Lewis's stripped-back, haunting arrangement.
Part of WFUV's SXSW 2015 showcase, Public Radio Rocks, Friday, March 20, from 1pm-7pm EDT with Courtney Barnett, Gang of Four, Twin Shadow, Best Coast, Ryan Bingham and Madisen Ward and Mama Bear.
Funding for WFUV's ongoing coverage of live concerts and festivals comes from The Agnes Varis Trust, supporting affordable access to the arts, education and healthcare.