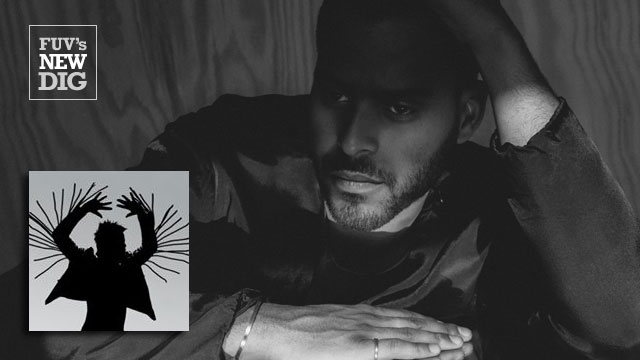 Eclipse
Twin Shadow
Warner Brothers Records

There are different stages to actual lunar and solar eclipses; the varying degrees of darkness and light are combined with the phenomenon of the visible and invisible. The same could be said of Twin Shadow's third album, Eclipse, which is producer and singer George Lewis Jr.'s first release on a major label. Lewis has gone through turbulent times in the past—his 2012 album Confess spiraled from a serious motorcycle crash. During the recording of Eclipse, Lewis confronted his father's battle with mental illness and the tragic loss of three friends. Wrestling with hope, despair, turmoil and peace, Twin Shadow makes human emotion the unifying force on Eclipse, bringing his 11 songs into focus on an album that reflects a very personal journey for the artist.
On the album's opening song, "Flatliners," Lewis is accusatory and declares, "You making promises, you breaking promises." It's an intense and passionate way to start Eclipse, but it sets the stage for this diverse collage of power and gentleness.  "Jealousy and ecstasy are slowly taking over me,"  he muses in "When The Lights Turn Out," his vocals framed by thumping drums and lush strings.
The single "To The Top" is an anthem, meant for driving on long highways. Although paced by blood-pumping rhythms, the track "Alone," featuring Lily Elise, a former contestant from the first season of NBC's "The Voice," slows things down somewhat, as does the simmering "Turn Me Up."
"I'm Ready" is anchored by distorted guitars and it injects a heady dose of '80s power pop into the album. That retro vibe doesn't stay for long, as "Old Love/New Love," erupts as a modern day slice of dance hall swagger, featuring D'Angelo Lacy.  "Half Life" and "Watch Me Go" have a TV on the Radio-style one-two punch. The exclamation point on Eclipse is the epic final song, "Locked And Loaded," in which Lewis is lost in the anticipation of love.
Twin Shadow will be unveiling many of these new songs live when he plays Public Radio Rocks at SXSW in Austin, Texas, on Friday, March 20, kicking off the set from the Austin Convention Center's Day Stage at noon EDT on 90.7FM and streaming online. 
More:
Twin Shadow—TAS in Session—2012
Preview songs and/or buy 'em (all purchases benefit WFUV):