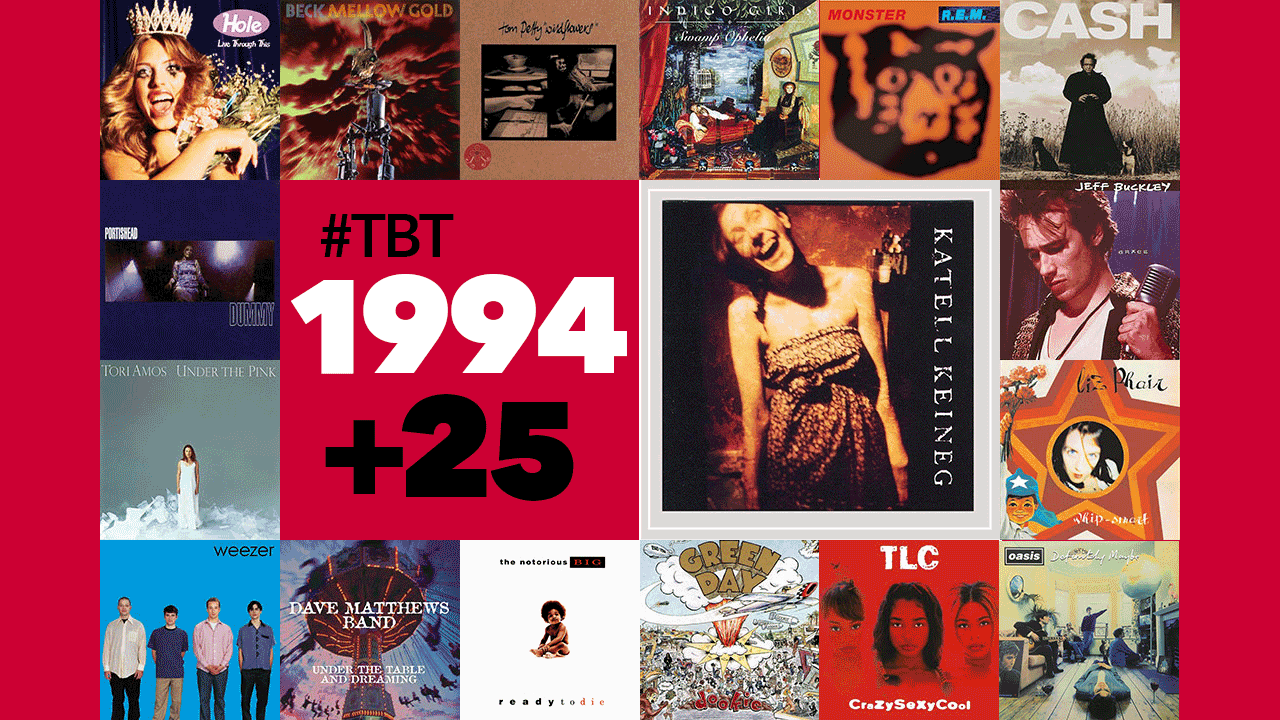 #FUVTBT Throwback Thursday rewinds back 25 years to 1994 and looks back on the albums and songs released that year, from artists like Tom Petty, Portishead, Jeff Buckley, Prince, Bonnie Raitt, Pavement, Oasis, Tori Amos, TLC, Massive Attack, Hole, Mary J. Blige, the Dave Matthews Band, and many others.
Plenty of personal favorites — forgotten singles and lost gems — were represented all day long on 90.7FM, and streaming online. As for those lesser-known marvels, WFUV morning host Corny O'Connell writes about an album that was one of his most beloved discoveries of that year: Katell Keineg's Ô Seasons Ô Castles, which was released on April 16, 1994.
My first exposure to the music of Katell Keineg was on Straight Outta Ireland, a 1993 compilation album of various Irish-based artists. Keineg's previously-unreleased song "Destiny's Darling" was clearly the stand-out track.
The collection's liner notes described Keineg as "born in Brittany lives in Dublin." Indeed, she grew up first in Brittany and later in Wales, the homelands of her mother and father. After graduating from the London School of Economics she started gigging in Dublin and New York City. Iggy Pop became a fan and invited her to sing harmony on his 1993 album, American Caesar. That connection led her to sign with Elektra Records.
Now with a major label, Keineg re-recorded "Destiny's Darling" with fuller production. You could say that she was Elektra's darling. They paired her with in-house producer Fred Maher (Lou Reed, Matthew Sweet, Lloyd Cole), but gave Keineg the freedom to co-produce Ô Seasons Ô Castles and direct the video for the album's lead single, "Partisan."
When she visited WFUV to promote the album, she was accompanied by Elektra suits who were excited about this new, promising talent. Keineg's earthy, passionate voice buoyed her poetic songs. Not every track was "radio friendly," even in the broad WFUV landscape of 1994. This was the work of an artist with the freedom to make the record she wanted to make.
The album's title, Ô Seasons Ô Castles, is a line from a poem by nineteenth century French poet Arthur Rimbaud. The album's flow takes us from catchy pop songs to more esoteric elements, like the spoken word piece "Waiting for You to Smile" and the one minute a cappella song "Conch Shell." Keineg also sings a hymn in Welsh,  "O Iesu Mawr."
My favorites are "Destiny's Darling," "Partisan," "Cut," "Franklin," and the lead track "Hestia." That first song opens with the lines:
You are witnessing a start, a new life
You are witnessing the start of my fabulous life
Hearing Katell sing those words convinced me that I was indeed witnessing a start. Not only the start of her career, which continues today, despite some bumps along the way (most recently she's been working with The Stereography Project, a jazz ensemble, and continues to collaborate with Natalie Merchant), but also the start of my lifelong appreciation of her work. Twenty-five years later, Ô Seasons Ô Castles is the album I'm most appreciative of discovering in 1994.
Listen
#FUVTBT: 1994 (Spotify playlist compiled by the WFUV air staff)