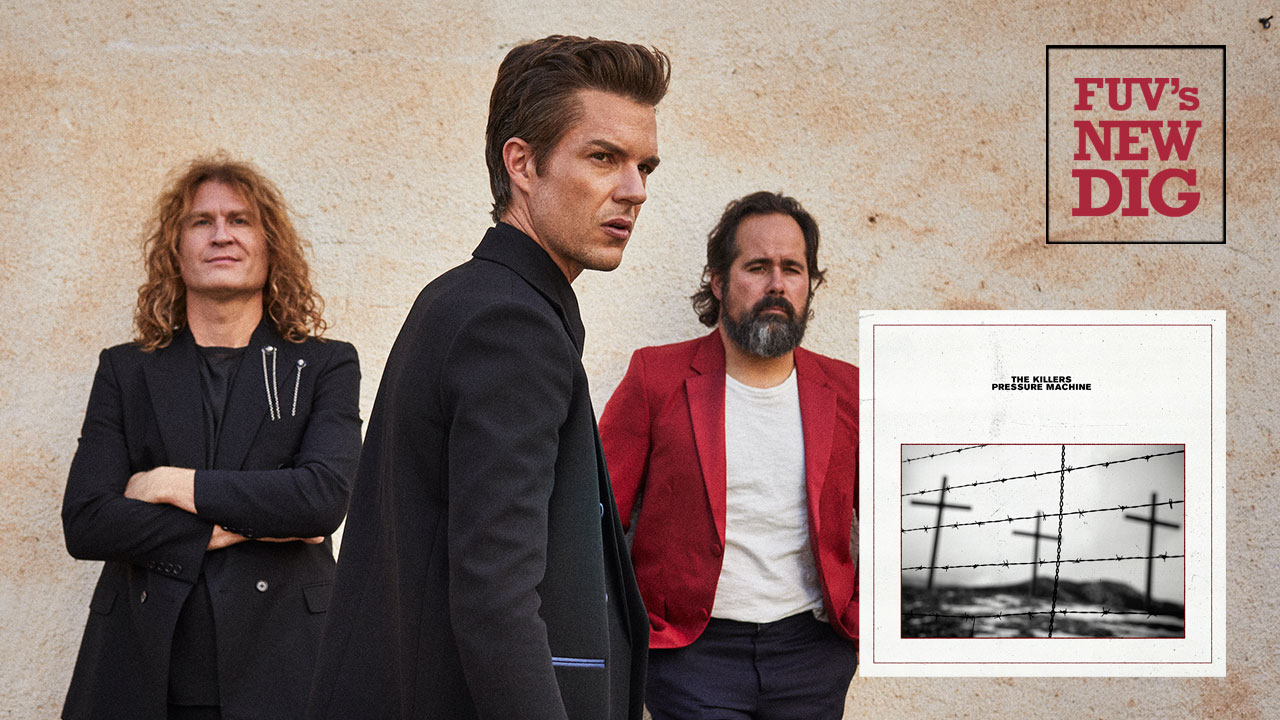 The Killers
Pressure Machine
Island Records
Why This Album Matters:
The Killers' seventh release, Pressure Machine, is a concept album about a rural American town, specifically Nephi, Utah. Frontman and keyboardist Brandon Flowers grew up in Nephi, living there in the Nineties, between the ages of 10 to 16.  Flowers reflects back to the people and experiences of his youth, finding positives scattered in the sadness, tragedies, hardships, and regrets of his hometown. The residents of this quiet southwest town contribute to the album, adding a significant sense of realism. Besides the conceptual structure of Pressure Machine, the album is a musical departure for the Killers. The band enthusiastically embraces a roots-rock and sometimes acoustic approach on many of the songs, but retains elements of the Killers' powerful, arena-sized sound.
In Their Own Words:
"I'd never had so many lyrics and stories come out of me that way that they did for this record," explained Flowers to the Associated Press on the effect of the pandemic on his writing. "It was a breath of fresh air, and it was a blessing for me. I don't know that it's something that I'm going to be able to rely on for every record, but, man, I took it." 
Drummer Ronnie Vannucci Jr. told Rolling Stone about the interviews with Nephi townsfolk incorporated into the album: "We were in mastering mode, but it was the last ingredient needed to complete this project for us," he says. "It gave us more of a real-life accounting, more so than our interpretations through songs and music. … It was people with their accents and their stories. It stitched it all together for us." 
Highlights:
"Cody," "In Another Life," "In The Car Outside," "Quiet Town," "Runaway Horses," and "Sleepwalker"
Why You Will Dig Pressure Machine:
Pressure Machine paints a vivid portrait of life in small-town America. Nephi residents were interviewed for the band by NPR and the Killers used those audio clips to frame the songs and give them perspective. Flowers' lyrics, combined with direct quotes from the residents of Nephi, paint a simple, wholesome picture ("Good people/They still don't deadbolt their doors at night), but one that is also lonely and sometimes tragic too ("A couple of kids got hit by a Union Pacific train"). There's an epic dose of Americana on the Springsteen-reminiscent "Quiet Town," which reflects on those local teens killed by a passing train and the harsh effect of opiods on everyday Nephi life, and on "West Hills," with its references to "hillbilly heroin." There's a tragic end for a beloved horse on the tender "Runaway Horses." The album's many character studies, like a teenage arsonist "Cody," bring everything into focus, in a heartfelt and real way. While most of this album ventures musically towards an American roots direction, the Killers retain their signature grandeur, as on the synthesized rocker "In The Car Outside."
Recommended If You Like: 
Brandi Carlile, Coldplay, Franz Ferdinand, Jason Isbell with and without the 400 Unit, and Bruce Springsteen.
FYI:
- The Killers' lineup for Pressure Machine is Flowers, Vannucci, Jr., and guitarist Dave Keuning, who returned from a hiatus from the band. Uncomfortable with venturing to the studio during the pandemic, bassist Mark Stoermer was absent for this album.
- Guest musicians include Phoebe Bridgers (on "Runaway Horses"), Sara Watkins (fiddle), Joe Pug, Bright Eyes' Nate Walcott and Dawes members Griffin and Taylor Goldsmith.
- Pressure Machine follows 2020's Imploding the Mirage. Like its predecessor, the new album was produced by the band, Shawn Everett, and Foxygen's Jonathan Rado.
- For the first time, Flowers wrote all of the lyrics in the form of poems before composing the music. He was influenced by Sherwood Anderson's Winesburg, Ohio A Group Of Tales Of Ohio Small Town Life and John Steinbeck's The Pastures Of Heaven.