TAS Favorite Albums and Songs of 2010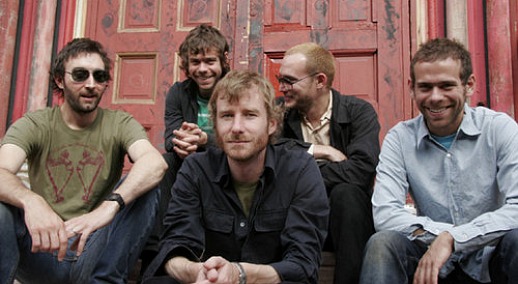 Along with mistletoe, mulled wine and overused credit cards, one of the more dependable signs of December is the inevitable discourse on the best albums and singles of the year. The Alternate Side staff has compiled a list of favorites and earworms of 2010, our own personal soundtrack guiding us through the past twelve months.
Russ Borris (Assistant Music Director and Host of The Alternate Side on FUV):
 
Albums (alphabetical):
Arcade Fire, The Suburbs
The band creates a record that appeals to anyone who's ever been a teenager.
Big Boi, Sir Lucious Left Foot: The Son of Chico Dusty
While the world waits for a new OutKast album, we have this great solo effort.
The Black Keys, Brothers
Another ridiculously good record from two guys who do more on one album than most bands do in a career.
The Gaslight Anthem, American Slang
Great songs, start to finish. It's GOOD Jersey rock!
LCD Soundsystem, This is Happening
LCD Soundsystem is a party. James Murphy is the host. We all want to go.
Lissie, Catching a Tiger
A really impressive debut. Great voice that can seemingly cover any style and any ground.
Janelle Monáe, The ArchAndroid
A hugely ambitious record of futuristic soul. This album is big - really big - on every level.
The National, High Violet
Understated is the new awesome. It's what they do.
Kanye West, My Beautiful Dark Twisted Fantasy
I know, everybody hates Kanye. The thing is, everybody also loves Kanye. He has made a record that is too much of everything, yet it works. Completely.
Yeasayer, Odd Blood
A record that stuck with me the whole year filled with keyboards, layered vocals and catchy fun.

Songs:
Antoine Dodson & The Gregory Brothers, "Bed Intruder Song"
Cee-Lo Green, "F*&k You"
Gil Scott-Heron, "Me and the Devil"
Kanye West, "Runaway"
Yeasayer, "O.N.E."
 
Alisa Ali (The Alternate Side Host, Producer & On-Air Interviewer for WFUV):
Albums (This may change. But here it is for now):
The National, High Violet
The Black Keys, Brothers
Phantogram, Eyelid Movies
Shout Out Louds, Work
Danger Mouse and Sparklehorse, Dark Night Of The Soul
Broken Bells, Broken Bells
The Morning Benders, Big Echo
Broken Social Scene, Forgiveness Rock Record
Holly Miranda, The Magician's Private Library
Sufjan Stevens, The Age of Adz
Sharon Van Etten, Epic
Local Natives, Gorilla Manor
School of Seven Bells, Disconnect from Desire
 
Rita Houston (Music Director/WFUV The Whole Wide World Host):

Favorite Albums:
Ray Lamontagne, God Willin' and the Creek Don't Rise (especially on vinyl)
Throw a Ray party - invite your friends over and listen to this album. It's that good. The double gatefold vinyl plays like a lost classic from the mid 1970's.
David Byrne/Fatboy Slim, Here Lies Love
A bold, ambitious, collaborative work that is so smart, so cool and so disco.
Maximum Balloon, Maximum Balloon
Dave Sitek of TV on the Radio makes good use of his phonebook, assembling an all-star lineup of singers for a dance-based studio spree.
The National, High Violet
I was obsessed with this album all year. I know all the words. All. The lyrics and Matt's phrasing just blow my mind.
Nellie McKay, Home Sweet Mobile Home Nellie takes a huge step forward and proves that her chops and instincts are spot on.
Massive Attack, Heliogoland (especially on vinyl)
This was also one of my favorite shows of the year. Great special guests and real vibe album. The vinyl has a totally different mix and sounds great. Raul Malo, Sinners and Saints
This one got a lot of play at our house this year.
Citizen Cope, The Rainwater LP
Cope delivers another album of simple yet deep songs that linger with you.
Junip, Fields
Jose Gonzalez and his longtime Swedish friends finally release an album from their 10-year-old band. Jose's signature nylon-string guitar is still at the center, but you'll hear a lot of subtle global influences and a new sense of improvisation.
Arcade Fire, The Suburbs
A great album and one of the best shows of the year, at MSG.

What else? James Maddock, One Eskimo, Florence and The Machine, and Mumford and Sons (interestingly all British) remained favorites this year, even though I heard them first in 2009. I also loved: Field Music, Broken Hearts and Dirty Windows, Jonsi, Corinne Bailey Rae, Gaslight Anthem, The Books, Black Dub, Four Tet, Jónsi, and Best Coast.

Favorite songs:
Secret Sisters, "Big River" (7 inch vinyl)
Elvis Costello, "You Hung the Moon"
Robert Plant, "Silver Rider"
Keane, "Stop For A Minute"
Chilly Gonzalez, "Never Stop"
Paul Weller, "No Tears to Cry"
 
Kara Manning (Web Editor for The Alternate Side, On-Air Interviewer for WFUV/The Alternate Side):
Here's an unwieldy list of what came most rapidly to mind. Since Arcade Fire's The Suburbs and Beach House's Teen Dream will appear on every 2010 list (and rightfully so), I've bypassed them in favor of other records that might be overlooked. in no particular order:

Albums (yes, there are more than ten, but that's the way it goes):
Field Music, Measure
The Divine Comedy, Bang Goes The Knighthood
Foals, Total Life Forever
Gorillaz, Plastic Beach
Underworld, Barking
Corinne Bailey Rae, The Sea
Delphic, Acolyte
Isobel Campbell and Mark Lanegan, Hawk
Wild Nothing, Gemini
Massive Attack, Heligoland
School of Seven Bells, Disconnect From Desire
Allo Darlin', Allo Darlin'
Villagers, Becoming A Jackal
Hey Marseilles, To Travels & Trunks

Singles: 
Twin Sister, "All Around And Away We Go"
Jez Kerr, "Play Sumthing Fast"
Avi Buffalo, "What's In It For?"
The Radio Dept, "Heaven's On Fire"
Underworld, "Scribble"
Gorillaz,"Stylo"
School of Seven Bells, "I L U"
Jesca Hoop with Guy Garvey, "Murder of Birds"
Autolux, "Highchair"
Four Tet, "She Likes To Fight"
Tracey Thorn, "Oh The Divorces"
Tame Impala, "Solitude is Bliss"
Codeine Velvet Club, "Reste Avec Moi"
Chew Lips, "Slick"
John Legend and The Roots, "Wake Up Everybody"
Tunng, "Hustle"
Laura Marling, "Rambling Man"
Sleigh Bells, "Ring Ring"
Charlotte Gainsbourg, "Trick Pony"
Jónsi, "Go Do"
Janelle Monae w/Big Boi , "Tightrope"
Crystal Castles with Robert Smith, "Not In Love"
Goldheart Assembly, "King of Rome"
Gold Panda, "Snow and Taxis"
 
Eric Holland (Host, WFUV, FUV Music and The Alternate Side):
Albums:
Spoon, Transference
Corinne Bailey Rae, The Sea
Grinderman, Grinderman 2
Black Keys, Brothers
Erykah Badu, New Amerika 2 - Return of the Ankh
Broken Bells, Broken Bells
Dead Weather, Sea of Cowards
Citizen Cope, The Rainwater LP
The Hold Steady, Heaven is Whenever
Sharon Jones & The Dap Kings, I Learned the Hard Way