Songs That Inspire Black Joy and Empowerment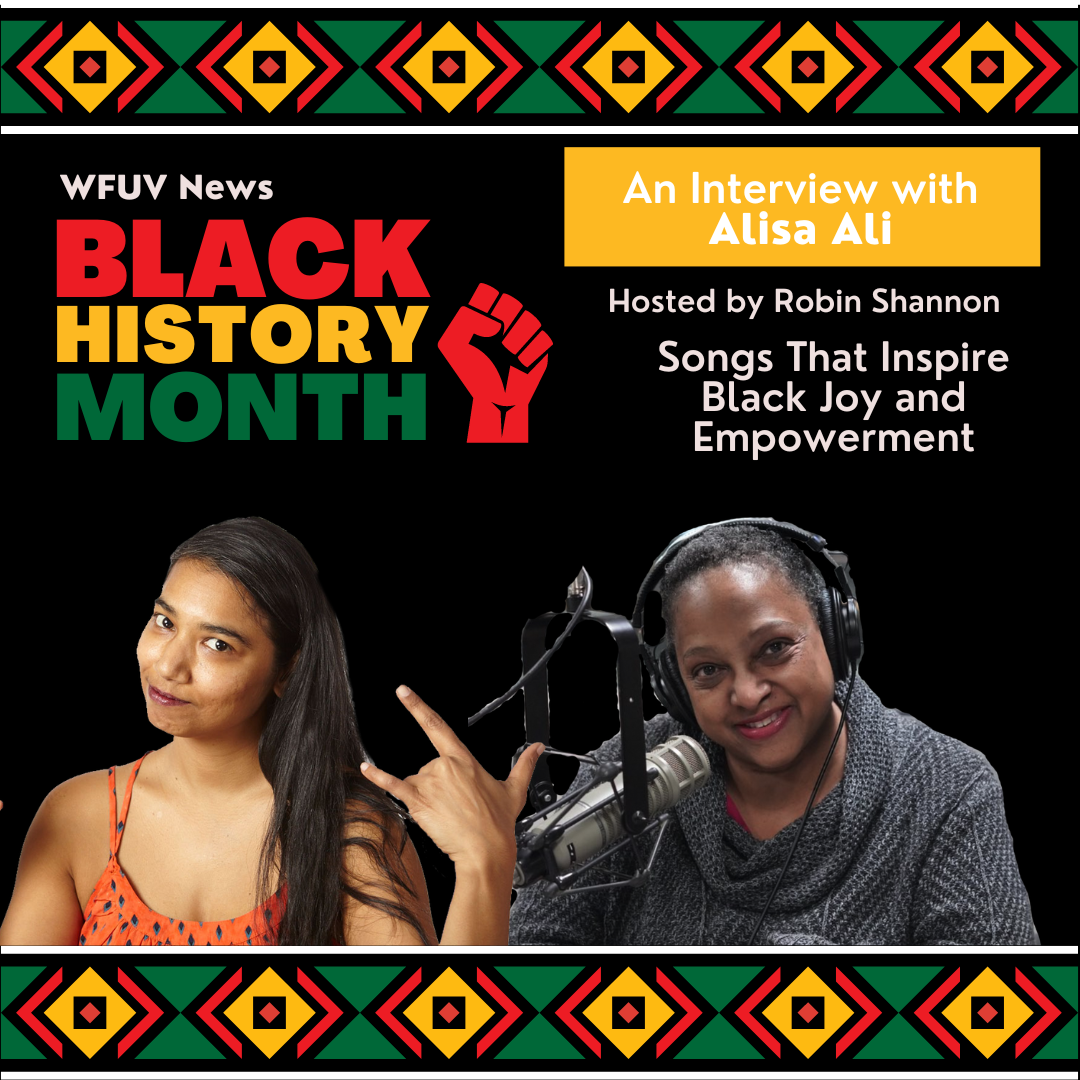 HOST INTRO: Black history is not just about trauma and pain.  Part of the experience is honoring the resilience of Black people in the U.S. and their ability to demonstrate love and find joy – something that's often expressed through music. Spirituals, blues, jazz, rock and roll and hip hop have had global influence. WFUV's Robin Shannon sits down with midday host and music connoisseur Alisa Ali.  She's sharing her list of songs that inspire Black joy and empowerment.
ROBIN SHANNON, host: Alisa, what is the first song on your list?
ALISA ALI, guest: I will just start off by saying I do have a theme song, myself. Like my walk on music, if you will. 
SHANNON: Oh? Okay! Alright, when you're walking into a cool spot.
ALI: My walk-on music is "She's a Bad Mama Jama." 
(ALISA HUMS MELODY) 
However, that said, I'm not going to choose that, but I did want to give a shout out to Carl Carlton. One of the artists that..and this is an artist that is tops not just for Black History month, just for like, life… Stevie Wonder.
SHANNON: Oh, of course. 
ALI: Like, I cannot leave Stevie Wonder off a woefully short list. And I say this every time I play him on the radio. He is a national treasure. He's a humanitarian, an activist and in terms of Black musicians, I mean, he's right at the top of that list and his music is honest and direct. "Living for the City," you know, highlights the inequities that Black people are faced with, but you know, it also shows how they still can get by. You know, "her clothes are old, but never are they dirty."  He's got, you know, this great song called "Black Man" from "Songs in the Key of Life," which is such an amazing album in general, but that "Black Man" song, you know, just highlights some of the advances that Black people have done and it's just it's such a great song. Also, all of his songs, you know, they have a message but they also have a groove and I just saw him on the Grammys doing "Higher Ground" right? And this also speaks to his musicianship that his music is so versatile, that it has been covered by all different artists. And he did the song with Chris Stapleton who's like a country dude. 
SHANNON: Right. 
ALI: So like this soul song can be sung…
SHANNON: And didn't the Red Hot Chili Peppers also do that one? 
ALI: Yes! Of course, the Red Hot Chili Peppers do a great version of it. That just speaks to his songwriting ability. I mean, he's a brilliant thinker, and, I think, a bonafide genius. He's got so many powerful and joyful songs. I wanted to pick a song that brings me a lot of joy. It's probably not one that most people think of, but it gets me on the dance floor every time…
(ALISA SINGS "DO I DO" BY STEVIE WONDER)
ALI: Do you know this? 
SHANNON: Ahhh…Yeah of course!
(SOUNDBITE OF STEVIE WONDER'S DO I DO)
ALI: Yes, I got some honey kisses for your lips…
SHANNON: So, Alisa "Do I Do" by Stevie Wonder? That's your first song. What's the next song that inspires Black joy and empowerment?
ALI: Again, I have to go with the catalog in its entirety and I have to choose Sly and the Family Stone. They were a pioneering soul, funk band. They soundtrack the civil rights movement and you know, their music came from a place of love and unity. And by the way, it was the first major American rock group to have a racially integrated male and female lineup. Their music was so empowering they preached about standing for what you believe in. And I think that really resonated with people who were, you know, seeking out social justice and I just find their music to be so warm and joyous. 
SHANNON: So what's your one song? 
ALI: Okay. All right. It's very hard. It's "If You Want Me to Stay" by Sly and the Family Stone.
(SOUNDBITE FROM "IF YOU WANT ME TO STAY" BY SLY AND THE FAMILY STONE)
SHANNON: So that was "If You Want Me to Stay" from Sly and the Family Stone. 
SHANNON: Now Alisa, you got one more pick. It's a tough one. Now, what's the next song that you think inspires black joy and empowerment? 
ALI: I'm gonna go with Kendrick Lamar's "Alright" from "To Pimp a Butterfly." It is a modern day protest song. It starts with the line "All my life I had to fight." And that's a quote from… I'm not sure if it's a quote from Alice Walker or Oprah but it's from "The Color Purple."
SHANNON: Yeah. Okay, mhm. 
ALI:  So that's where we're going with it and I just think it's, it's such a, it's such a powerful song. It shows strength. It shows resilience that Black people have had to have. It's aggressive but it's also positive and uplifting. It's inspirational and I think maybe, I think maybe…it's one of the greatest rap songs of all time. 
SHANNON: Alright. So Kendrick Lamar was your last one and of course, just for you, Alisa Ali. 
ALI: Walk-off music? 
SHANNON: I will play "She's a Bad Mama Jama."
    
(SOUNDBITE FROM "SHE'S A BAD MAMA JAMA")
HOST OUTRO:  That was Robin Shannon talking to WFUV's midday host Alisa Ali about songs she thinks inspire Black joy and empowerment.