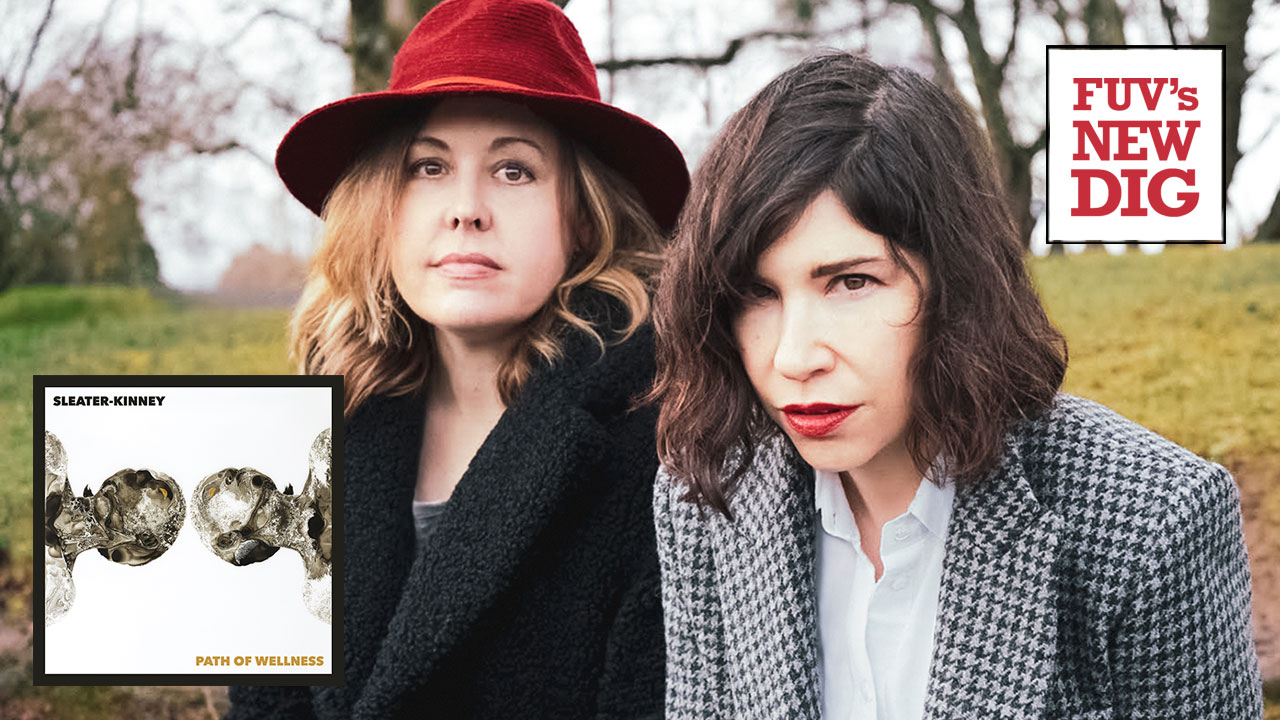 Sleater-Kinney
Path of Wellness
Mom + Pop Records
Why This Album Matters:
Twenty-six years after the band's self-titled debut, Sleater-Kinney has released their 10th album, Path of Wellness. It's not only the band's first as a duo since the departure of drummer Janet Weiss in 2019 — Corin Tucker and Carrie Brownstein remain on guitars and vocals —but their first self-produced album.  Path of Wellness's intelligent, guitar-based rock was created during a time of life-altering adversity and Tucker and Brownstein draw on this stressful time while still sounding revitalized and energized.
In Their Own Words:
 "There were layers of crisis happening as we were making this album," Tucker told Oregon Public Broadcasting on why Sleater-Kenny returned to the Pacific Northwest to record the album. "We first had the pandemic and this feeling of isolation. And then, on top of it, we had the murder of George Floyd and the protest for racial justice that happened very intensely in Portland. It really changed the makeup of the city. The city became a place where conflict was happening on our streets every night. And my husband Lance Bangs is a journalist and he was down there every night while that was happening, which was stressful, to be honest. And then the next layer was the smoke, the wildfires that happened on top of that. And so it felt like the city of Portland was changed by the experience and we were all changed by the experience, too."
"I think it's important to have a porousness — to have intake," Brownstein told FUV's Russ Borris during a recent "8Track" conversation (airing on 90.7 this Friday, August 20, at 9pm). "You know, I think as a writer, you have to be curious and open to the world. You know, and so I never want to shut that off — especially with music. I'm always looking to rediscover or to locate or to discover anew."
Highlights:
"Down The Line," "High In The Grass." "Method," "Path Of Wellness." and "Worry With You."
Why You Will Dig Path of Wellness:
Path of Wellness is very different from Sleater-Kinney's last album, 2019's The Center Won't Hold. That album, produced by St. Vincent's Annie Clark, tilted in a more experimental direction, utilizing keyboards, synths, and electronic flourishes. Here, Tucker and Brownstein return to their signature lean guitar, bass, and drums sound, notably on the driving "High In The Grass" and the dramatic, hard-hitting "Worry With You." The gutsy "Complex Female Characters" is about a man's inability to cope with the strong woman he claims to admire.  Tough times in Portland, the band's longtime home base, is the subject of "Shadow Town," as is the punk-stoked "Favorite Neighbor." Finally, "Bring Mercy" brings the album to a head with a plea for help to get through the ongoing dark times.
Recommended If You Like:
Pixies, The Breeders, Sonic Youth, Yeah Yeah Yeahs, PJ Harvey
FYI:
- Path of Wellness is the first Sleater-Kinney album since 1996 to not include Weiss (the band was founded back in 1994).
- Brownstein and Tucker chose to work with an array of different drummers and percussionists on this album, including Vince LiRocchi who will also be the band's touring drummer for their fall 2021 dates.
- Tucker describes "High in the Grass" as a "love letter" to the influence of Ann and Nancy Wilson of Heart.
Listen to Sleater-Kinney in an "8Track" session with host Russ Borris airing this Friday, August 20, at 9pm on 90.7, streaming at WFUV.org.