Santana: Throwback Thursday 1969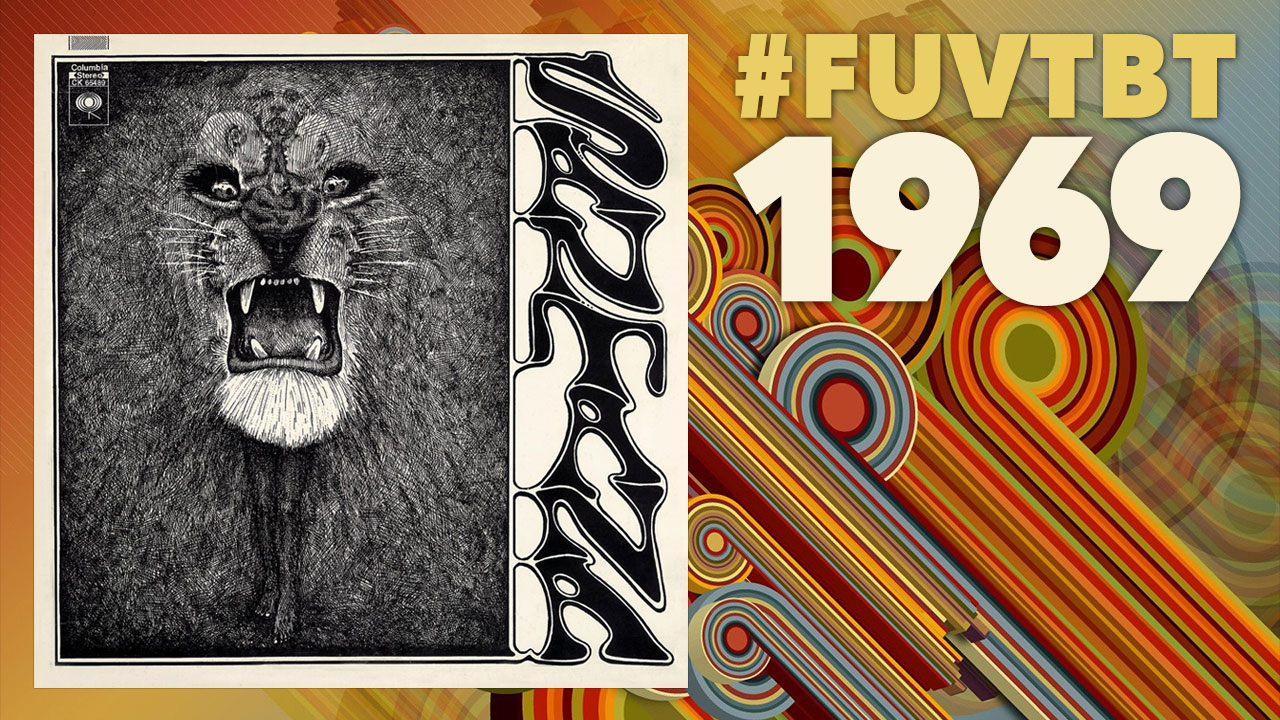 On this FUV Throwback Thursday 1969, Darren DeVivo writes about Santana, one of many albums that made a significant impact that year — and it still resonates with listeners 50 years later.
Santana's self-titled debut album, released two weeks after the band's incendiary performance at the Woodstock festival, reinforced what concertgoers had experienced firsthand watching the group's dazzling 45-minute set on Max Yasgur's dairy farm on August 16, 1969.
As the San Francisco-based band took the stage at around two o'clock on that Saturday afternoon, they were virtual unknowns, especially on the East Coast. Once their forty-five minute set was complete, Carlos Santana and his bandmates had not only turned in one of the festival's most dazzling sets, but it also introduced the band's unique sound, infusing Latin traditions and Afrobeat into blues and jazz-influenced rock.
Santana, both the musician and the album, pointed to icons like Miles Davis, John Coltrane, Bob Marley and Jimi Hendrix as being key influences. The diversity of cultures merging into Santana's songs helped expand the possibilities of rock and turned the genre into a global phenomenon.
The diversity of the music on Santana was reflected in band's six members, who converged in California. Co-founder, guitarist and sometimes singer Carlos Santana was born in Autlán, Mexico and Gregg Rolie, lead singer, co-founder, and keyboardist was born in Seattle. Percussionist Michael Carabello was originally from Puerto Rico and fellow percussionist José "Chepito" Areas hailed from Nicaragua. Bassist David Brown, who died in 2000, was a native of San Francisco, as was drummer Michael Shrieve. As a band, they became a fixture of San Francisco Bay Area music scene for several years before they connected with impressario Bill Graham, who became their manager. After signing with Columbia Records and recording their first album, the sextet was added to the Woodstock bill at Graham's request.
Santana's debut album climbed to #4 on the Billboard Album charts in 1969, bolstered by their hit cover of Clarence "Sonny" Henry's "Evil Ways" which became a Top Ten single. Santana was embraced by the mainstream despite the exotic nature of their mostly instrumental music on their debut. "Jingo," the first single released from Santana, was a song written and initially recorded by Nigerian percussionist Babatunde Olatunji.
The rest of the album featured original compositions like the impassioned "You Just Don't Care," the jazz-and-blues instrumental "Treat," and "Persuasion," which drives a shot of adrenaline right to the album's heart. Other highlights are the rhythmic tour de force "Savor" and "Shades Of Time," an emotionally charged dose of pure rock.
Two instrumentals serve as bookends: the anticipatory "Waiting" is the album's calling card while the finale is one of Santana's signature songs, "Soul Sacrifice," a ritualistic rock 'n' roll amalgam. In fact, it was the electrifying performance of "Soul Sacrifice" at Woodstock that drove home all the power and fury that was Santana.
Fifty years later, Santana's debut remains one of the band's greatest touchstones, a record that heralded a new direction in American rock 'n' roll. And while that album also led to the group's similar headspace on 1970's Abraxas and 1971's Santana III, Carlos Santana steered the remaining members of the band in a jazz fusion direction with 1972 Caravanserai — a fraught time for the band that was detailed in Ben Fong Torres' Rolling Stone profile of Santana that year. But as a foundation album, there are few that are more impactful than Santana in 1969 — and it was an honor to interview Carlos earlier this year for an FUV Live session.
Listen to a Spotify stream of Santana's debut album below and a playlist of every song we played on WFUV during our #FUVTBT: 1969 day:
Listen
#FUVTBT: 1969 (Spotify playlist of every song played on August 15, 2019)