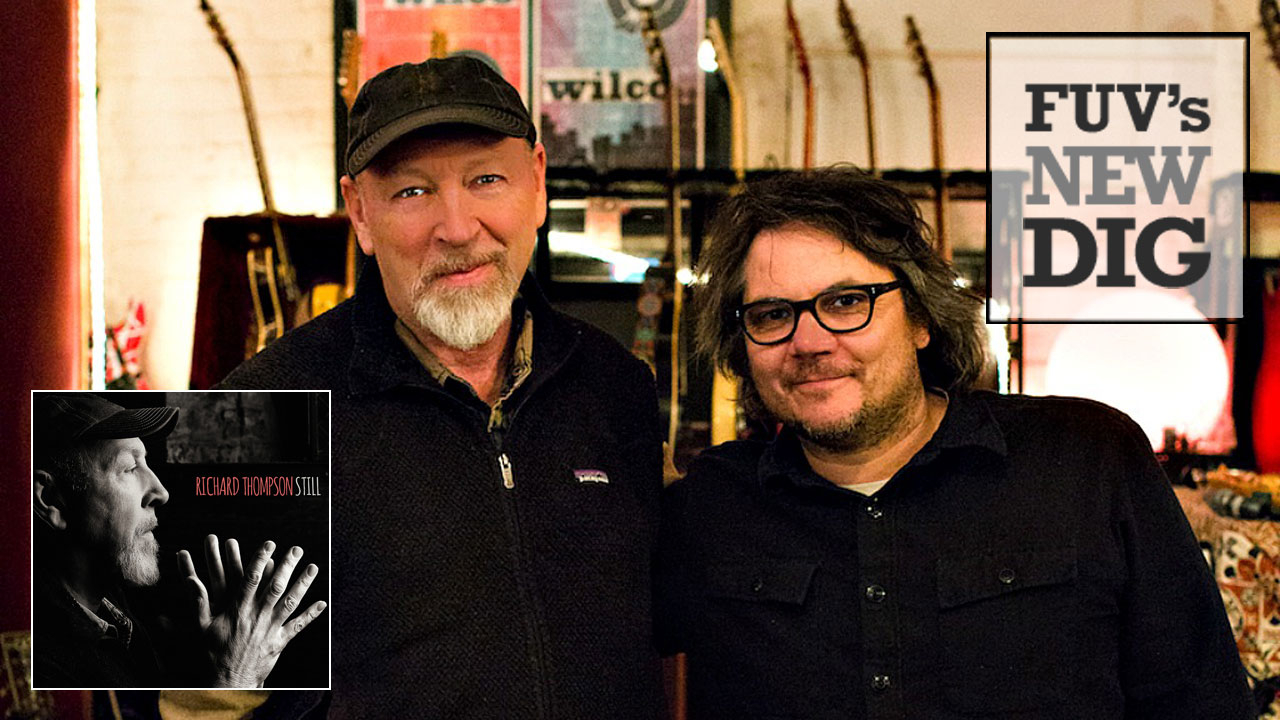 Still
Richard Thompson
Fantasy Records
As an artist, Richard Thompson is a triple threat: an accomplished lyricist, composer, and guitarist. Add his singularly distinctive singing voice and it's clear that over a 48-year career, Thompson has created a totally unique sound that sets him apart from his peers. Despite all he has achieved as a solo artist (as well as his tenure with Fairport Convention, his partnership with ex-wife Linda Thompson and his many collaborations), the 66-year-old Thompson remains committed to breaking more new ground along the way with his latest release, Still.
Following last year's Acoustic Classics, which featured acoustic re-workings of older songs, Still is Thompson's first album of fresh material since 2013's Electric. As with Electric, which teamed him with Nashville producer Buddy Miller, Thompson chose to work with a producer with a different perspective, so he turned to Wilco's Jeff Tweedy. Thompson was impressed with Tweedy's production on Mavis Staples' recent albums and in turn, Tweedy admired Thompson's work. It was an ideal collaboration.
Still retains all of the qualities that are present in Thompson's finest work, but under Tweedy's guidance, the album sounds immediate and present. There aren't any embellishments added to the performances. Tweedy treats Thompson's guitar with respect, allowing the instrument a place that is clear and prominent in the mix. Every nuance of the Thompson's skillful playing is conspicuous. And yet, throughout the album there are times where Tweedy's musical fingerprints are clearly apparent too, most notably in the sound of the drums.
The songs on Still are packed with Thompson's incomparable craft. They are thoughtful and intricate as they tell stories of troubled and forlorn characters. His lyrics ache with longing and desperation, but aren't immune to his dry wit either. The subjects of his songs are can be frustrated and angry, but also capable of giving love and compassion. On "Broken Doll," Thompson sings of a woman who has been traumatized, and the man who loves her, while, in contrast, "All Buttoned Up" comes from the perspective of a man struggling to just have sex.
Not everything is sinister and dark, though. On the flip side, Thompson can be playful, as on the pirate lament "Long John Silver" and the album's finale, "Guitar Heroes," in which Richard reveals his quest to play the guitar like Django Reinhardt, Les Paul, Chuck Berry, James Burton and Hank Marvin, of the Shadows. Thompson's traditional British folk roots are on display on "Pony In The Stable," "She Never Could Resist A Winding Road," and the acoustic beauty, "Josephine."
The sessions for Still took place over a nine-day period at Tweedy's Chicago studio, the Loft. Joining Thompson was a group of musicians that included his rhythm section, bassist Taras Prodaniuk and drummer Michael Jerome, and Tweedy himself.
While Still doesn't veer in a radical direction or declare a pronounced stylistic change from Richard Thompson's best-known oeuvre, the album does reflect a master at work, complementing his finest releases and triumphantly joining an already formidable catalog.
More:
Richard Thompson - WFUV Live At Clearwater - 2014
Richard Thompson - Words and Music - 2013
Richard Thompson - Live Concert - 2005