Review: Jenny Lewis at Forest Hills Stadium 2019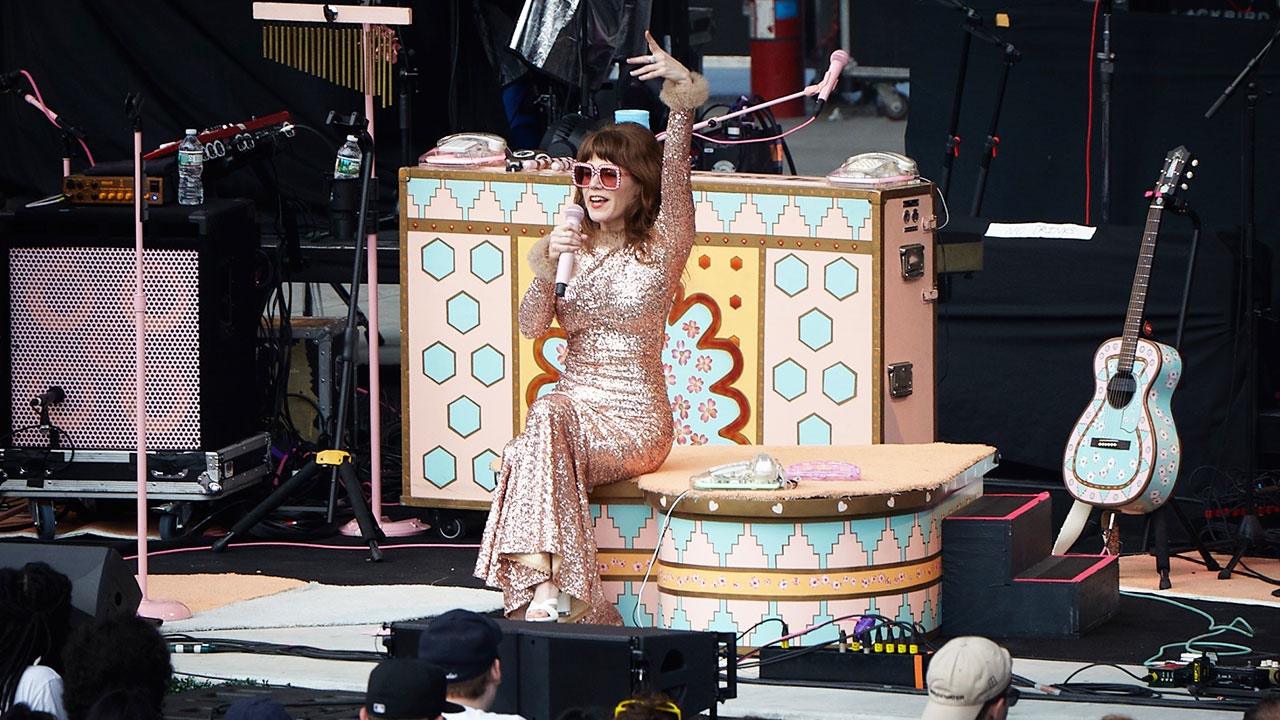 The delightful weather added to the festive atmosphere as WFUV's summer of live outdoor concerts continued on Saturday night, June 15, at Forest Hills Stadium in Queens where Death Cab for Cutie and Jenny Lewis performed. Both sets, co-hosted on the air by Rita Houston and me, were broadcast live on FUV from the WFUV Clubhouse. (Find Death Cab for Cutie's set here).
Lewis opened the night for Death Cab. While Tommy Tutone's "867-5309/Jenny" played over the PA system, she entered in a floor-length, form-fitting, sparkling gold gown and oversized sunglasses, on a stage accented in pink and turquoise. This was Lewis's first show in New York City since the release of her fourth album, On the Line, back in March.
She kicked off her set with "Heads Gonna Roll," the leadoff track from that release. The audience was enthusiastic from the start, prompting Lewis to exclaim, "This is cool!" In the past, talking about On the Line, Lewis has said that it, "begins with a break-up and ends with a kind of rebirth and all the stuff that happens in between." Born to entertainer parents in Las Vegas, who got her started on a very successful career as a child actress, Lewis's transition to music began over 20 years ago with her tenure in the now-defunct Rilo Kiley in 1998. After leaving that band, she released Rabbit Fur Coat, featuring the Watson Twins, in 2006.
Following On the Line's tracklisting, Lewis sang "Wasted Youth," an addict's lament. Along with her new material, Lewis included "The Big Guns" and a spare, super slow "Happy," both from Rabbit Fur Coat. She slipped in a fan favorite from her Rilo Kiley days, "Silver Lining." Other highlights included a little jam from her band —  guitarist Dylan Day, bassist Solomon Dorsey, guitarist Emily Elbert, drummer Jason Boesel, and multi-instrumentalist Jason Crosby — on On the Line's "Red Bull & Hennessy."
Another poignant moment was Lewis's "Little White Dove," inspired by the death of her mother who passed away during the making of On the Line. Lewis has been dedicating that song to her, and it makes me wonder if the Vegas lounge act get-up that she's been wearing at her gigs is a tribute to her mom.
Lewis closed the show, seated on a heart-shaped riser, singing "On the Line" into the handset of a telephone. We'll post the full set soon, and we'll bring you more live music too. Head to FUV's Summer Music Guide for more events ahead.
Setlist:
Heads Gonna Roll
Wasted Youth
The Big Guns
Silver Lining
Happy
The Voyager
Do Si Do
She's Not Me
Red Bull & Hennessy
Just One of the Guys
Little White Dove
Party Clown
On the Line
[Recorded 6/15/19]