Review: Cage the Elephant at Forest Hills Stadium 2019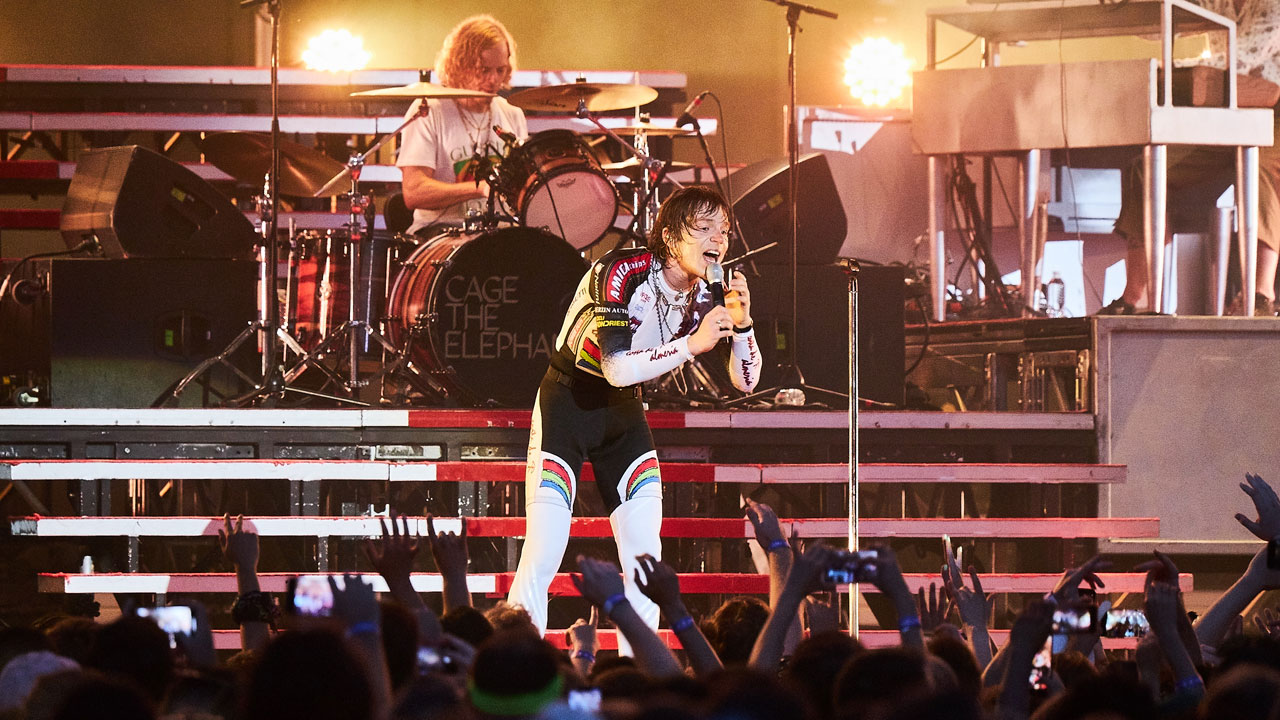 The quadruple lineup of Beck, Spoon, Cage the Elephant, and Sunflower Bean at Forest Hills Stadium on Saturday, August 17, was one of the highlights of the summer for me, especially since I had the chance to co-host our FUV Live broadcast of the concert on 90.7 from the WFUV Clubhouse with my friend (and midday host) Alisa Ali.
On this hot August night, Cage The Elephant went for broke. Some bands switch to another gear when they're in New York and Cage the Elephant definitely did. Maybe they just wanted to leave no doubt as to why this is a co-headlining tour — in some other cities, Beck even opens for them — or maybe they're just that good.
Whatever the case, Matt Shultz, his brother Brad, and their bandmates played the 14,000 capacity Forest Hills Stadium like it was a venue five times its size. It was a display of showmanship, musicality, theatricality, and pyrotechnics that elevated Cage the Elephant to a shortlist of one of the most exciting live rock bands currently performing.
The stage recalled the gatefold of Kiss's Alive II with a pair of risers on either side of the stage, useful not only to elevate the performers visually, but to helpfully burst into faux flames as well.  The production design of Cage's show demanded attention as much as the band itself, with fire and smoke complementing the costume changes and Matt's charismatic stage-stalking that accompanied a dynamic and artfully paced set.
The Kentucky-bred, Nashville-based sextet, led by the Shultz brothers, has put together an enviable string of hits since their breakthrough single, "Ain't No Rest For The Wicked," introduced them to WFUV over 11 years ago. Their fifth album, Social Cues, which was released earlier this year, features compositions that were dissimilar to that earlier lighthearted romp. The songs on Social Cues were spurred by Matt's divorce and even a kind of reaction to their own success; a brand of malaise that Bob Dylan once pointed toward on "Just Like Tom Thumb's Blues" when he observed that neither fortune or fame are what they claim.
The tone of Cage the Elephant's Social Cues is captured by the wry lyrics of the title track: "I'll be in the back room/Tell me when it's over/People always say/"Man, at least you're on the radio."
The five new tracks in Cage's set showed off the band's evolving sonic palette and songwriting chops amidst more familiar fare like "Mess Around." By the time a shirtless Matt Shultz crowdsurfed atop the throngs of fans, an ebullient ending gesture of trust and reckless abandon, it was clear that Cage the Elephant doesn't mess around at all when it comes to kicking out an incredible set.
[Please do check out the slideshow of incredible photos on the WFUV Flickr Stream from Gus Philippas.]
Setlist:
Broken Boy
Cry Baby
Spiderhead
Too Late to Say Goodbye
Cold Cold Cold
Ready to Let Go
Social Cues
Tokyo Smoke
Mess Around
Trouble
Skin and Bones
Ain't No Rest for the Wicked
It's Just Forever
Telescope
House of Glass
Come a Little Closer
Shake Me Down
Cigarette Daydreams
Teeth
[Recorded: 8/17/19]