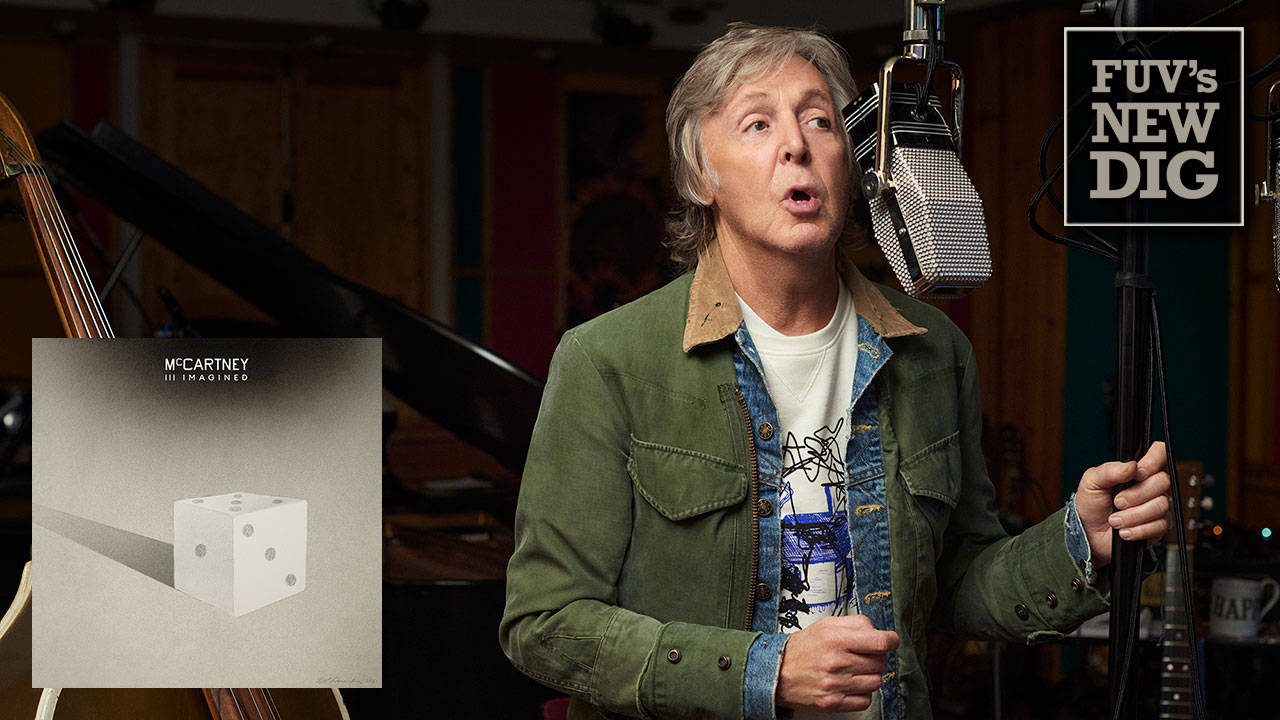 Paul McCartney and Various Artists
McCartney III Imagined
Capitol 
Why This Album Matters:
Sir Paul McCartney's latest album, McCartney III, released in December 2020 and gets a rather extensive makeover on a new companion collection, McCartney III Imagined. Upon completing his last album, McCartney asked some adventurous musicians he admired, like Damon Albarn and St. Vincent, to create fresh reinterpretations of his new songs. Every artist approached to take part in this project was instructed to take one song and have their way with it. There were no restrictions placed on the musicians, who were encouraged to reinvent, remix or even record new versions of McCartney's original takes. The result is a cutting-edge reinvention of the acclaimed McCartney III album.
In Their Own Words:
"I was living lockdown life on my farm with my family, and I would go to my studio every day," said McCartney in a statement about the recording of the original album. "I had some stuff I'd worked on over the years, but sometimes time would run out and it would be left half finished, so I started thinking about what I had. Each day I'd start recording with the instrument I wrote the song on and then gradually layer it all up. It was a lot of fun. It was about making music for yourself rather than making music that has to do a job. So, I just did stuff I fancied doing. I had no idea this would end up as an album."
 "[McCartney III Imagined was] started by people asking me if I had any bonus tracks," said McCartney on his website, "and I said 'No, not really, McCartney III is like a giant bonus track!' because they were mostly songs I was finishing up; I didn't have anything left over. But then I thought it might be a nice idea to just ask some other people to remix and just reimagine them, and in truth I didn't think about much more than that at the time. In the spirit of McCartney III — which had arrived by surprise — I thought I'd see what happened."
Dev Hynes, aka Blood Orange, who remixed McCartney's "Deep Down," told Rolling Stone: "I had to record some backwards guitar. I don't know how many times I'm ever going to be linked to Paul McCartney in my life!"
Highlights:
"Find My Way" (Beck), "Pretty Boys" (Khruangbin), "Seize The Day" (Phoebe Bridgers), "When Winter Comes" (Anderson .Paak remix), "Women And Wives" (St. Vincent remix)
Why You Will Dig McCartney III Imagined:
McCartney III Imagined boasts an impressive array of talent who put their fingerprints all over McCartney's original versions. Dominic Fike, Josh Homme, Radiohead's Ed O'Brien (EOB), and Massive Attack's Robert Del Naja are among the other innovators who contributed remixes, reinterpretations and covers of the McCartney III tracks. The approaches taken on the various versions range from the distorted, Radiohead-esque remix of "Slidin'," by EOB to a straight cover of the deceivingly dark "Lavatory Lil," by Homme, and even a funky space groove on Khruangbin's reinvention of "Pretty Boys."
Recommended If You Like:
Any and all of the artists involved with this project! And the Beatles.
FYI:
- The original McCartney III, was recorded during the lockdown of 2020. McCartney's latest album was executed in the same, or similar, fashion as his 1970 solo debut, McCartney, and his second release, 1980's McCartney II. Generally speaking, all three albums were recorded at home with McCartney playing all the instruments. 
- There were several exceptions to the at-home rule as McCartney was partially recorded at home and partially in the recording studio and McCartney III did include some outside contributions that were recorded before the pandemic. The album is available digitally now, but will be issued on CD and LP, with an bonus track from actor/DJ Idris Elba, on July 23.