Newport Folk Festival Highlights 2019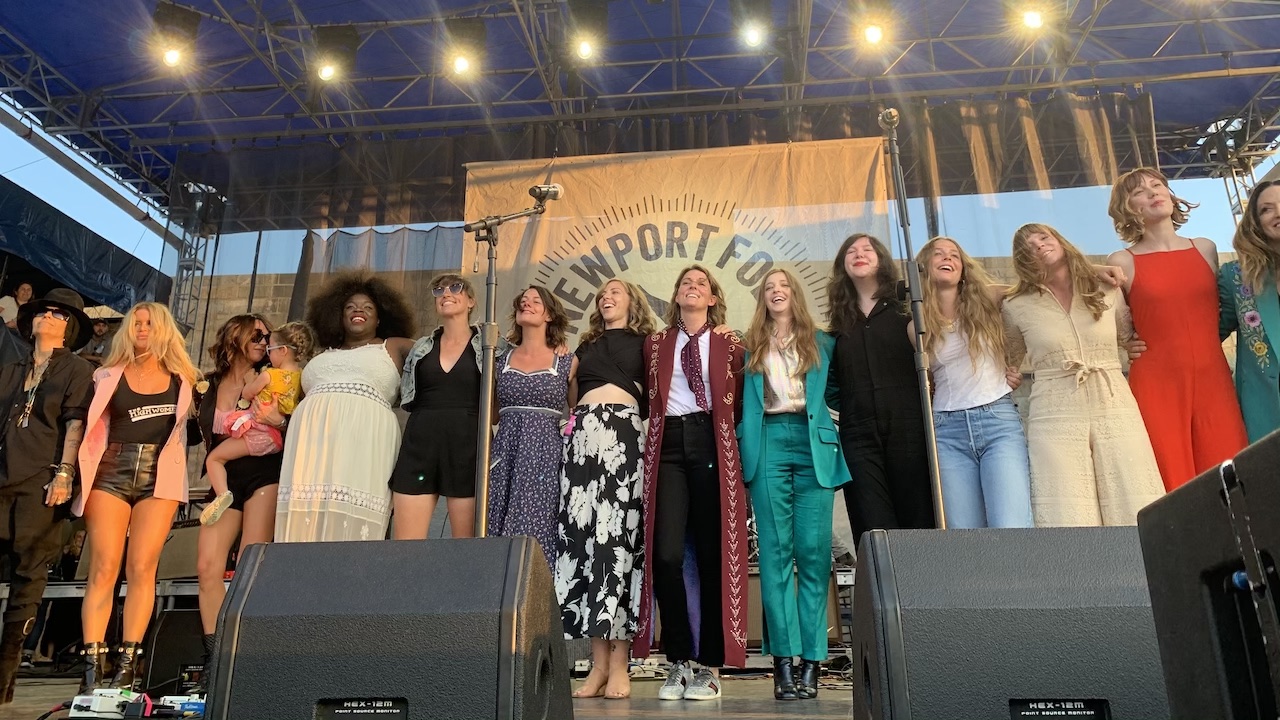 Music history was made once again at Newport Folk Festival.
The thread that ran through the 2019 Newport Folk Festival was the power of bringing women together. Music festivals across the nation are getting called out for male-dominated bills, but that has never been the case at Newport. The gathering that launched Judy Collins and Joan Baez, and carried the torch via Indigo Girls, Shawn Colvin, Ani DiFranco and Joan Armatrading in the Nineties, is always on the right side of that line.
This year marked the first ever all-female finale on Saturday night, billed simply as "The Collaboration" (with five woman signs) and curated by Brandi Carlile. She brought out Maggie Rogers, Molly Tuttle, Judy Collins, Amy Ray, Sheryl Crow and the big "unicorn" surprise of Dolly Parton. The magic of seeing Parton perform alongside younger artists, all in obvious awe of her, was a perfect display of historical continuity.
The variety of musical styles was also as wide as ever. A big highlight of the Collaboration set was Amy Ray leading the group on the Indigo Girls' "Go" — all guitars and a social message, saying "Rock is cool, but the struggle is better." That said, we all had Dolly's "9 to 5" stuck in our heads for the rest of the weekend!
I hosted a showcase, called "The Future is Female," which presented four emerging female artists: Sabine McCalla, Erin Rae, Madison Cunningham and Angie McMahon. The Museum Stage audiences loved the discovery and they got to know a little of these fast-rising musicians' stories in mini-interviews. They were all really strong performers, and so different from each other.
Friday brought the debut performance of Americana supergroup, The Highwomen, with a dazzling lineup of Carlile, Maren Morris, Amanda Shires, and Natalie Hemby. They leapt out onto the Quad stage to a screaming, joyous crowd. Wearing custom Nudie-style Manuel suits, they took charge of the overflowing tent and kept an entire field singing along.
"It's like musical Christmas here," said Rogers during her main stage set, describing her own Newport euphoria. It's more than the idyllic location of water views, sunshine, and sailboats; it's about the community that feeds and inspires artists and music fans alike. Rogers summed it up perfectly, while adding to the open and friendly vibe, with an energetic, dancey, fun set of her own hit songs that also included a cover of John Prine's "Angel from Montgomery."
The sense of community comes from Newport's long held spirit of collaboration and mutual respect, and it's never been stronger than this year. While everyone shared stories about their longtime love of Dolly Parton, the legendary songwriter told the crowd her story of becoming a Brandi Carlile fan, thanks to her niece.
Rising star Yola was in high demand, jumping from her own set to guest vocals through the weekend, including The Highwomen and Dawes & Friends. The fans learned early what to expect from the powerhouse British singer, and she drew huge crowd love everytime she stepped on stage.
Jeff Tweedy did a solo set on the main stage Saturday afternoon, with a song mix of solo and Wilco work. His set was just about as much humor as music; at one point he dryly quipped, "It's a gorgeous day! Here's a song about my dead Dad."
Sheryl Crow was fantastic, reminding everyone just how many great songs she has written and what a strong and beautiful voice she carries around. She also brought out special guests, including James Taylor, who happens to live nearby in Jamestown. He recalled his Newport set in 1969, when Newport promoter George Wein came on stage midway to announce that American astronauts had just walked on the moon!
Hozier did a Sunday afternoon set surrounded by women in his band, including super-special guest Mavis Staples, who joined him for "Nina Cried Power." Trey Anastasio brought a welcome set of acoustic songs and great stories to the Fort Stage as well.
There are a lot of fun musical festivals and gatherings out there, but the Newport Folk Fest keeps integrating its own storied history into the mix, while setting new standards every year. Our thanks to the fine crew who keep it all running, and the artists who take their summer break with us and each other.
See you next year!
You can find photos of our highlights as a slideshow on the WFUV Flickr stream.