Newport Folk Festival: Day 1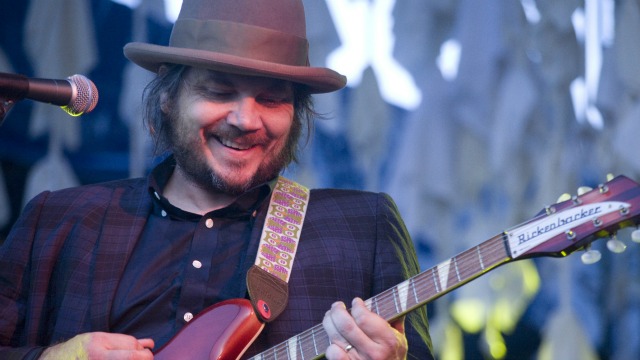 Day 1 of the Newport Folk Festival actually ended up being Night 1, given the fact that the festival has never (to my knowledge) gone 'til 9:30pm, but what a way to kick it off: Megafaun, Blitzen Trapper and Wilco. Rain and technical difficulties were on the bill too, but that's just how it goes with live, festival broadcasts! Big props to Blitzen Trapper for making the crowd completely forget the rain storm they'd just been through (wet tambourine and all).
If today was any indication, we're in for a lot of tributes this year, but in the best possible, celebratory way. Megafaun's drummer, Joe Westerlund, was channeling a whole lotta Levon in their cover of The Band's "Look Out Cleveland," and two weeks after Woody Guthrie's 100th birthday, Wilco kept that party going with a few Woody tunes, including a beautiful version of "California Stars" featuring Sarah Lee Guthrie and Johnny Irion. This was my first Wilco show and I fully admit, I had no idea of the extent to which Nels, Glenn—all of them—contribute to the whole, unpredictable... whole.
Check out Wilco's setlist and some Day 1 pics below, and tune in to WFUV on Saturday and Sunday from Noon-8pm, as we move on to Day 2 and Day 3!
"Christ For President"
"Art Of Almost"
"I Might"
"Poor Places"
"Spiders"
"Kidsmoke"
"Impossible Germany"
"Born Alone"
"Laminated Cat"
"Open Mind"
"Handshake Drugs"
"Can't Stand It"
"Whole Love"
"Box Full Of Letters"
"Always In Love"
"Heavy Metal Drummer"
"I'm The Man Who Loves You"
"Dawned On Me"
"A Shot In the Arm"
"California Stars"
"Airline To Heaven"
"The Late Greats"
"Walken"
"Hoodoo Voodoo"