New FUV Faves: Week of September 5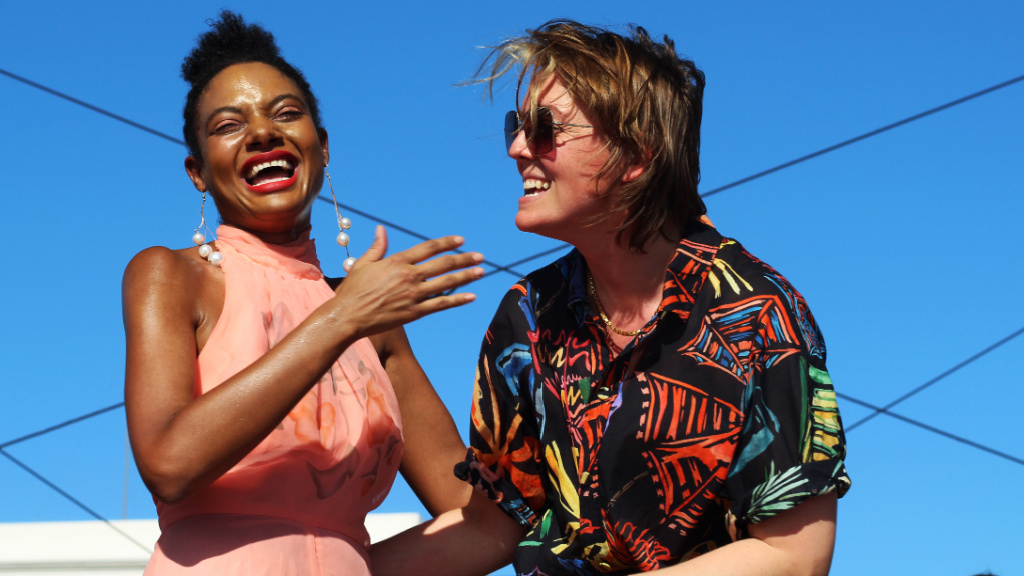 Below, a quick snapshot of some of the new releases you'll be hearing on WFUV this week:
Allison Russell and Brandi Carlilie, "You're Not Alone"
Talk about the perfect blend of two exquisite voices: Allison Russell and Brandi Carlile's new collaboration is (to pluck from the lyrics) a genuine North Star. This celestial single of intersecting harmonies, soaring strings, and a bit of French, "You're Not Alone" is Russell's first new music since her 2021 award-winning, Grammy-nominated debut album, Outside Child. Russell and Carlile performed it together at Bethel Woods Center for the Arts in August, and in a moving preamble, Russell thanked Carlile for elevating the track "into the stratosphere." All proceeds from the sale of the single will benefit Looking Out Foundations' EveryTown for Gun Safety Support Fund and The Fight for Reproductive Justice Campaign.
"You're Not Alone" originally appeared on Our Native Daughters's 2019 debut album, Songs of Our Native Daughters; the supergroup features Russell, Rhiannon Giddens, Amythyst Kiah, and Leyla McCalla. Russell plays Radio City Music Hall on September 15 with Nathaniel Rateliff & the Night Sweats, and on November 4, Our Native Daughters will be at Carnegie Hall. Carlile plays Madison Square Garden with Brittany Howard on October 22.
Arctic Monkeys, "There'd Better Be a Mirrorball"
Unfurling with the cinematic grandeur of a John Barry composition, "There'd Better Be a Mirrorball" is the mellow first single from Arctic Monkeys' forthcoming seventh album, The Car, released October 21. The 10-track new album is written by frontman Alex Turner and produced by frequent sidekick James Ford, who also co-produced 2018's Grammy-nominated Tranquility Base Hotel & Casino, a jazzy, lounge-pop left turn for the Sheffield-bred band. Arctic Monkeys play Brooklyn's Kings Theatre on September 22, which will be professionally filmed and documented — so no smartphones allowed at the gig.
The Backseat Lovers, "Growing/Dying"
Salt Lake City's The Backseat Lovers made a splash at the Newport Folk Festival back in July, evident of the strong grass roots support of their 2019 indie release, When We Were Friends. Now on a major label, The Backseat Lovers' "Growing/Dying" is the first taste of their second album, Waiting to Spill, which drops on October 28. The album was produced by David Greenbaum (Paul McCartney, Gorillaz, Beck) and is described by the band as the "next chapter" of their lives. "When We Were Friends was our first attempt at making an album, and it was essentially recording one song, selling some t-shirts at a show the next month, and being able to record another song. Upon finishing it, we were quickly filled with a strong desire to make something that really flowed together, with each song intentionally placed, creating a cohesion that spans the whole record," writes the quartet. The Backseat Lovers, who kind of sound like the rambunctious child of Ween, Beck, and McCartney in their new song, head to Asbury Park, New Jersey for the Sea.Hear.Now Festival on September 16-17.
Vieux Farka Touré and Khruangbin, "Tongo Barra"
Mali's Vieux Farka Touré, the son of legendary musician Ali Farka Touré, and the Houston trio Khruangbin kick off the autumn with a collaborative album, Ali, later this month. As the title indicates, the collection is a celebration of Vieux Farka Touré's beloved father, who passed away in 2006. "I want this album to convey love," the younger Touré said in a statement. "It is about the love that Ali brought into the world. It is about the love that I have for him and that Khruangbin has for his music. It is about pouring your love into something old to make it new again." Another single, "Savanne," was released earlier this year, and now comes "Tongo Barra," a mesmerizing, six-minute desert blues groove sung in the Malian Songhai dialect. Ali is released on September 23, a day after Mali's Independence or Republic Day, which commemorates the country's liberation from France in 1960. Vieux Farka Touré, who also released Les Racines earlier this year, appears at Brooklyn's Avant Gardner on October 7.