The Music of David Byrne and Talking Heads at Carnegie Hall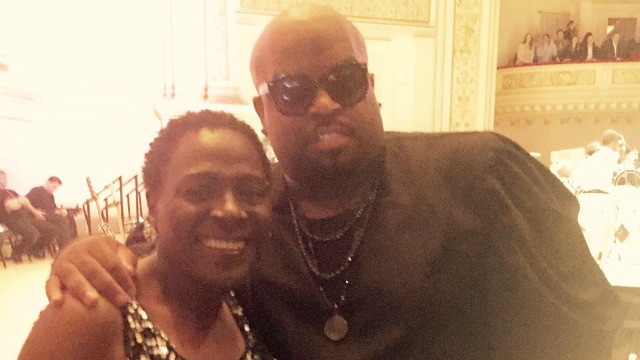 I was happy to serve as the host for the Music of David Byrne and Talking Heads last night. I was perched side stage at Carnegie Hall for it all, introducing each artist. This is the 11th benefit show produced and curated by Michael Dorf and what a winner this one was! The material is not necessarily easy to cover but with Antibalas as house band and the stage full of some of the best drummers and percussionists in the business, these songs were nailed.
It was magic all night with many artists moving outside their usual terrain and into the rhythmic world of these songs. Steve Earle and Glen Hansard both brought groove to the lyrical gems they chose. Alexis Krauss of Sleigh Bells gained a bunch of new fans with her strong, amazing voice and strident delivery of the NYC classic, "Life During Wartime." And the wow factor of the show was all Sharon Jones, backed by Antibalas on an energetic take on "Psycho Killer."
David Byrne himself led the finale joined by Brooklyn United Marching Band performing a brand new song "Everything I Did, I Did For You" and then into a super fun version of "Uptown Funk" to close out the night.
Here's the set list:
Little Kids Rock - Stay Up Late
Cibo Matto with Nels Cline - I Zimbra
Antibalas (house band) - Crosseyed and Painless
Esperanza Spalding - Road To Nowhere
Jade of Edward Sharpe and the Magnetic Zeros - Here Lies Love
Alexis Krauss of Sleigh Bells - Life During Wartime
Forro in the Dark - Girls on My Mind
Pete Molinari - Heaven
Steve Earle - Million Miles Away
Thievery Corporation with Frank Orrall from Poi Dog Pondering - Heart's a Lonely Hunter
Billy F Gibbons - Houses in Motion
Bebel Gilberto - Loco De Amor
Joseph Arthur - This Must Be the Place (Naive Melody) with live painting
Amanda Palmer and Jherek Bischoff on bass - Once in A Lifetime
Glen Hansard - Girlfriend is Better
The Roots featuring Donn T - Born Under Punches
O.A.R. - And She Was
Sharon Jones - Psycho Killer
Santigold - Burning Down the House
CeeLo Green - Take Me to the River
Surprise finale - David Byrne joined by Brooklyn United Marching Band - Everything I Did, I Did For You (brand new song)
Finish - Brooklyn United Marching Band - Uptown Funk