Monday Morning Super Bowl Presser: Bill Belichick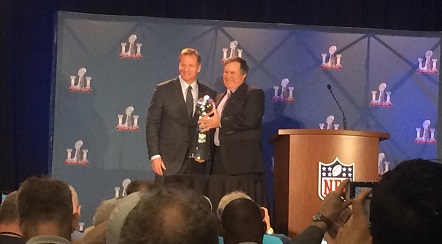 New England Patriots head coach Bill Belichick held his winning press conference earlier Monday at the George R. Brown Convention Center. Belichick spoke to a crowded room of reporters for almost 20 minutes. NFL Commisioner Roger Goodell presented Belichick with the Lombardi Trophy before the 5-time Super Bowl champion head coach made his remarks on the 34-28 OT Super Bowl victory over the Atlanta Falcons. 
Throughout the press conference, Belichick praised his team, especially quarterback Tom Brady, and talked about how proud he is of his guys. And in typical Belichick fashion, he mentioned how New England is now five weeks behind the rest of the league in their preparation for the 2017 season. 
You can listen to audio of the full press conference below.