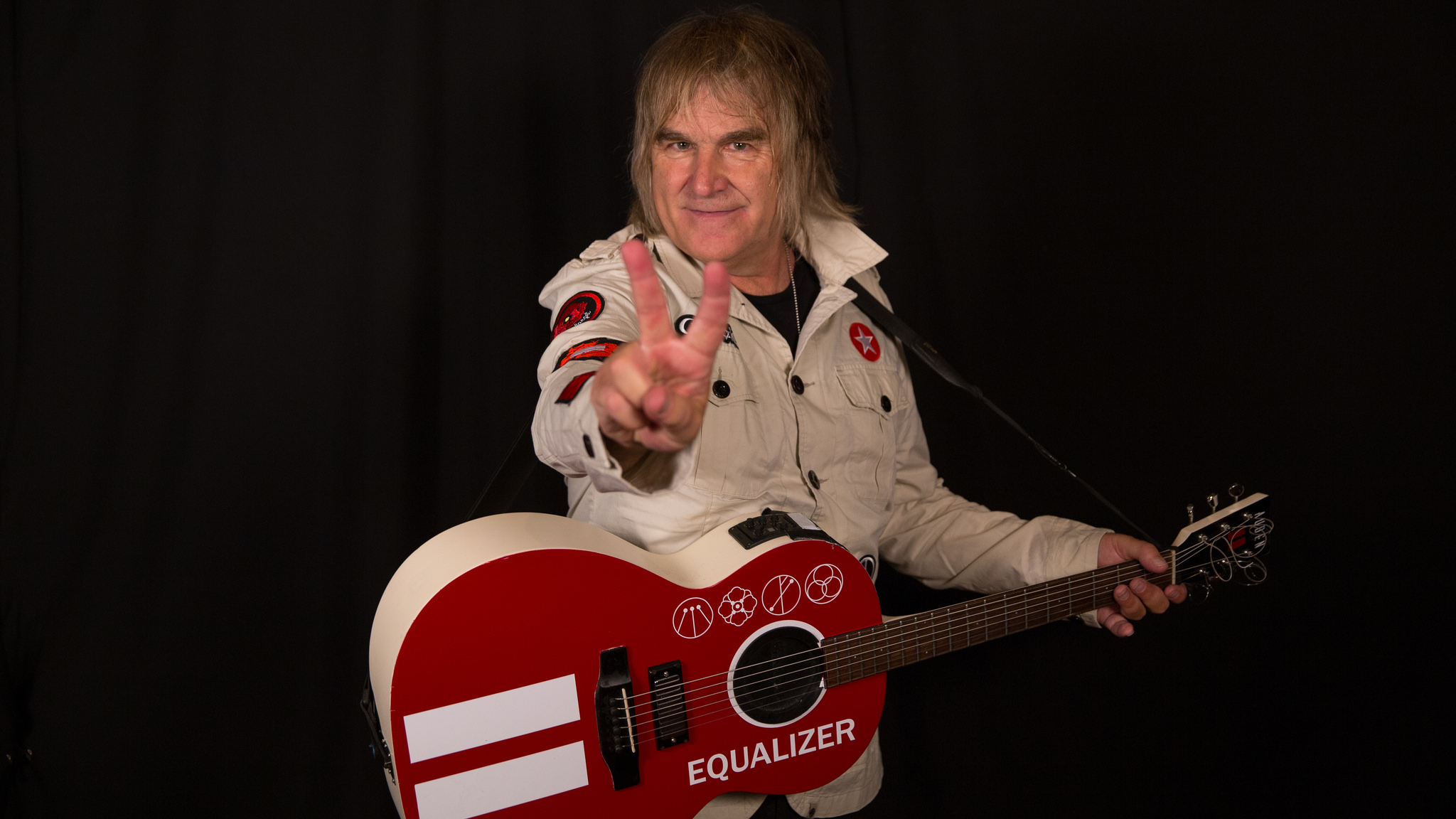 The Alarm, fronted by Mike Peters, have returned with a brand new album, called Equals. It's the Alarm's first full-length release in eight years.
The Welsh band was one of the top acts of '80s alternative rock. Formed in 1981, the Alarm included Peters (lead vocals, guitar), Dave Sharp (guitar, vocals), Eddie MacDonald (bass, guitar, vocals) and Nigel Twist (drums, vocals). They landed a deal with U2's management and, by 1982, the group had signed a recording contract with I.R.S. Records. In 1983, their first U.S. tour saw them supporting their friends, U2.
The Alarm's debut album, Declaration, was released in 1984, followed by Strength (1985), Eye Of The Hurricane (1987), Change (1989) and Raw (1991). Songs like "The Stand," "Sixty Eight Guns," and "Rain In The Summertime" became radio staples. Unfortunately, the end of the line came in 1991, when the original lineup of the Alarm broke up.
Peters continued to make music, kicking off his solo career in 1994. He also worked in Coloursound, Dead Men Walking and the Poppy Fields (the Alarm hidden behind a pseudonym). In 2010, Peters joined Big Country as their lead vocalist and he was on their 2013 album, The Journey, but left after its release. In 2000, Peters revived the Alarm with an entirely new lineup, which includes his wife, Jules Jones Peters.
Peters co-founded the Love Hope Strength Foundation, which raises funds and awareness to benefit people suffering with cancer. Both Peters and his wife have had numerous bouts with the disease over the years. Peters was diagnosed with lymphoma in the mid-Nineties and leukemia in 2005. After an initial recovery, the cancer returned in 2015. As for his wife, Jules, she was diagnosed with breast cancer in 2016. Fortunately, the couple are now in remission and back on their feet. Spurred on by a renewed vitality, Peters recorded Equals.
On this FUV Live session, Peters discusses the long road of recovery and his renewed creativity.
The Alarm will be at the YMCA Boulton Center for the Performing Arts in Bay Shore on August 2, Daryl's House in Pawling on August 3 and the Wonder Bar in Asbury Park on August 5.
[recorded: 5/9/18]