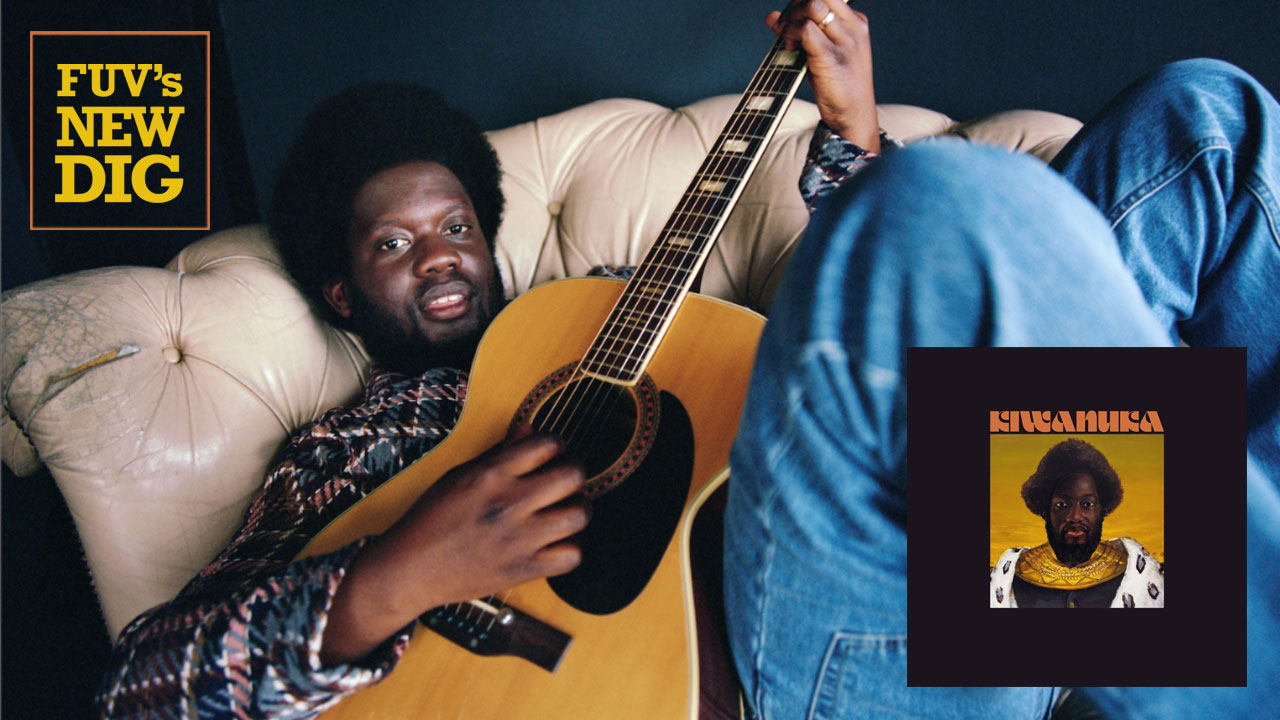 Michael Kiwanuka
Kiwanuka
Interscope 
While Michael Kiwanuka's previous two albums, 2012's Home Again and 2016's Love & Hate, showcased the depth and range of this accomplished singer songwriter, his third album, simply called Kiwanuka, has blown all expectations through the roof. This is an album of epic proportions, built upon the masterworks of giants from the past and the skills of masters of the present.
Born in London to Ugandan parents who fled the Idi Amin regime, Kiwanuka began as a session musician before landing his own recording contract, which led to the release of several EPs in 2011. Kiwanuka's breakthrough came a year later with the release of Home Again, a warmly received debut album, and Kiwanuka was nominated for a Mercury Prize and a Brit Award. Kiwanuka's Love & Hate (also a Mercury Prize and Brit Awards nominee) added producers Danger Mouse and Inflo to the mix, who return again on Kiwanuka. Their rare alchemy is undeniable.
Throughout the album, Kiwanuka's distinctive, mellow baritone draws on vintage soul and R&B. Flashes of fuzzy, psychedelic electric guitars drift into lush tides of gospel-inspired vocals, a thick mélange of orchestration and an array of samples. Kiwanuka's lyrics combine introspective reflections with the outward observations as a world citizen.
The self-affirming "You Ain't The Problem" charges straight out of the grooves of an early Seventies soul album, only to be transported to the present. "Living In Denial" flows on a seductive soul vibe, while the fluid combo of "Piano Joint (This Kind Of Love) Intro" and "Piano Joint (This Kind Of Love)" is infused with a doleful remorse.
The emotive "Hard To Say Goodbye" recalls another forebear, Marvin Gaye's 1971 album What's Going On, an album that Kiwanuka cites as an inspiration. In the spirit of that seminal record, tracks like "Another Human Being (Interlude)" and "Hero" are both powerful reminders that the global fight for civil and human rights is ongoing. In "Hero," Kiwanuka laments: "Am I your negro/A fallen hero now/Hear no see no/Speak no evil now/My amigo/No gun to reload now/A broken people/They go where we go now."
Kiwanuka expands as a song cycle, meant to be experienced as a whole. Tracks develop slowly, building gradually in intensity and emotion. That approach is augmented by a cover graced with an old school painting of Kiwanuka by Markeidric Walker. It's artwork that recalls jazz saxophonist Yusef Lateef's iconic album, The Blue Yusef Lateef.
Kiwanuka, Brian Burton (Danger Mouse) and Dean Josiah Cover (Inflo) wrote all of the songs on Kiwanuka, and Danger Mouse and Inflo produce the album. Kiwanuka plays electric and acoustic guitar, bass, keyboards and percussion. Danger Mouse contributes electric guitar, keyboards, percussion and programming and Inflo is also on drums, electric guitar, keyboards, percussion, backing vocals and programming.
A perceptive songwriter, Kiwanuka has released an incisive chronicle of these volatile times. From the brute ache of "Rolling" ("No tears for the young/A bullet if you run away") to the hopeful resolution of "Light," reaching for a world without fear, Kiwanuka is a cathartic tour de force.
Listen to an FUV Live session with Michael Kiwanuka on Monday, November 11, at 7 p.m., with live versions of the tracks "Hero," "You Ain't the Problem" and "Light" featured throughout the week.