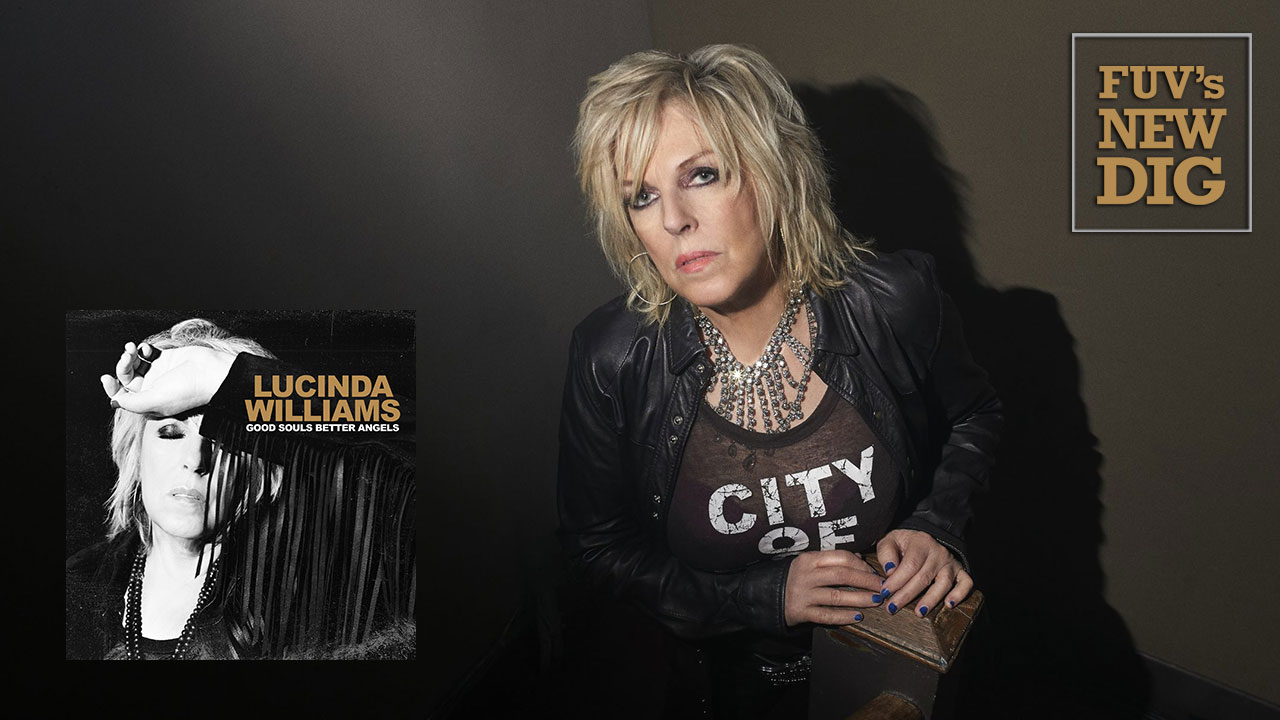 Lucinda Williams
Good Souls Better Angels
Highway 20 Records
Americana legend Lucinda Williams has been at the forefront of her genre for roughly 40 years, blending country, blues, rock, and folk with her uncompromising passion, emotion and energy.
The decades have done little to dampen Williams' vitality. Rather, it seems that time has augmented her reach, and her new album, Good Souls Better Angels, finds Williams getting back to the blues, one of her core strengths.
Good Souls Better Angels is probably the most topical album of Williams' long career. The anger, frustration, and fear that emanates from today's headlines are prominently on display in Williams' new songs. In a press release, Williams explains her motivation for looking back on the blues:  "The devil comes into play quite a bit on this album. I've always loved the imagery in Robert Johnson songs and those really dark Delta blues that are sort of biblical."
On this new album, Williams reunites with Ray Kennedy who worked on her on 1998's Car Wheels On A Gravel Road. She co-produces the album with Kennedy as well as husband and manager, Tom Overby. Her trusted bandmates includes guitarist Stuart Mathis, bassist David Sutton and drummer Butch Norton.
Good Souls Better Angels opens with the driving blues of "You Can't Rule Me." The ethereal, acoustic "Big Black Train" is a song that harks back to Williams' earliest work. Here it's embellished by the buzzing sonics and grit, not unlike an Eighties-era Tom Waits soundscape. The simmering "Bad News Blues" is about today's unfortunate reality: bad news is everywhere, thanks to the "liars and lunatics/Fools and thieves and clowns and hypocrites" who are in charge.
The album isn't just all about the state of the union and society's ills. On "Wakin' Up," a scratching, clawing guitar emits cutting shards of feedback and a pulsing bass throbs throughout on this song that documents the ugliness and brutality of domestic violence. It's one of Williams' darkest and most frightening songs. The mood is also menacing in "Down Past the Bottom" and "Big Rotator," the latter incorporating Williams' bleak observations ("Liars are venerated, losers congratulated/Cheaters celebrated, thieves compensated/Vultures satiated, murderers exonerated/Guilty vindicated, innocent incarcerated").
Given the atmosphere of the album, it's no surprise that Williams' critiques the nation's leadership, especially in the sinister "Man Without A Soul" and the seething "Bone Of Contention." But Good Souls Better Angels does offer hope and promise, especially in "When the Way Gets Dark," a comforting ballad. "Don't give up," Williams sings. "It's gonna be alright/You're gonna be okay." The reassuring prayer of "Good Souls" also repeats the message of the album's title, citing "better angels with the good souls."
Williams has never been as raw, tough, hard, and heavy as she is on Good Souls Better Angels. Anyone who loves Williams's music and has kept track of her long career knows that it's the type of album that she's always wanted to do. It's an expressive and ferocious dose of bluesy garage rock born from Williams' ideal gathering of loved ones and friends and aimed squarely at the turmoil of today's headlines.