Lou Reed: Throwback Thursday 1989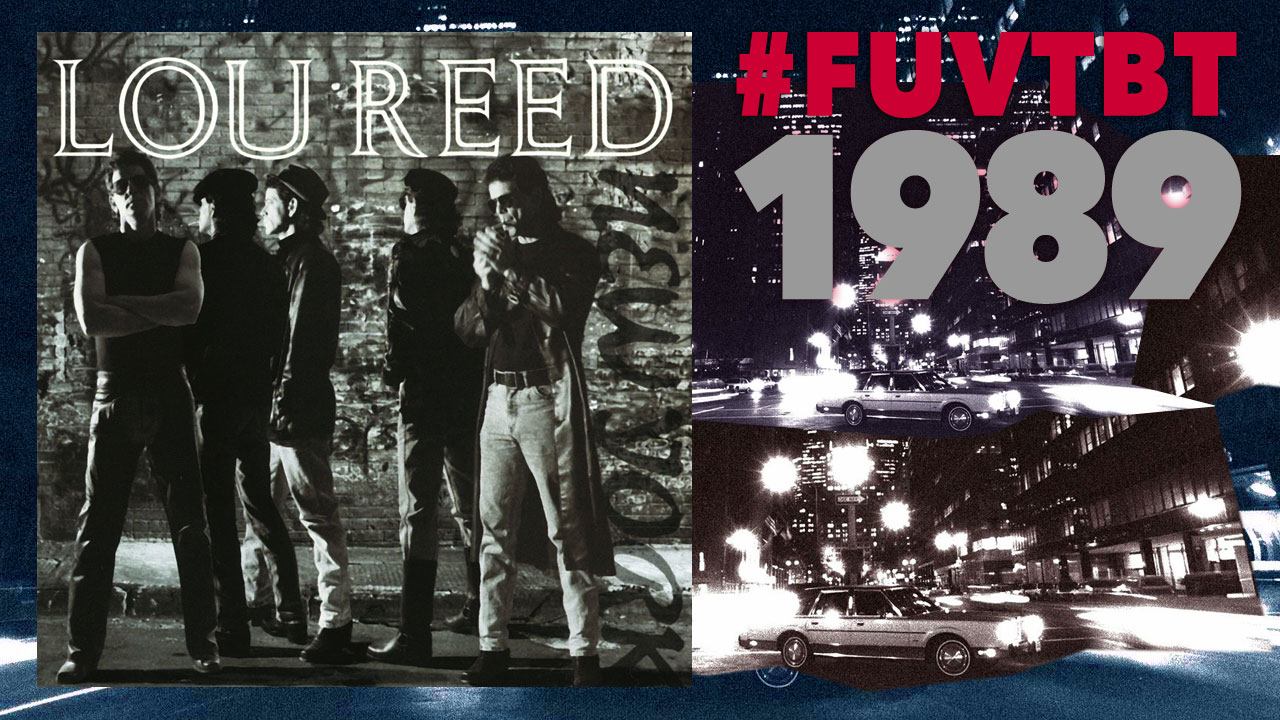 For FUV Throwback Thursday 1989, evening host Eric Holland writes about Lou Reed's New York, an album that perfectly captured this city's despair and allure. Upon its release on January 10, 1989, New York was lauded as not only one of the greatest albums of that year, but of that decade.
Lou Reed, the quintessential New Yorker, made a unique and enduring musical gesture to the city in 1989 when he released New York. Reed was synonymous with this metropolis, from the 1967 debut album by the Velvet Underground until his death in 2013, personifying New York's street smarts, experience, skepticism, and most of all, its cool.
His songwriting was perpetually unflinching in its depiction of gritty urban life. The city and its inhabitants were often characters in his songs. He immortalized Andy Warhol's old Factory crowd in his most popular song, "Walk on the Wild Side" in 1972. He mythologized the city's seaside resort in the Lower Bay with Coney Island Baby, both the song and album, in 1976. And two decades later, he even saluted Brooklyn's signature beverage with "Egg Cream."
On New York, Reed turned his extraordinarily keen eye on the five boroughs like never before or since. In a lovingly devastating song cycle that traveled from Howard Beach to Lincoln Center, he mixed fictional characters like Pedro (who dreams of flying away from the "Dirty Boulevard") with a multitude of local characters like Jesse Jackson, Louis Farrakhan, Rudy Giuliani, Bernard Goetz, and even the family currently occupying the White House back ("Sick of You").
Despite the references to contemporary personalities and events, including the toll HIV/AIDS was taking on Greenwich Village in "Halloween Parade," New York is no time capsule or quaint period piece. Like so many of the characters that Reed references, the issues largely remain the same today: the haves and have-nots, homelessness, racism, pollution, crime, police, guns, the NRA, political corruption, and drugs. Reed was doing the kind of street reporting that defined the then-coalescing golden age of hip hop. No one who smacked of hypocrisy, not even self-righteous rock singers, was spared.
Musically, New York is minimalistic: nothing gets in the way of Reed's razor-sharp couplets. In the album's opening track, "Romeo Had Juliette," he captured the increasing national anxiety that the best days were behind, and Americans were coasting on the fumes of unsustainable political and economic systems:
Manhattan's sinking like a rock into the filthy Hudson what a shock.
They wrote a book about it they said it was like ancient Rome.
- Lou Reed, "Romeo Had Juliette"
New York was arguably Reed's most ambitious album and it breathed fresh life into his career. From recasting Lady Liberty as the "Statue of Bigotry" in "Hold On" to cautioning that "you can't always trust your mother" in "Last Great American Whale," it is Lou being Lou — turned to eleven — drawing on his town, our town, and creating a poetic, timeless, damning but not hopeless masterpiece that belongs on any shortlist of his most essential recordings. Listen to New York below:
Listen
#FUVTBT: Throwback Thursday 1989 (Spotify playlist compiled by WFUV airstaff on August 29, 2019)