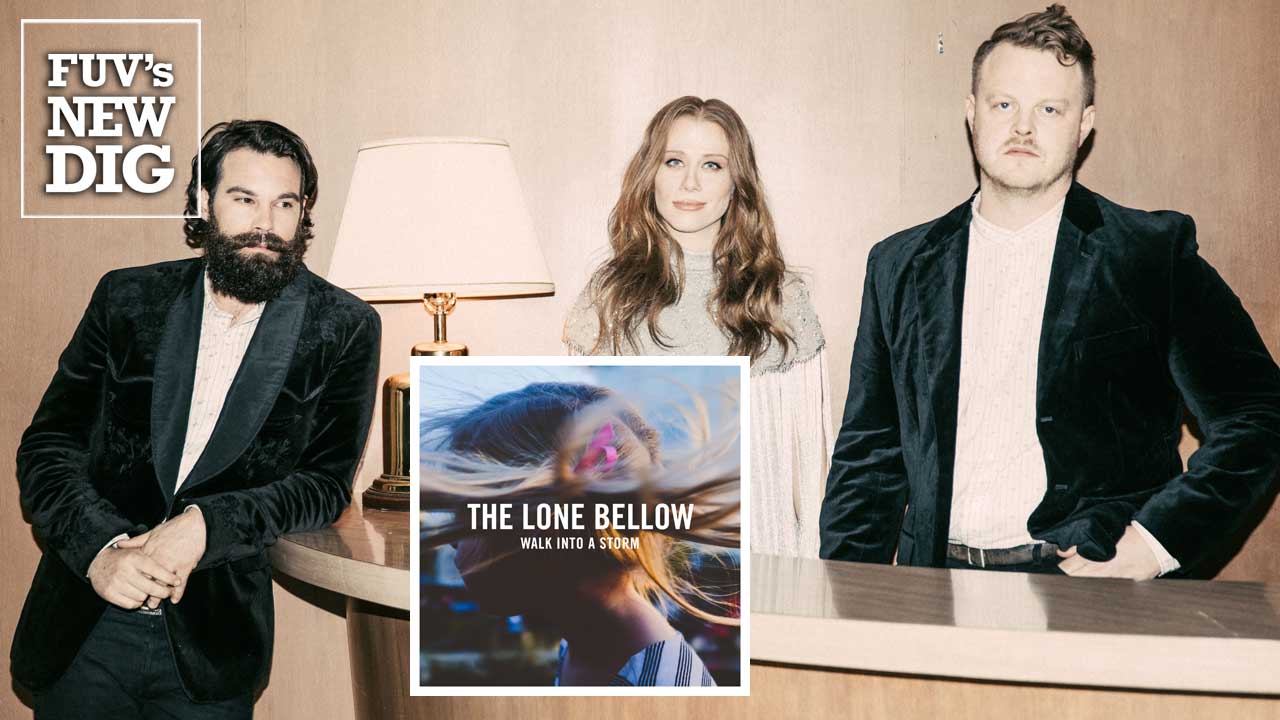 The Lone Bellow
Walk Into A Storm
Descendant Records/Sony Music Masterworks
Like a strong wind blowing across the land, the Lone Bellow has returned with Walk Into A Storm, their latest collection of Americana-laced folk rock. It is the former Brooklynites' third album, created in their new hometown of Nashville, Tennessee.
On Walk Into A Storm, the Lone Bellow embrace rock, country, folk, gospel and soul, but they shed new light on those tried and true musical forms with a youthful exuberance. The band — lead singer and guitarist Zachary Williams, bassist and multi-instrumentalist Kanene Donehey Pipkin and guitarist Brian Elmquist — formed six years ago, releasing their self-titled debut in early 2013.  The trio recruited Aaron Dessner of the National as the producer of their 2015 album, Then Came The Morning. For this third album, the Lone Bellow brought in Grammy-nominated Nashville producer, Dave Cobb (Jason Isbell, Sturgill Simpson, Lake Street Dive).
Walk Into A Storm, their third release, has a title that parallels the trio's musical muscle — it's a perfect metaphor for the Lone Bellow. At the heart of the group's might are their vocals: Williams up front and supported on backing vocals by Pipkin and Elmquist. Their voices soar over rich melodies with full-bodied arrangements.
Apprehension caused by an incoming storm is similar to the air of unease reflected in some of the new songs. The album opens with "Deeper In The Water," which wastes no time in expressing frustration: "I'd like to think I'm a survivor/But my bones are getting tired/I go a little deeper in the water."
"Is It Ever Gonna Be Easy" follows in a similar vein: "Try to reach for your hand, but there's no colder touch/Try to be a better man/but I don't try all that much." The lyrics bite hard in "Come Break My Heart Again," with Williams and Pipkin singing stinging barbs like: "You're like a land mine lost/I don't know where you'll explode."
On the flip side, encouragement abounds in the rousing "Between The Lines"  while positivity thrives in the string-laden "May You Be Well,"  reminiscent of the sentiment expressed in Bob Dylan's "Forever Young."
Ballads and rocking stompers dot Walk Into A Storm, from the quiet title track to the pounding conviction of "Time's Always Leaving" and there's a jolt of shimmering pop in "Can't Be Happy For Long." While Williams handles the lead vocals on most of the band's songs, Pipkin takes her turn up front on "Feather," while Elmquist sings the uplifting finale, "Long Way To Go."
The Lone Bellow writes music that bursts with emotional passion and earnest sincerity. Whether summoning the darkness of an impending storm or the warmth of a sunrise, Walk Into A Storm is a beacon for the heart and mind.