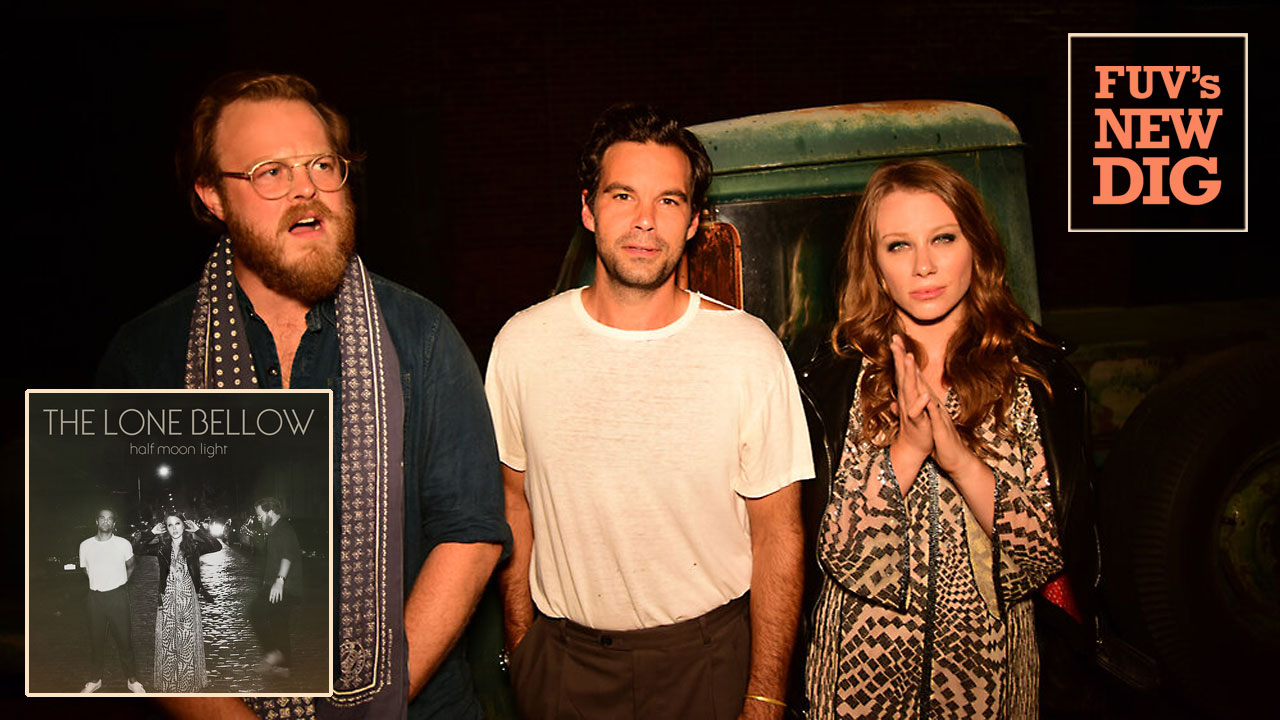 The Lone Bellow
Half Moon Light
Dualtone Records
WFUV's New Dig enters its seventh year with a deeper look at The Lone Bellow's fourth album, Half Moon Light. It's a mature and thoughtful album that draws on the passage of time, examining life experiences, familial bonds, and the lessons learned from life.
Half Moon Light exudes a warm and inviting feeling, the result of the band working closely with people with whom they were comfortable and considered friends. The trio — guitarist/vocalist Brian Elmquist, multi-instrumentalist/vocalist Kanene Donehey Pipkin, and guitarist and lead vocalist Zach Williams — are reunited on Half Moon Light with The National's Aaron Dessner, who produced their second album, 2015's Then Came the Morning. The band's third album, Walk Into A Storm, was recorded in Nashville and released in 2017.
There's a recurring musical theme on Half Moon Light, which appears on the album: a piano piece played by Williams' grandmother at the funeral for her husband, Williams' grandfather, in Marietta, Georgia in January of 2019.  What's heard as "Intro," "Interlude," and "Finale" is the actual recording of her playing at the ceremony. It's poignancy helps bring the album's themes together in one place.
The camaraderie of friends and loved ones anchors Half Moon Light. "Friends" is a testimony to the value of those relationships — a simple sentiment, but one that is easy to overlook. "Count On Me" has a similarly supportive message, as its title indicates, that often can be taken for granted or forgotten altogether.
"Martingales" offers encouragement to shed unnecessary burdens to those who feel material possessions are necessary. Getting older and worn down by life inspired "Wonder," a tune which asks for the return of the innocent awe and wonderment of youth.
Pipkin comes up front on "Just Enough To Get By," an intimate, intense and emotional song that she wrote about her mother, who was raped when she was 19 and sent away to bear the baby. That child, Pipkin's half-sister, found her mother 40 years later.  "Mama had to get away/Spare herself a little shame," sings Pipkin. "If silence is golden/I know a lot of wealthy women."
Talking about the incident in the band's bio on their website, Pipkin says, "I've met my half-sister many times. She's wonderful and lovely and an amazing story of something never being too broken to be fixed. But my mom had to work through the trauma. This song was me putting myself in my mom's place, releasing a lot of complex emotions. Anger is definitely one of them. Hurt, frustration, sadness. We all have experiences that could be better if we could talk about them, but we keep them hidden."
Elmquist wrote the poignant "Wash It Clean" for his father, who passed away suddenly after the two had reconciled. They shared a strained relationship through the years and Elmquist spent a considerable amount of time trying to find some common ground with him. He finally did, but tragically his dad died two months later. "All my life I tried to let you go," Elmquist laments. "Would you stay." The song was recorded on the one-year anniversary of Elmquist's father's death."
"Illegal Immigrant," sung by Pipkin and written by Elmquist, reaches outward and tells the true story of a mother and her child separated at the border of the United States and Mexico. "I promised I'd find you wherever you are," she sings. "Wherever you are/Here I am/You'll never be alone again."
Produced by Dessner and recorded at his studio in upstate New York, he also performs on most of Half Moon Light's tracks, contributing guitar, keyboards, bass, percussion and more.
The Lone Bellow do not attempt to redefine who they are on this album. Instead, they have fine-tuned and tightened up their strengths, recording a contemplative album that comforts and reassures, but asks for action too. It's like an uplifting conversation between friends, which is a welcome place to be.
The Lone Bellow will celebrate the release of Half Moon Light with a show at Brooklyn's Rough Trade on February 7.