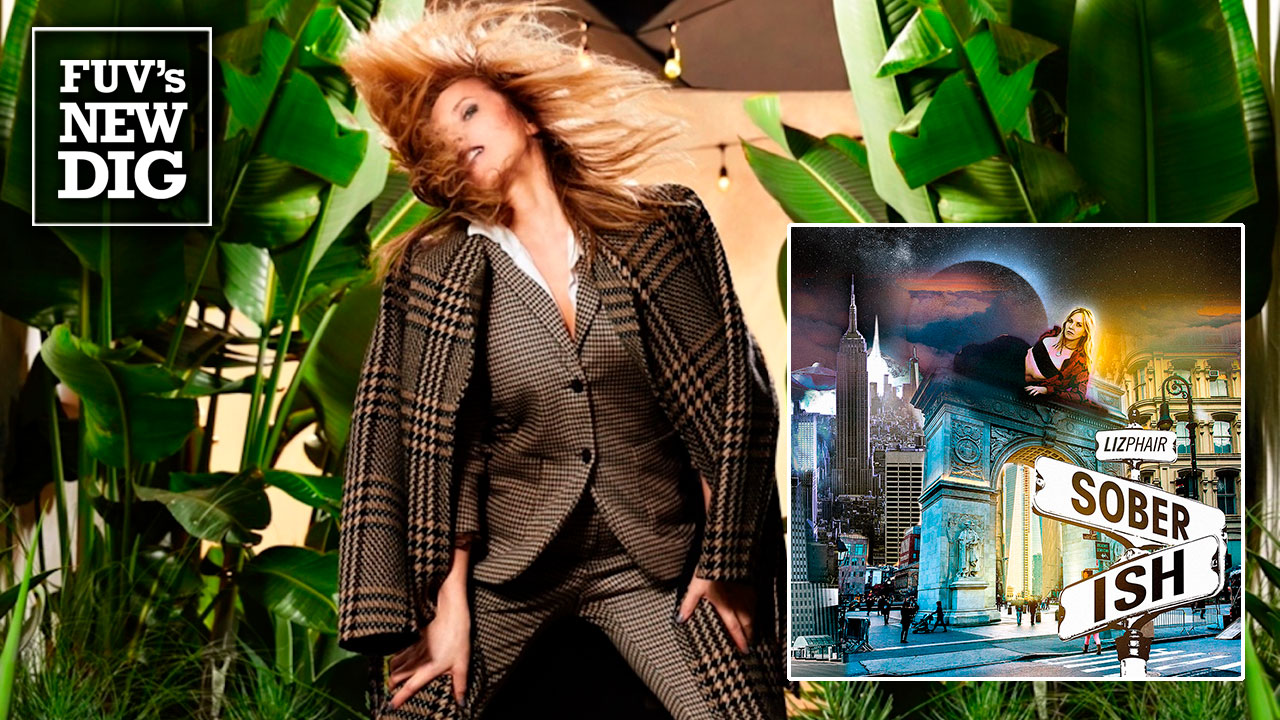 Liz Phair
Soberish
Chrysalis Records
Why This Album Matters:
The 11-year wait for a new album from Liz Phair ends with the release of Soberish, the follow-up to her 2010 album, Funstyle. Soberish is very much present and today, but it also feeds off the past, coming after a period of reassessment and reflection of both Phair's earliest recordings and her life. First, in 2018, came a 25th anniversary reissue of Phair's 1993 landmark debut album, Exile in Guyville. Called Girly Sound to Guyville, the reissue not only featured a remaster of the album, but also remasters of Phair's 1991 cassette recordings made under the name, Girly-Sound. Then in 2019, Phair published Horror Stories: A Memoir (which she discussed with FUV in a 2019 session). This new album reconnects her with producer Brad Wood, who collaborated on Phair's first three albums.
In Her Own Words:
"Soberish can be about partying," Phair explained to Pitchfork. "It can be about self-delusion. It can be about chasing that first flush of love or, in fact, any state of mind that allows you to escape reality for a while and exist on a happier plane. It's not self-destructive or out of control; it's as simple as the cycle of dreaming and waking up. That's why I chose to symbolize Soberish [on the album cover] with a crossroads, with a street sign. It's best described as a simple pivot of perspective. When you meet your "ish" self again after a period of sobriety, that's a deep recognition and emotional relief that floods you, reminding you that there is more to life, more to reality and to your own soul than you are consciously aware of. But if you reach for too much of a good thing, or starve yourself with too little, you'll lose that critical balance."
Phair also spoke with Variety about the reception Soberish will receive and the inevitable comparisons to her debut: "…[when] it comes out and you have to think about yourself as a brand that people have expectations for. You don't live that way, but you suddenly see yourself through other people's eyes, and you're like, 'Oh shit. I'm Starbucks, and I just came out with some marshmallow and egg custard flavors. I don't know how that's going to go over.'"
"I'm a much better singer, producer and guitarist now and my voicings and tunings are far more complex and interesting," she added. "But there's a pure, unspoiled, unselfconscious beauty to the early work that I can't capture again. I can't unknow what I know. But when I listen to the early stuff, I marvel at how much my songwriting was already complete. And I also shudder at how little sense I had — which arguably is still a problem for me —  of the impact of my words."
"[Brad and I] borrowed many of the textures and sounds from our Guyville, Whip-Smart and Whitechocolatespaceegg days, combining them in new ways to reflect our tastes now," Phair told WFUV earlier this year. "I'm more into sound design. To some extent, I think of Soberish arrangements as us painting with sound. That's how I approach recording in the studio. I can visualize the arrangements as clearly as I can hear them. The humor is essential to me. Tragedy and comedy share a wall, if you know what I mean."
Highlights:
"Dosage," "The Game," "Good Side," "Hey Lou," "In There," "Soberish," "Spanish Doors"
Why You Will Dig Liz Phair's Soberish:
Soberish delivers plenty of what one expects from Phair: frank and incisive songwriting. Her pull-no-punches honesty is her trademark and it flourishes throughout Soberish, seamlessly balancing confidence, vulnerability, strength, and weakness. Her arrangements are uncluttered, combining cerebral melodies, guitar-based pop sensibilities, and light, electronic touches. While most of Phair's songs center around the complexities of relationships, one tune takes an interesting approach: "Hey Lou." The song offers an alternate scenario as it lovingly speculates on what a typical conversation between Lou Reed and Laurie Anderson might sound like. For good measure, Phair even references Anderson's seminal 1981 song, "O Superman," in the track. Both "Dosage" and the very pretty "The Game" have dreamy, catchy choruses that underscore a wistful air of resignation.
Recommended If You Like:
Fiona Apple, Phoebe Bridgers, Soccer Mommy, beabadoobee, Ani DiFranco, PJ Harvey, A.C Newman, Vagabon, J. Mascis, Aimee Mann, Elliott Smith, Cat Power, Courtney Barnett, and Liz Phair's 2021 tourmates, Garbage and Alanis Morrisette 
FYI:
- Soberish is Phair's seventh studio album and her first for the relaunched Chrysalis label.
- Wood rejoins Phair as producer and co-producer; the pair collaborated on Exile in Guyville, 1994's Whip-Smart and some of 1998's Whitechocolatespaceegg.