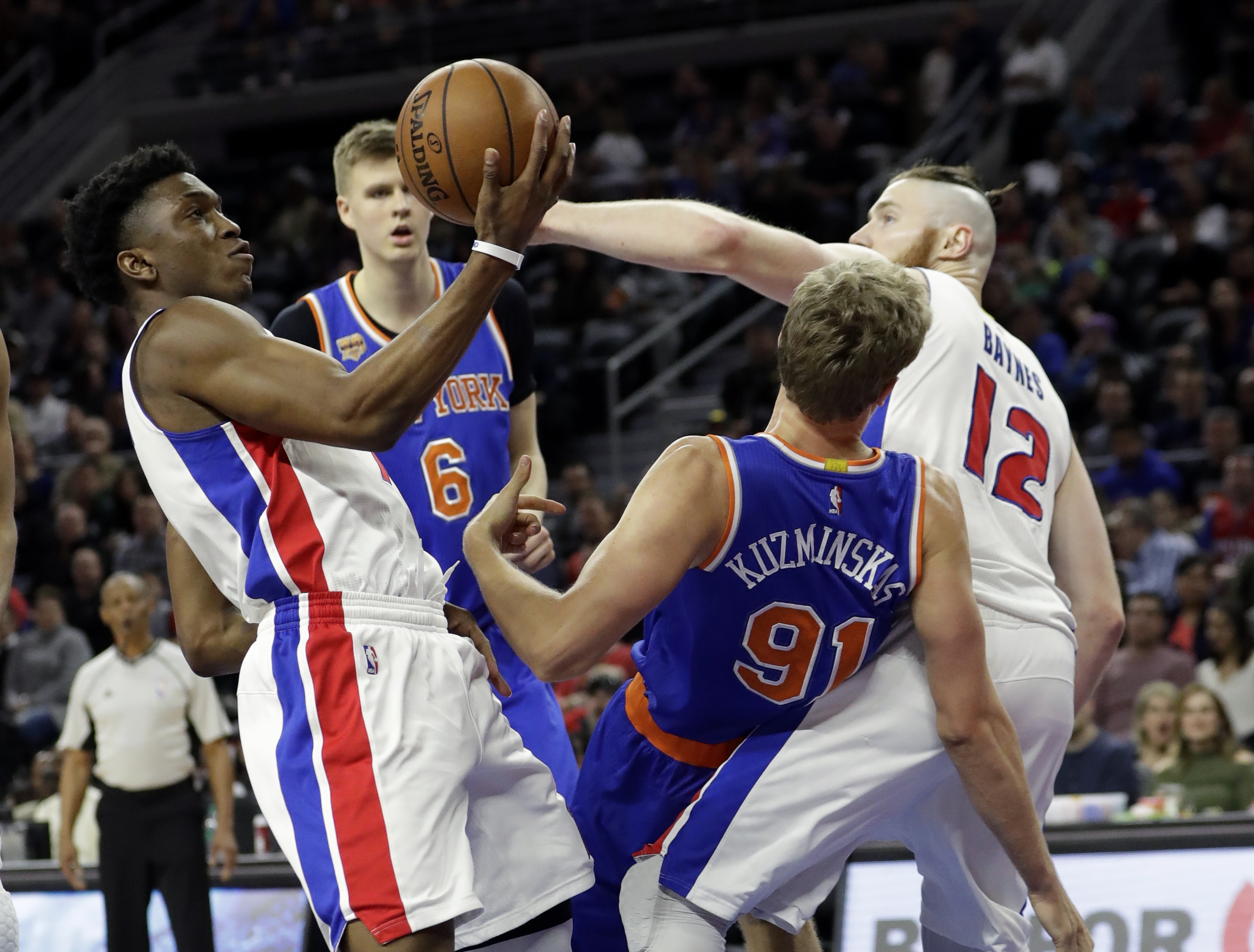 The Knicks are bad, and that's a good thing.
In today's NBA, it's best to either be a top team in the league, or be way down towards the bottom. Nothing hurts a franchise worse than mediocrity. It looked like mediocrity was exactly where the Knicks were heading after revamping the roster in the offseason and then having an "meh" start.
However, the wheels have since fallen off, and that's great news for the organization. After a respectable 16-13 start, the Knicks are 10-28 since then. Instead of chugging their way to a seventh or eighth seed and getting bounced in the first round for another meaningless season, they are now nearly a lock for a top ten pick, with a chance to move into the top five.
The Knicks went 1-3 this week, most recently losing to the awful Nets on Sunday night 120-112. As it stands, the Knicks are 26-41, which would have them picking seventh in June. They're knocking on the door of a top five pick though. If things go well for them down the stretch (meaning they play terribly), the Knicks will lock themselves into a top five pick, giving them a chance to nab an elite prospect to help them rebuild for the future.
So with the Knicks being a dumpster fire nobody wants to talk about, and the NCAA tournament coming up this week, let's take a look at a few prospects that the Knicks have a chance to grab.
I'll be leaving off Lonzo Ball, Markelle Fultz, and Josh Jackson, because it's unlikely the Knicks can grab any of them. Also, guys like Dennis Smith and Frank Ntilikina were left off since they won't be playing in the tournament.
Jayson Tatum, SF, Duke, Freshman, 6'8"
2016-17 Stats: 16.9 PPG, 7.3 RPG, 2.2 APG
Let's make this clear right away. The only person on this Knicks roster who will be part of their future is a 7'3" Latvian unicorn named Kristaps Porzingis. They don't need a 7 foot stretch four who can step out and shoot threes (takes Lauri Markkanen, Arizona, off the board), but everything else is needed.
Tatum is a guy Knicks fans will want to watch this tournament. He came into Duke as one of the top recruits in the country, and has mostly lived up to the billing. He's an awesome offensive weapon for the Blue Devils.
He has good size and length (6'11" wingspan) as a wing player. He's shown an ability to play well below the foul line, and has a solid mid-range game. He's a capable three shooter (34%) and improved as the season went on. He's a very good rebounder for a wing and can contribute on defense. He may not have the highest upside of anyone in the draft, but his impressive offensive game makes him a worthy prospect.
De'Aaron Fox, PG, Kentucky, Freshman, 6'3"
2016-17 Stats: 16.1 PPG, 4.2 RPG, 4.9 APG
Tatum is a great prospect, but the Knicks desperately need a guard. Enter Kentucky's backcourt: De'Aaron Fox and Malik Monk (below). I'll start with Fox, the true point guard for the Wildcats.
Fox is a skinny, lefty point guard with great athleticism. He's an awesome defender (1.4 SPG and it's more than just stats), something the Knicks could use from the guard position. Offensively, he's more of a driver and distributor than a shooter at this point. He's awesome in transition and a great passer, finding the open man and getting it to him with the appropriate pass. He's a true point guard who can control an offense.
Scoring wise, he's most effective when he's driving to the hoop and finishing with a lay-up. Fox is also solid at drawing contact and getting to the line, where he shoots 73%. The problem is his shooting. He shoots just 23% from beyond the arc and has struggled with his mid-range game too. That's the problem for the Knicks. Fox has the athleticism and can work on his mechanics to become a better shooter, but in today's evolving NBA, do the Knicks really want to risk having a point guard that can't shoot?
That's the question they'll have to answer. I personally like Fox a lot. He's a competitor and leader who has shown he's clutch. I can see Kentucky going on a deep run behind him. If you're looking for an NBA comparison, the name Rajon Rondo has been thrown around (without the character issues). The image of Fox driving to the rim and dishing out to Porzingis for a three over the next decade is enough to make Knick fans drool.
Malik Monk, SG, Kentucky, Freshman, 6'3"
2016-17 Stats: 20.5 PPG, 2.6 RPG, 2.3 APG
Monk has been the shooting guard for Kentucky because of Fox, but some have labeled him a combo guard. He's probably better suited at the two though.
He's extremely athletic and an awesome scorer. He's lethal from deep, shooting 41% from beyond the arc on 231(!) attempts. His shot is beautiful to watch, especially because it goes in so much. He's also effective at the line, where he shoots 81%. Monk is sort of the opposite of Fox in that he's more of a shooter than a scorer at this point.
Defensively, he's not as solid as Fox, but he's decent enough. He won't get you beat defensively, and has the tools and athleticism to improve. Monk is exciting, but it's sort of tough to predict how he'll fare at the next level.
He'd be awesome to watch at the Garden because he could have nights (like his 47 points against UNC) where he absolutely goes off and lights it up from deep. However, he's mainly just a shooter and it's unclear how well him and Porzingis would play off each other.
I think the Knicks really need a guard who can feed the ball to Porzingis, but can also score on his own, especially from beyond the arc. It's possible that Dennis Smith from NCST best fits that description. No matter what, the Knicks are on the right track and will continue to build for the future with another high draft pick to pair with KP.
If you don't want to watch future Knicks in the NCAA tourney, then the current Knicks will be in action with two home games this week: Tuesday against Indiana and Thursday against Brooklyn.