Jonathan Wilson - Holiday Cheer for FUV - 2014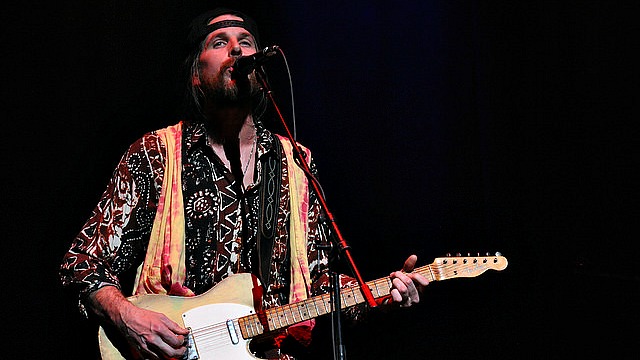 A shaggy-haired troubador who mines the rich Laurel Canyon sound of the late '60s and '70s, Jonathan Wilson was aboard 2014's Holiday Cheer for FUV with Conor Oberst and Friends not only as a solo artist, but as part of Conor's band. Wilson, who produced Conor's 2014 album Upside Down Mountain, has produced records for Father John Misty and many others, and in 2013 released his very own second solo album, Fanfare, on Bella Union. We are so pleased that Jonathan Wilson was onstage for Holiday Cheer at the Beacon Theatre with his longtime friend Conor Oberst, as well as Natalie Merchant, Laura Marling, The Lone Bellow and The Felice Brothers.
A North Carolina native and former member of the band Muscadine, Jonathan has toured with Bright Eyes, Tom Petty and the Heartbreakers, Jackson Browne, Dawes and more. The owner of his own Laurel Canyon recording facility, Fivestar Studios, he's in demand as a producer (Dawes, Father John Misty, Roy Harper, Bonnie "Prince" Billy) and even as a maker of custom guitars for the likes of Maroon 5 and Aerosmith.
In fact, Wilson and the Black Crowes' Chris Robinston's famous "jams"—a starry network of friends and collaborative acquaintances tucked away in Wilson's Laurel Canyon refuge—are widely acknowledged for resurrecting L.A.'s own folk rock revival, attracting folks like Wilco's Pat Sansone and and John Stirrat, Vetiver's Andy Cabic, Johnathan Rice and Jenny Lewis. A 2012 article in Rolling Stone profiled Wilson's house of "hippie rockers."
There was a wealth of musical history fueling Jonathan Wilson when he played Holiday Cheer for FUV 2014, accompanying Conor Oberst throughout the night. Wilson's own set focused on a single song: a psychedelic, 12-minute jam of "Valley of the Silver Moon" from his 2011 debut album, Gentle Spirit.
Hear Jonathan's performance below, or read a full show recap and listen to all of Holiday Cheer for FUV: Live from The Beacon Theatre. You can also hear individual performances from the rest of this year's Holiday Cheer line-up:

Special thanks to MSG Entertainment and The Beacon Theatre.