Islanders Weekly Report - 3/22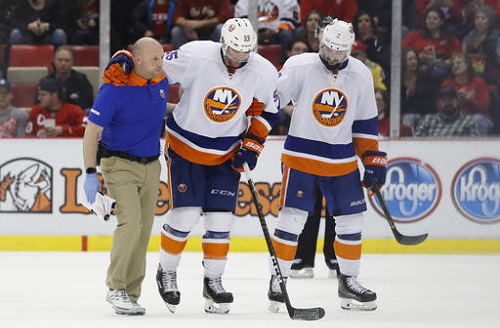 It's been a bumpy road for the NY Islanders this season. Coming off the franchise's first playoff series victory in over two decades, many fans expected the team to continue its upward trend and compete for a Stanley Cup.
But things haven't gone to plan. With the team at a mediocre 17-17-8 in mid-January, the team fired coach Jack Capuano and replaced him with assistant Doug Weight. And since taking over,  Weight has taken the Islanders out of the division cellar and into serious contention for the final playoff spot in the East (with 11 games to play, they're currently 3 points behind Toronto for the final Wild Card berth). The Islanders are an impressive 16-9-4 since Weight took over on January 17, and here are a few reasons why Weight's tenure has been so successful:
THE GOOD:
Josh Ho-Sang:
The 21 year old Ho-Sang, the Islanders' most highly-touted prospect, finally got his first NHL call-up on March 2nd. Not only has he been impressive statistically, (he has three goals and three assists in his first 10 NHL games) his energy and passion has undoubtedly had a positive impact on his teammates. If you need any proof of such an impact, look no further than the Isles victory over the Hurricanes last Tuesday: his one-timer was the first of three unanswered Islander goals as his team rallied from a 2-0 deficit to win 3-2 in Overtime.
Thomas Greiss:
"Greisser" has been a workhorse for Coach Weight, starting all but three games in the past two months. Greiss was brought in two summers ago as a backup for Jaro Halak, yet an injury to Halak led to Greiss taking over the #1 goalie spot for the entirety of last season's playoff run. Yet early this season, he had been splitting time with Halak throughout the first two months. But ever since Halak was sent down to the AHL, (more on that in a bit) Greiss has been fantastic in net, boasting an incredible .941 save percentage in Islanders victories this season.
THE BAD:
Injuries:
Weight's record as coach is all the more impressive considering the injuries he's had to endure: Defenseman Travis Hamonic missed almost all of January and February with a multitude of ailments, and now top blue-liner Johnny Boychuk has been out since March 3 with an upper-body injury. Give credit to in-season call-ups Ryan Puloch and Scott Mayfield, who have done a fantastic job of filling in for Boychuk and Hamonic in their absences.
Speaking of absences, the Islanders' highest paid goaltender hasn't been with the team for three months now. It's not because of an injury however, it's because of terrible management decisions; the team's botched trade of Jaroslav Halak at the deadline is just one example as to why Weight's tenure hasn't all been smooth sailing:
THE UGLY:
The Backup Goalie situation:
The Islanders have had three Goalies on the roster at the beginning of the season: Halak, Greiss, and youngster JF Berube. When the Islanders couldn't find a trade partner for Halak, they shockingly placed him on waivers, demoting him to the AHL while Berube inherited the backup goaltender spot. And since Halak's demotion, Berube's been pretty mediocre. There's a reason why Greiss is playing so often: Berube has an ugly .889 save percentage this season, highlighted by an awful performance against the Hurricanes on March 13th when he allowed 4 goals on 13 shots before being pulled. In an interview with WFAN on Tuesday, coach Weight says the team is "looking" at bringing Halak back up, but in order to make a playoff run the team needs to bring back Halak ASAP as Berube's not getting the job done and Greiss is going to wear down if he keeps playing every game.