Introducing: Lake Street Dive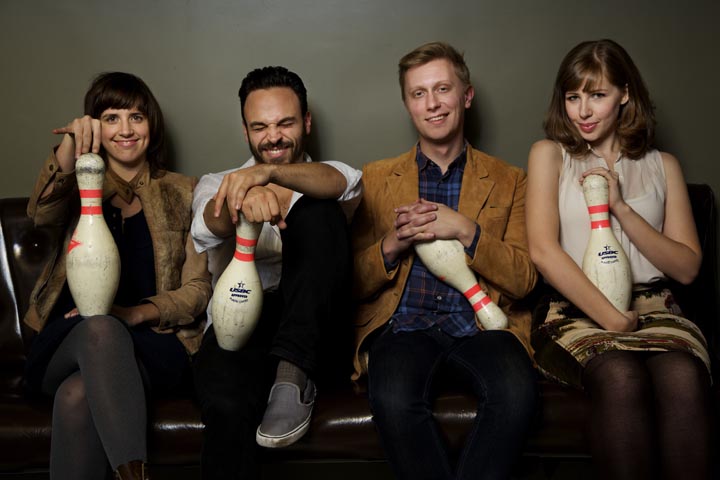 These relative newcomers to the scene met studying jazz in Boston, then moved here to bring their acoustic, groove-driven indie-pop to New York. You'll be totally disarmed by their sweet and sultry vocals and the sheer charm of this buzzworthy quartet at Wednesday's Holiday Cheer for FUV Benefit Concert (tickets start at $45, get yours now).
The video below will tell you more about them than any words will, check out their "I Want You Back." Seriously.
You want words, too? You've gotta love any paragraph that includes the phrase "McDuck's nimble trumpet," so here's the bio:
"How is it that something so unlikely can also be so infectious, so naturally exhilarating? Pulling in familiar elements and irreverently scrambling and recombining them, Lake Street Dive are at once jazz-schooled, DIY-motivated, and classically pop obsessed. Beginning with catchy songs that are by turns openhearted and wryly inquisitive, this northeastern quartet proceeds to inject them with an irresistible blend of abandon and precision. Composed of drummer Mike Calabrese, bassist Bridget Kearney, vocalist Rachael Price, and trumpet-wielding guitarist Mike "McDuck" Olson, Lake Street Dive encompasses a myriad of possibilities within its members' collective experiences, and the resultant music is a vivid, largely acoustic, groove-driven strain of indie-pop. Lake Street Dive makes the most of pop music virtues: solid, evocative song craft; propulsive grooves; and Price's disarming, forthright vocals. However, it's a personal strain of pop that is refracted through the band members' rich backgrounds: a sinewy Motown bass line is reborn with woody heft on Kearney's upright, Calabrese's drumming mixes timekeeping with more adventurous jazz-inflected outbursts, McDuck's nimble trumpet is an unexpectedly warm counterpoint to Price's singing. It all makes for a sound with familiar roots, but with a slant that is entirely their own."