I'm With Her: Fordham University Church 2018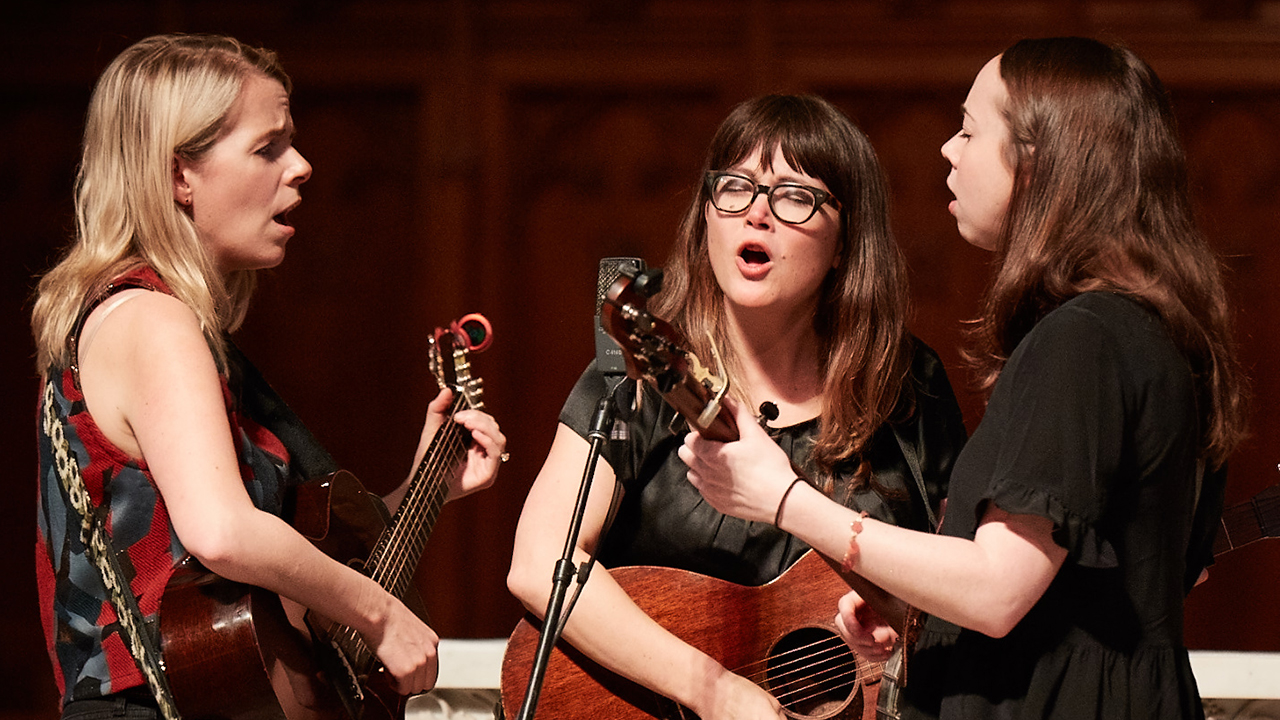 Festivals are often fertile ground for musicians who love to jam. Just as Red Molly was born at the Falcon Ridge Folk Festival, I'm With Her came together when three independent singer-songwriters — Sara Watkins, Sarah Jarosz and Aoife O'Donovan — discovered their musical chemistry backstage at Telluride in Colorado.
Both Watkins and O'Donovan come with impressive string band pedigrees (Watkins with Nickel Creek and O'Donovan with Crooked Still). Jarosz has never been in a band, but has surrounded herself with first-rate musicians on her solo albums. Even before they recorded as I'm With Her, they collaborated on each other's albums, including Jarosz's 2017 Grammy winner Undercurrent. The three artists also all share ties with Chris Thile, who was Watkins' bandmate in Nickel Creek and who named Jarosz and O'Donovan to be part of the house band when he took over as host of A Prairie Home Companion (now called Live from Here).
Finding a way to record together was a challenge for I'm With Her, given the trio's solo careers and logistics (Jarosz and O'Donovan are based in New York City, while Watkins is in Los Angeles), but they carved out some time to work with Ethan Johns at Peter Gabriel's Real World Studios in England. The result is their critically-acclaimed new release, See You Around.
In late February, I'm With Her performed a noontime FUV Live concert at Fordham University Church in the Bronx for WFUV's Marquee Members and the Fordham community. The acoustics of the vaulted sanctuary gave added warmth to the trio's supple harmonies, while allowing the audience to appreciate their instrumental prowess with Watkins primarily on fiddle, O'Donovan on guitar, and Jarosz on mandolin. These three women are superb musicians and worthy of being called a "folk super group."
Setlist:
See You Around
Game To Lose
Ain't That Fine
Apple Tree
Waitsfield
Close It Down
Little Lies
Overland
Be My Husband
Hundred Miles
[recorded: 2/20/18]