Holiday Cheer for FUV 2012: Words and Pictures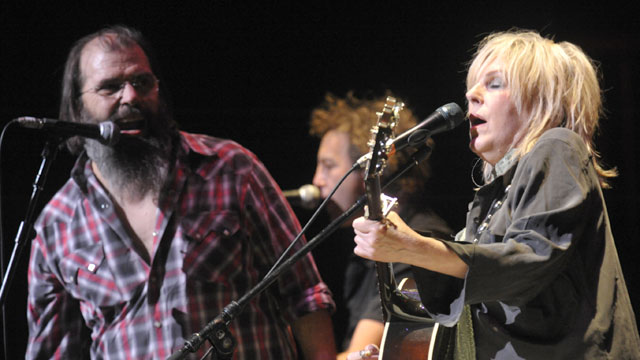 December 5, 2012 at The Beacon Theatre in New York City
With Lucinda Williams, Shawn Colvin, Shelby Lynne, special guest Steve Earle, and introducing Lake Street Dive
Yes, a frigid wind whipped down Broadway on this brisk December night, but the Beacon Theatre was an oasis of warmth and bonhomie as FUV Holiday Cheer got underway, the second year the radio station has celebrated this annual event at the legendary venue.
FUV Music Director Rita Houston kicked things off with a love letter to one of her favorite up-and-coming bands, Lake Street Dive. She vividly described the first time she'd ever heard the Brooklyn-based group, opening this evening's show a bit on the early side after The Lone Bellow was forced to cancel its set after singer Zack Williams lost his voice.
Lake Street Dive opened their abbreviated set with a pair of songs, "You Go Down Smooth" and "Bad Self Portraits," that will appear on the quartet's upcoming debut which they began recording in October. Elements of New Orleans jazz, Motown rhythms and bluesy riffs sift through Lake Street Dive's music, but singer Rachael Price, bassist and backing vocalist Bridget Kearney, drummer Mike Calabrese and guitarist/trumpeter Mike "McDuck" Olson also bring a soulful undertow to their songs. Price, who possesses a powerhouse of a voice, gazed out at the crowd and noted, with a shy smile, "This is the biggest stage we've played yet." Lake Street Dive wrapped things up with the song that's garnered them some early attention, their unconventional cover of the Jackson 5's "I Want You Back," transforming the boisterous 1969 hit into a sultry, red-light torch song.
Introduced by FUV's Darren DeVivo, who reminisced about spending a "quarter of his life" at FUV, Shelby Lynne followed, strapping on an acoustic guitar. She began with two songs from her 1999 album I Am Shelby Lynne — "Your Lies" and "Leavin'" — and the not-quite-Christmas-but-close-enough "Jesus on a Greyhound" from 2001's Love, Shelby. Clad in a black jacket, blue shirt and jeans, the Grammy-winning Lynne introduced her final song as one that she wrote "about me and my little sister Allison [Moorer], growing up in southern Alabama." That fraying family photograph of a track, from 2011's Revelation Road, the tender and vividly detailed "I'll Hold Your Head," was one of the night's highlights.
The Alternate Side's Alisa Ali gave Steve Earle an endearing introduction, noting his impressive and indefatigable schedule as a musician, actor, producer, author and more. In a way, Earle served as the bridge to nearly all of the artists on FUV Holiday Cheer tonight: he's Shelby Lynne's brother-in-law, he has produced Lucinda Williams, and he's been covered by Shawn Colvin ("Fearless Heart"). The hirsute Earle, wearing faded flannel and baggy blue jeans, strolled onstage and ferociously ripped into a trio of acoustic songs, including "The Low Highway" and an especially bruising version of "Copperhead Road." But it was his very funny, rambling story about the challenge of writing a Christmas song for the Oak Ridge Boys —  during a broiling Tennessee summer — that was the centerpiece of his set. Earle recalled that he quite nearly gave up on writing a Christmas song  until, as a young father, an important fact dawned on him: "Christmas is about kids since it started from one kid," he concluded. And while he still seemed doubtful if "Nothing But A Child" counts as a real Christmas song, he performed the track, also from 1988's Copperhead Road.
After a brief intermission, Shawn Colvin, ever the 'cover girl,' started off the second half of the night with a gentle take on Gnarls Barkley's "Crazy," finding a softer angle to that song's strung-out urgency. Dressed a bit like a punked-out cross between Vivienne Westwood and Dorothy Hamill, the adorable Colvin teased an offstage Lucinda Williams about her buzzing monitor and then, turning a self-deprecating sabre on herself, launched into three minutes of musician-style stand-up comedy, bemoaning her tendency to tune constantly between songs and the indignities of middle age. "My memory sucks and I feel hot all of the time," Colvin riffed, laughing. "Can't see, can't hear, memory bad, always hot, but I don't care!" With that, she played the title track from her most recent album, All Fall Down, and "That Don't Worry Me Now" from 2006's These Four Walls. Graciously thanking WFUV — "Many radio stations have come and gone, but these guys stay" — Colvin talked a bit about her days living in New York City, from 1980 to 1994, and then finished out her set with "Diamond in the Rough" from her 1989 debut, Steady On.
Lucinda Williams followed, coming out solo for "Lake Charles," then invited her band — guitarist Doug Pettibone along with Buick 6 bassist Dave Sutton and cowboy-hatted drummer Butch Norton — out for the rest of her set. Steve Earle, Williams' frequent collaborator, also joined her on selected songs throughout the evening, like "Drunken Angel,"  "Concrete and Barbed Wire" and the encores "Joy" and "Get Right With God," adding harmonies and playing harmonica. Williams might be turning 60 in January, but like Kim Gordon of Sonic Youth, who is also approaching that landmark birthday, there's absolutely no diminishment of ferocity, focus or chops; Williams has always been a willful rocker, even on her more country-drenched compositions. On new songs like "Something Wicked This Way Comes," which Williams revealed might be used in the ABC television series "Nashville," she unleashed her vampier side, growling and grinding her way through the song, partially influenced by Ray Bradbury's novel (which in turn, nicked the title from Shakespeare's Macbeth).
Williams put away her acoustic guitar for a silver electric, swaggering through songs like "Honey Bee," "Change The Locks" and "Essence" — featuring Pettibone on a blazing solo. Noting that the Allman Brothers were "a huge influence" on her, she dove into a passionate cover of Gregg Allman's "It's Not My Cross To Bear" (which seems to have inspired the title of his recent autobiography as well). Chatting often between songs, Williams explained that she knew that she'd "made it" when she went into a karaoke bar and discovered that her 2003 track "Righteously" was on the karaoke jukebox and, grinned the singer with a toss of her ash blonde hair, "I got up and sang it!" And she sang it again on this special night, a song bristling with sex, sass and fury ... which adequately describes Williams incendiary set.
Here are the set lists:
Lake Street Dive
- You Go Down Smooth
- Bad Self Portraits
- I Want You Back

Shelby Lynne
- Your Lies
- Leavin'
- Jesus On A Greyhound
- I'll Hold Your Head

Steve Earle
- The Low Highway
- Nothing But A Child
- Copperhead Road

Shawn Colvin
- Crazy (Gnarls Barkley cover)
- All Fall Down
- That Don't Worry Me Now
- Diamond In The Rough

Lucinda Williams
- Lake Charles
- Drunken Angel (with Steve Earle)
- Concrete and Barbed Wire (with Steve Earle)
- Jackson
- Something Wicked This Way Comes
- Out Of Touch
- Essence
- It's Not My Cross To Bear
- Righteously
- Changed The Locks
- Honey Bee
Encore
- Joy (with Steve Earle)
- Get Right With God (with Steve Earle)