FUV's New Dig: The Lone Bellow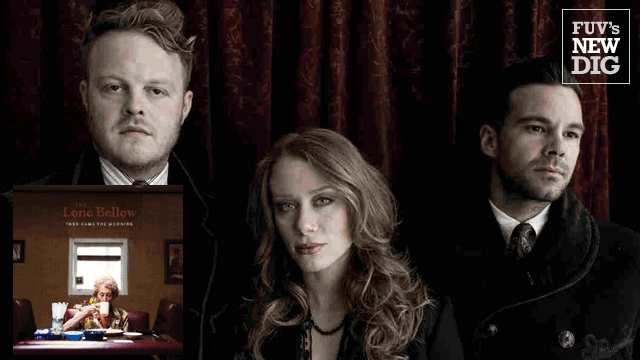 Then Came The Morning
The Lone Bellow
Descendant Records

The Lone Bellow, a Brooklyn trio with southern roots and city smarts, has returned with a glorious sophomore album, Then Came The Morning. Arriving two years after their self-titled debut, the threesome's latest effort bursts forth with the welcoming warmth of the rising sun, making the title seem more a declaration than just a name.
This release fulfills all the promise generated by The Lone Bellow's first album, displaying a growing maturity and the confidence one would look for in a young band with such potential. Lead singer and guitarist Zach Williams, Kanene Doheney Pipkin (vocals, mandolin) and Brian Elmquist (vocals, guitar) recruited The National's Aaron Dessner to produce. Together they have created an album of sincere emotion that swings freely between American roots, gospel, soul and rock. Williams, Pipkin and Elmquist find a natural balance throughout the album; their individual strengths converge in harmony. The album also captures elements of The Lone Bellow's power in live performance; their vocal confidence was certainly evident when they played Holiday Cheer for FUV in 2014.
Then Came The Morning opens with the title track, an expansive and stately declaration of renewal and arrival. It evokes powerful emotions that continue throughout the album, with a few pauses for reflection. "Fake Roses" is a pop song that sits alongside the rootsy, contemplative "Marietta." The track "Heaven Don't Call Me Home" might very well be the album's attention grabber, opening with a blazing electric guitar. It's a country-gospel stomp with a hard rock crunch.
That muscular heaviness sticks around for the next track, "If You Don't Love Me." One of the great strengths of The Lone Bellow is the trio's ability to bare their collective soul, forcefully as well as gently. Big stompers like "Cold As It Is" or the dense, emotional "Take My Love" are just as effective as the meditative "Telluride." Through their strong vocals, soaring harmonies and simple instrumentation, The Lone Bellow intricately weave together a larger-than-life tapestry of soulful and thought-provoking emotions that makes Then Came The Morning an invigorating, inspiring experience. 
More:
More:
• Preview songs and/or buy 'em (all purchases benefit WFUV):
Even More from The Lone Bellow: